Mudamis Luxembourg's very own and very classy museum of modern and contemporary art. I've been following their always exciting and bold programme for a couple of years and was very eager to see it but then you need a rock solid motive to spend a day in Luxembourg. The other day i woke up and decided that Mudam would be mine.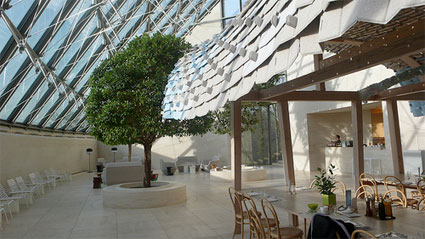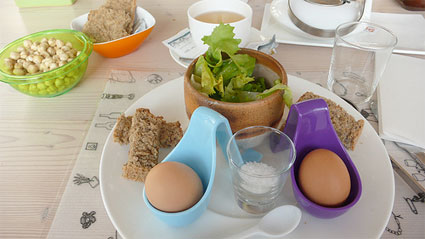 The bar-cafeteria and boutique might be the most elegant and cosy i've ever seen. Erwan and Ronan Bouroullec covered the canteen-style eating area with a cameo sky of heat-formed textile tiles. The shop -which received a similar roof- is set out like a market stall right in the middle of the exhibition hall. The 'slow food' food is nice but the offer at the shop is mindwallet-blowing. Apparently the museums has a designer and a trend forecast analyst tour the world to throw the most curious and design-y objects at your stunned face.
There were half a dozen exhibitions to visit, my next post will focus on RRRIPP!! Paper Fashion. See you there….
In the meantime and in a rush, here's a couple of interesting artworks i discovered at the exhibition ELO. INNER EXILE – OUTER LIMITS, a snapshot of the contemporary art scene in Luxembourg (Elo means 'now' in Luxembourg.)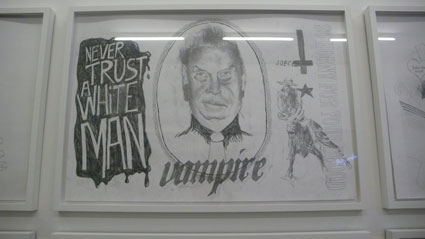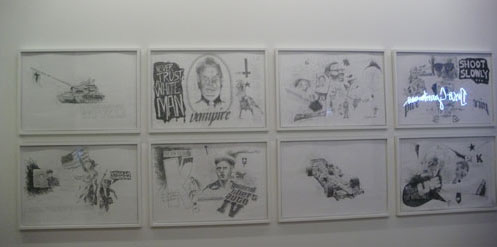 I almost jumped out of the room "Disco Guantanamo" when i saw a drawing of 'dungeon monster' and 'sex beast' (dixit the always subtle Daily Mail) Josef Fritzl. I was indeed wondering how long it would take to find him referenced in an artwork. That one was part of a series of artefacts by Filip Markiewicz, a musician and visual artist, whose work often denounces the 'blind spots' in current events.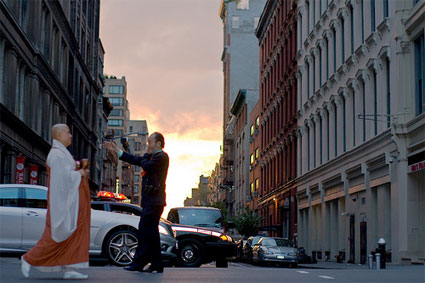 Pasha Rafiy, NYC Ghost I-X, 2008. Courtesy Pasha Rafiy

Pasha Rafiy was scheduled to photograph John Lurie last Spring in New York. Waiting several weeks for an appointment that kept being postponed, Rafiy turned his lens to the inhabitants of the city. Until Lurie did eventually invite him home on the day of his actual departure.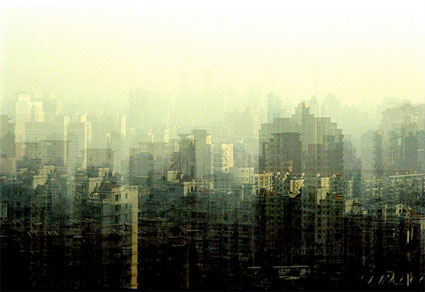 Jean-Louis Schuller, Dis-Connection I Shanghai, 2007. Courtesy Jean-Louis Schuller
Jean-Louis Schuller's documentary takes a peek inside the life of immigrants living in Chungking Mansions. One of the cheapest accommodations in Hong Kong, the building is supposedly residential, but it looks more like a labyrinth of guesthouses, curry restaurants, African bistros, clothing shops, sari stores, and foreign exchange offices.
The film Director writes: As perhaps the most diversely populated building on earth it is a paradise of multi-culturalism and low-end globalisation, uniquely belonging to no one and everyone. For years the building has been notorious both as a refuge for petty criminals and illegal immigrants, and for its unsanitary living conditions. Yet it exists as a perfect example of a city as an organic mega-structure, flexible enough to fulfill every need from religion to water supply, while providing an alternative to conventional space, culture and time. What is fascinating here, besides all the shortcomings, is that Chungking somehow succeeds, continuously evolving to accommodate the hopes of those that find themselves drawn there.
My film Chungking Dreams takes us into the heart of this Pandora's box, isolating characters and scenes from the myriad of options that exist layer on layer in the building, taking us into their most inner spaces and reflecting on a world in which we all have to fight for the space to live out our dreams.
Trailer of the documentary.
The exhibition ELO. INNER EXILE – OUTER LIMITS runs until February 2, 2009 at the MUDAM in Luxembourg.