BOZAR – Centre for Fine Arts in Brussels was the first cultural centre of its kind to be constructed in Europe. Its exterior is gloomy but not quite as much as its neighbours the Central Station, the awful shopping gallery nearby and the Royal Palace. The inside though is luminous, amazingly intricate, and art deco. It was designed by Victor Horta. The programme is far from being the most adventurous and exciting in the world but there are little gems of exhibitions once in a while.
STILL LIFE, Chinese Contemporary Photography is not one of those gems but it certainly is an interesting photo exhibition that showcases meditative images on the Chinese reality.
Xiong Wenyun, On Mount Erlang #4, 1998
One of the artworks i discovered at STILL LIFE is Moving Rainbow.
In 1998 Xiong Wenyun started a 3 year project that would see her covering trucks with plastic tarpaulins painted in the seven colours of the rainbow. The vehicles followed the route that connects Bejing with the Tibetan plateau. On the way, she illuminated the doorways of roadside cabins with the same red, orange, yellow, green, blue, and purple colours. The same colours one can find on the prayer flags drivers and travelers have left alongside the highways they traveled on. According to the artist, Tibetans see rainbows as god's ladders that bridge the earthly sphere with the celestial.
The Moving Rainbows performances and installations were documented with photography and videos.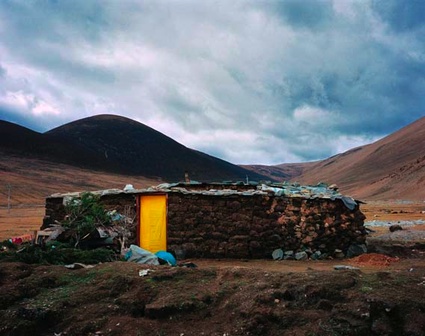 Xiong Wenyun, Sichuan-Tibet, Road Bangda, no 58, 1998
Wenyun's concern is more environmental than political. Jonathan Goodman commented her work in art critical: Her grand action is undertaken with a true spirit of humility, something that China has lacked in its assumption that Tibet must be modernized at all costs. What is needed, more than anything else, is Xiong's sense that the interaction between people and landscape is something sacred, and not an excuse for raw profit or environmental exploitation.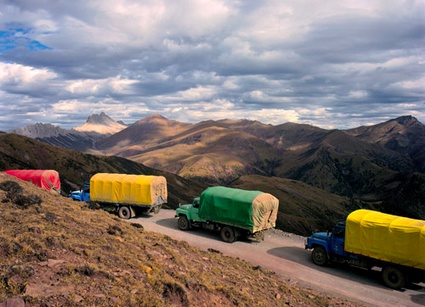 Xiong Wenyun Xuejila Mountain – Motorcade No.1 1999
STILL LIFE, part of the Europalia programme, is on view until at BOZAR in Brussels until January 24, 2010.
More images.
Previously at BOZAR: Decolonizing Architecture – Scenarios for the transformation of Israeli settlements and It's not only Rock 'n' Roll, Baby!