I'm still trying to figure out how much exactly i should be disappointed by Transmediale. Maybe it was a historical edition, ahead of its time and i'm, as often, a bit too slow to understand what's going on. The best report from the festival has been written by Armin Medosch on Mazine.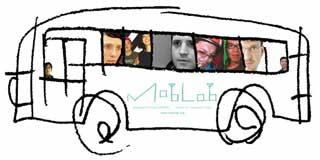 Back to my own report. On February 5, AGF aka Antye Greie, Sven Gareis, Stefan Riekeles, Ken Furudate, Daisuke Ishida and Yukiko Shikata presented the Moblab project.
The MobLab bus toured Japan from October 15 to November6. On board, 7 "mobnaute" artists: Antye Greie, Sven Gareis, Stefan Riekeles, Ken Furudate, Daisuke Ishida, and Kensuke Sembo + Yae Akaiwa of exonemo.
Moblab -a name derived from mobile laboratory as well as mob (crowd, people)- was both an intimate space in which the MobNauts slept and spent time together, and a public space that functioned as an information base and as an art gallery. The project aimed to connect the virtual and the physical space and tried to invite local people wherever they went to participate to the experience. The bus went from art institutes to schools and art venues, starting at the Institute of Advanced Media Arts and Sciences in Ogaki and making its final stop at the Yamaguchi Center for Arts and Media.

The bus was totally white but at each location, the public was invited to join in painting the bus. The vehicle was equipped with a web server, a conncetion system, webcams to record the scenery while the bus was moving, power supply, GPS system, etc. A software was developed to allow people to follow from the internet the whole bus trip.
Art projects: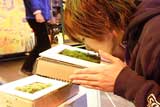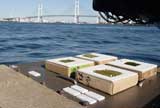 Stefan Riekeles' Contemporary Moss project consisted of collecting, displaying, pondering, discussing and "bringing moss to the world."
He collected moss at every stop in Japan and made a kind of mobile moss garden. Moss is totally static yet constantly growing. The plant doesn't store water inside but rather between plants, it works like a network. Moss combines thus several aspects of space and time. Riekeles ended his presentation saying that his moss art is totally trendy now in Japan, because of the Slow Life movement.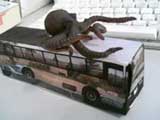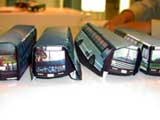 Kensuke Sembo and Yae Akaiwa from exonemo were filming sceneries from the window of the traveling bus, making a Road Movie that was downloadable from the internet.
Downloaded frames from the Web cam were complete with dotted lines for cutting and folding, and could be printed out and transformed into a paper sculpture of the Moblab bus with windows showing the captured images.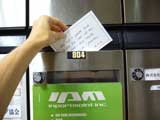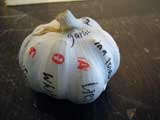 Along the way, Antye Greie wrote 99 poems. She then hid her poems at various stops along the way. She left the poems in unexpected locations and photographed them. She also distributed them to random Moblab visitors. She also interviewed Japanese passersby and visitors about pre-judgements towards Germans (txt).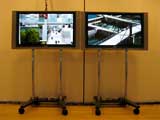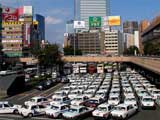 Videoartists Sven Gareis was taking still images of the every Moblab stops, and then overlayed them with images of European cities. The ever-growing dual-image Pulse installation was shown inside the bus at each stop.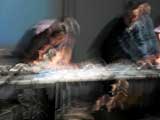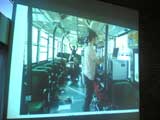 Sound artists Daisuke Ishida and Ken Furudate invited local musicians at each Moblab station to join in creating music: for their "Feedback Bus" installation, they used the bus as a musical instrument. Speakers were attached to the walls inside the bus and connected to an amplifier and microphone, making it possible to perform using the entire bus as a musical instrument.