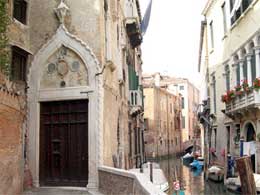 More Venice coverage. Most of the biennale takes place at the Giardini or at the Arsenale. Then there are pavilions scattered around the historical centre to ensure that you won't visit the city without getting lost once or twice.
I've been countless times to Venice and have given up trying to figure out how all those tiny curvaceous streets might correspond to what i see on the map. I just ask passersby, they are always nice and helpful. Which is the biggest mystery of Venice to me. How do they manage not to be annoyed by silly tourists like me who keep asking their way?
Been quite an adventure to locate the Palazzo Soranzo Van Axel (seems that this 15th century gothic marvel is for sale) but i couldn't afford not to go as it is hosting the Mexican Pavilion, the only one which presents new media art (at least the only one i had heard of).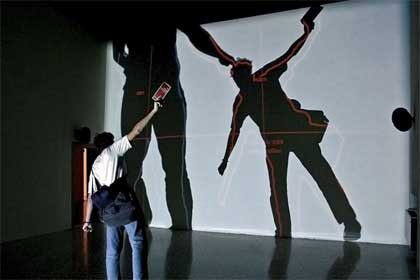 Frequency and Volume
It's not any kind of media art either. The installations are by one of the discipline's most respected practitioners: Rafael Lozano Hemmer. There are brand new pieces and some good old works as well. At this point i feel like i should just go to the other room and finish my Rebus book, leaving you with this really charming (how could you not love to learn new expressions such as "biting your poncho"?) and interesting video of Lozano Hemmer's presenting his works at the Tate in London. He explains better than my words would, the sources of his inspiration, the way he tries to create complex behaviour similar to organic systems, how important it is to misuse technologies (in particular the always more sophisticated and often embedded with prejudice technologies of surveillance) in a critical and poetic way.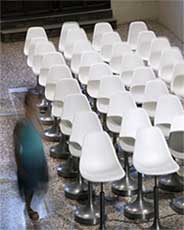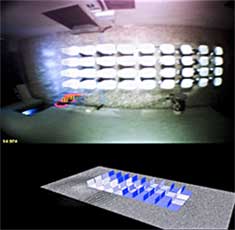 Wavefunction
Now just a few words to tell about two of Lozano'Hemmer's latest pieces. The first greets you when you enter the first room. Rows of 50 white Eames molded plastic chairs, mounted on electromechanical pistons move up and down in a sensual way. The work, which premiered in Venice, is called Wavefunction. As unveiled on the screen visible in the adjacent room, the movements are controlled by a computer surveillance system and respond to the presence of the public by creating waves that propagate over the exhibition room. One person approaching the chairs will trigger a wave, more people around the chairs will create waves that interfere with each other.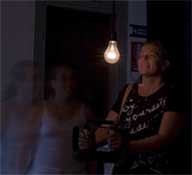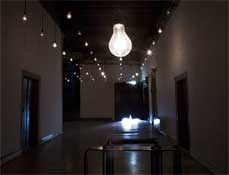 Pulse Room
The other new work is Pulse Room which turns the heartbeats of the visitors into light flashes shown by incandescent light bulbs. Visitors have to grab the same kind of interface that you find at the gym on the cardio training machines and which measures your pulse. The first person who enter the room lights a first bulb, it will flicker according to their heartbeat, a second person light another bulb and so on. When i arrived there were dozens of bulbs on and an old man. you could see he was very tempted, he just wanted to try but was wondering whether "that thing would send him an electroshock or something?"
The exhibition is curated by Príamo Lozada and Bárbara Perea. Lozada was one of Latin America's most active media art curators. He passed away on the 13th of June as a result of a tragic accident in Venice. The museum where he worked, the Laboratorio Arte Alameda, is now making a documentation centre that will have his name to honour him.
More details about the show. More videos of the artist's installations.
I took a few images but the ones on the exhibition website are much better and there are plenty of videos as well.