Maurizio Cattelan's taxidermic horse which i saw yesterday at the New Museum as part of the After Nature exhibition is the photo pretext i'll use to tell readers and friends that this year, for the first time, i won't be at ars electronica. I asked my friend Jan to post a couple of stories about the festival if he ever feels like it but that should be something very light.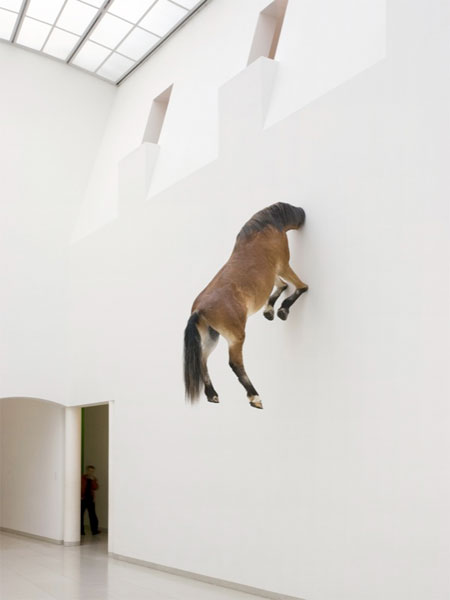 Maurizio Cattelan, "Untitled" 2007, Taxidermic horse. Natural dimensions
Instead, i'll be at Pictoplasma NYc, then in Korea for Media City Seoul which both have programmes i couldn't resist to. Then back again in New York for the Conflux festival.
If any of you plans to be in Seoul next week please do come and say hi at Media City. And if you have any tip about places to check out, exhibitions to see and people to meet over there, i'd love you to share them with me, cuz it's going to be my first visit in South Korea and i'm already feeling a bit lost. Please send your suggestions via the comments on this post or by email. Thanks!
Oh! and one last thing, After Nature is a show you should run to. There's the much talked about replica of the Unabomber cabin by Robert Kusmirowski, some sculptures made of skin by Paweł Althamer, photographies by Roger Ballen, Zoe Leonard's amazing Tree but i'd better let you watch the exhibition online.