Message in a Bottle is a GPS mapping project by UK-based artist Lalya Curtis. Last Tuesday, bottles with simple GPS tracking devices were released from Ramsgate, in Kent with messages destinated to people living on the exact opposite side of the globe, in the Chatham Islands, 800km east of New Zealand.
Anyone finding a bottle is asked to report it to the website, give details about the founding, then throw it back to the sea to let it continue it's journey.
Some of the bottles are tracked automatically by GPS and are programmed to send their longitude and latitude coordinates back to Ramsgate every hour.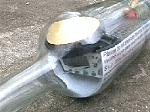 From Coin-operated.