Medtronic has released in the U.S. the Personal Therapy Manager (PTM), a retooled Palm that allows you to wirelessly control an internal pump that streams medication, via catheter, to its target inside your body.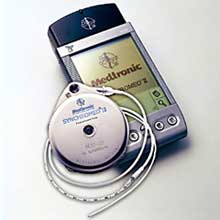 "Pain is very subjective, and only the patient is the best judge of chronic pain intensity," says Dr. Stephen N. Oesterle, when asked why the company developed such a patient-controlled option for those who suffer extended pain after an injury or acute disease.
A telemetry "head" and medicine-syncing software work with the PDAs. The attachment plugs into the PDA and uses radiofrequency to communicate with the pump inside the abdomen.
The patient is asked what level of pain he or she feels at specific times of day, which is rated on a scale of 0 to 10. They can also tap on happy and sad-face icons to indicate how they are feeling.
The device is preset by a physician to allow a limited number of supplemental doses, so patients can't overdose. Doctors can also sync a patient's PTM data to their own computers to monitor a patient's self-treatment.
Via BusinessWeek.