The Temporary Travel Office offers services relating to tourism and technology aimed at exploring the non-rational connections existing between public and private spaces.
Among Ryan Griffis' projects is a Emergency tourist kits for visitors of Lofoten.
Inside the bag, there's an emergency poncho printed with definitions of "Invasive Species" in Norwegian, a hat with a holder for 3 nautical flags ("I require assistance", "I am disabled, communicate with me" and "Man overboard"), an informative postcard and a map of political issues in Lotofen (Norway.)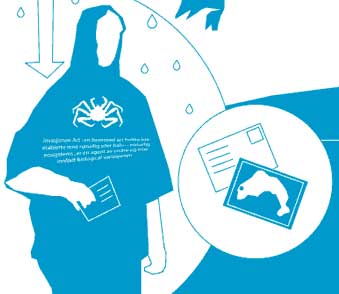 The ironic project wants to denounce the local oil production decisions, the fishing policy and the official response to ecological changes like the expansion of King Crabs.
Via Space and Culture.