Gunnar Green experiments with living matter in order to create slow graphic design.
He went to Humboldt University's applied botanics department and got a place to work with tiny plants (especially the lab rat of botanics, Arabidopsis thaliana) which he wanted to treat as pixels. (Apparently the scientists there were, at least initially, not too impressed by citing art-related reference projects like Biopresence) After different interesting approaches such as a Bio-printer (essentially an inkjet-printer which would put seeds on a flat surface instead of drops of ink), vertical gardens and jackets from Tyvek to sample bio-material during a day in the city and then later cultivate it, he finally decided to focus on the letter (in both of its meanings) as means of communication, especially between individuals with emotional relationships. Four project focus on living letters, letters as signs of life and procedural shapes in different aspects.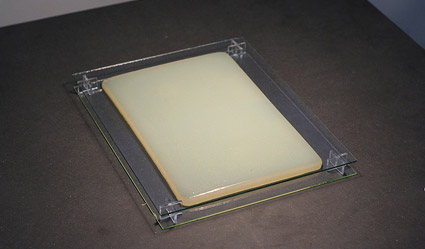 For example a letter that grows flowers – the text is planted inside the letter and will grow as the recipient starts to actively care for it – tiny plants come up from the surface to form words. "Closeness" is a sheet of soap-like material which has a message in the form of E. coli-bacteria. Since those usually live inside us, they are very well adapted to body temperature and also grow best under these conditions. Thus, to be able to read the letter, its recipient will have to keep it warm, preferably close to the body, so the message can grow.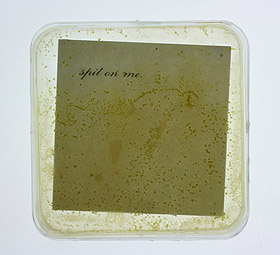 "Very Alive" is an experiment with using animals for the display of messages – ants use pheromones to create paths which other ants then follow. Gunnar used this to actually draw letters and shapes which the ants then traced and – rudimentary but very visibly – formed a representation of the drawn, in this case the letter A (video). "Spitting Image" plays on the English term, which means "exact likeness". In this Spitting Image, the user is actually asked to spit on a prepared sheet of paper. It then will grow basically everything that has been spat at it and indirectly creates a very intimate representation of the person through what lives in him or her.
More impressions on Flickr.
Related: Aperture, Parasite, Ghosttrain.