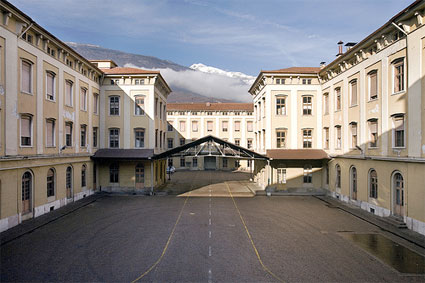 View of the Manifattura Tabacchi. Photo © Hugo Munoz /Archivio Ufficio Stampa PAT
A couple more posts about this year's edition of Manifesta. Apart from Bolzano which i started covering this week, another location for the biennale is Rovereto. The Manifattura Tabacchi, an ex-tobacco factory built in the 1850s, hosts one of the exhibitions set up in the tiny city. The show curated by Adam Budak is called Principle Hope, and i must say that it kicks off jolly well.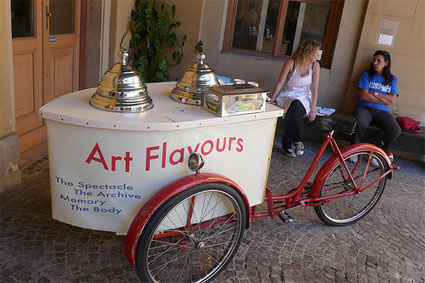 Right after passing the ticket booth, there;s the free ice cream. Hurray! I'm lactose intolerant. Art Flavour by Tim Etchells translates into gelato flavours some key themes of contemporary art: The Body, Memory, Spectacle and The Archive.
Party goes on! In the courtyard, there is a bouquet of giant helium-filled balloons.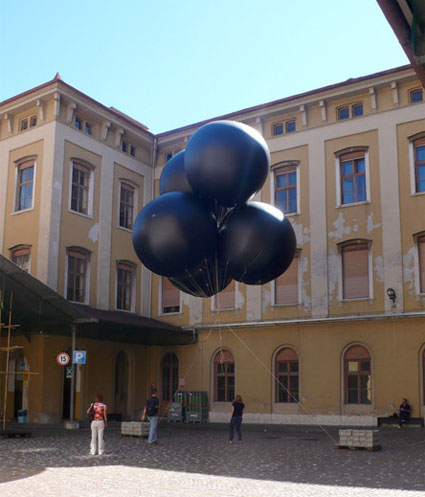 Ricardo Jacinto's Labyrinthitis (2007) physically alter's visitors perception by upsetting their system of balance and therefore upsets the relationship of their body with space. You can grab the bar, lift your feet and hang gently from this levitating sphere-cluster. Your weight is diminished by roughly 35kg.
However, the colour of the giant bouquet is black and its title refers to something as dark as balance disorder, the labyrinthitis. The work seems therefore almost more ominous than playful. As the description of the work states: the monumental sculptural "cloud" announces a decline of modernist utopias and articulates the precariousness of political balance.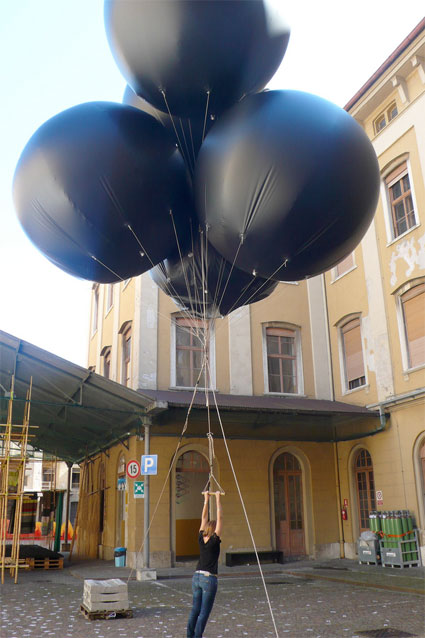 At some point during my visit i saw Guido van der Werve's video Nummer acht. Everything is going to be alright (there's a poor version of it on youtube). I found it so mesmerizing that the rest of my visit at the ex-tobacco factory is lost in some kind of fog so i'm afraid my report from Rovereto will end here.
The film documents a performance that saw the artist walking 15 meters in front of an icebreaker in the landscape of the Finnish Gulf of Bothnia. The performance lasts only 10 minutes, the time of one roll of film but this duration bears a sort of never-ending and meditative quality.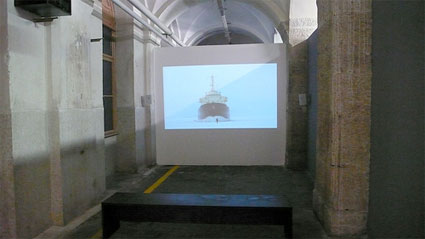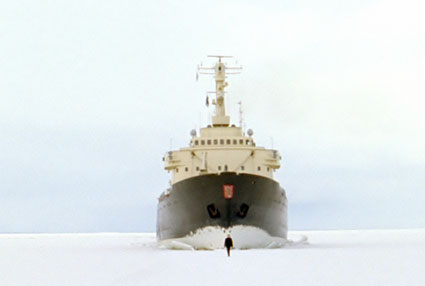 Guido van der Werve, Nummer acht – Everything is going to be alright, 2007
Roofvogel 2007 © Guido van der Werve. Photo by Ben Geraerts
Manifesta, the itinerant European Biennial of Contemporary Art is hosted this year by the Trentino – South Tyrol Region. It runs until November 2, 2008.