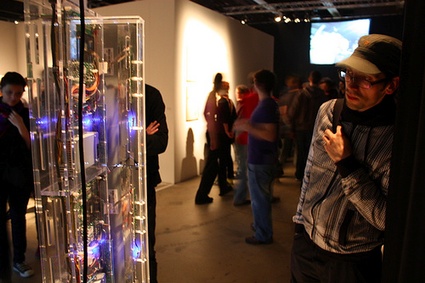 (image malicy)
One year after the Brussels' exhibition Holy Fire. Art of the Digital Age, Yves Bernard from iMAL and Domenico Quaranta curate a show that, once again, puts a magnifying lens on new media art pieces that have found a place on the contemporary art market.
Titled KIOSK. Artifacts of a Post-Digital Age, their exhibition was one of the highlights of STRP, an art & tech festival which closed last Monday in Eindhoven (NL).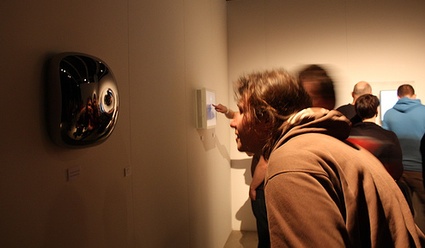 Golan Levin with Greg Baltus, Opto-Isolator, 2007 (image malicy)
Just like Holy Fire paid an homage to Bruce Sterling's 1996 sci-fi novel, KIOSK alludes to Kiosk, a more recent novel about a Serbian wounded veteran who runs a kiosk where he sells the products of 'the fabricator', a rapid prototyping machine that creates cult objects for a niche of consumers. The title of the show plays therefore with the "collectible" nature of the artworks exhibited. Most of the pieces deserve a write-up but i selected only a few of them. Starting with works that playfully drive viewers back and forth through the digital and the analog worlds.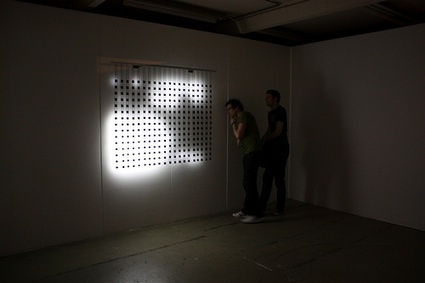 Jim Campbell, Home Movies 300-1, 2006-2008 (image malicy)
Jim Campbell is one of those rare artists whose works are at ease with both the media art crowd and those who've never heard of its existence. Case in point with Home Movie. This curtain of 300 LEDs transforms film footage into an abstract and blurry pixilated imagery that is turned away from the viewer, toward the wall. Yet, because of its ability to interpret abstract data and "fill in" the gaps in the information needed to complete an idea, the brain of visitors reconstructs a moving image.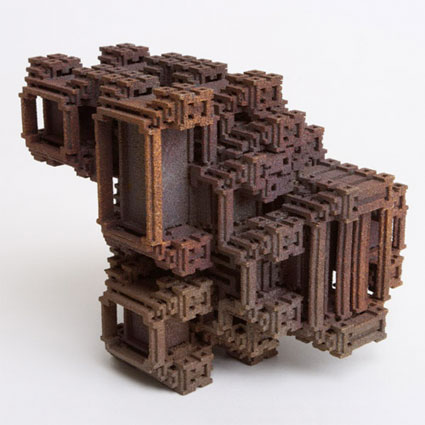 Driessens & Verstappen, Breed 1.2, 2007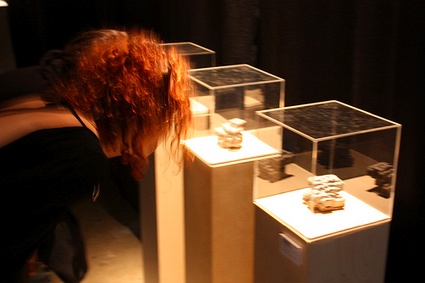 Driessens & Verstappen, Breed 1.2, 2007 (image malicy)
Erwin Driessens and Maria Verstappen's sculptures provide another engaging take on the theme of the transition from digital to analog. A computer program uses artificial evolution to grow very detailed bronze sculptures that represent virtual mathematical models. The purpose of each growth is to generate by cell division from a single cell a detailed form that can be materialised. On the basis of selection and mutation a code is gradually developed that best fulfills this "fitness" criterion and thus yields a workable form. The virtual designs become tangible artefacts through 3D printing techniques.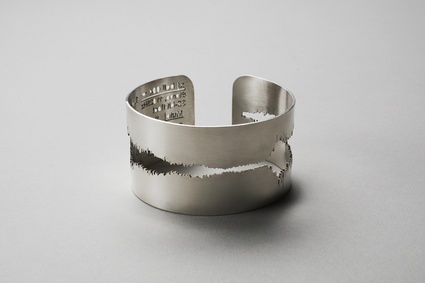 Sakurako Shimizu, Waveform Series, 2007 – 2008
Sakurako Shimizu must be the only jewelry maker who makes accessories that would delight both the girls and their geekiest boyfriends. Her creations laser-cuts digital icons into jewels. The 1981 ATARI Ring is a man's ring featuring a precise cast of the original Atari computer chip out of 18 karat gold; the Waveform Series is the laser-cut shapes of the waveform of the sound in sound editing software environment. The sounds are human sound such as yawn, atchoum, giggle, wow, and the sound of church bell.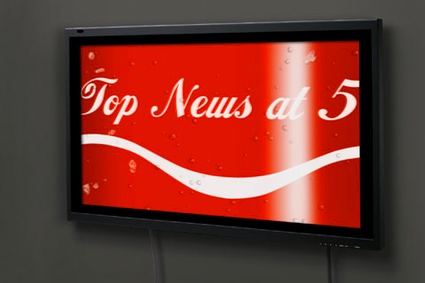 Siebren Versteeg, Dynamic Ribbon Device, 2003
Siebren Versteeg's software art taps into online data streams and news feeds and visualizes them in the style of corporate brands that pervade information. Dynamic Ribbon Device transforms the real time world news feed from press agency AP news into Coke's white typography that slowly passes through a red plasma screen covered by the same droplets you'd find on a can of soda fresh from the fridge.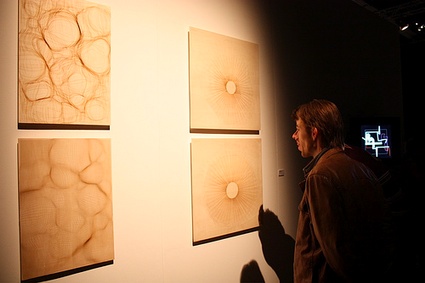 Marius Watz, Grid Distortion, 2008 (image malicy)
Grid Distortion, by Marius Watz, is a series of laser cut plywoods showing orderly grids that have been gradually distorted until the lines cracked and bent. Under pressure, the two dimensions become three, the lattice looking like bubbles as they emerge towards the viewer.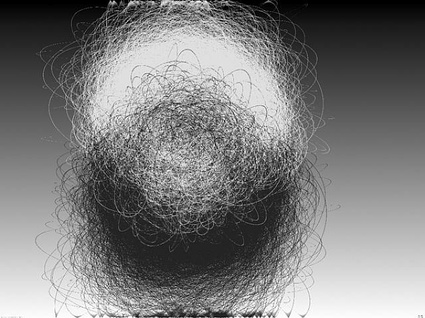 Mark Napier, Sacred Code (Old Testament), 2003
Mark Napier has created algorithms that read The Old Testament as if it were a stream of zeroes and ones. The artwork, called Sacred Code, literally translates the stream of bits into motion: two calligraphic marks, one black and one white, chase one another in a seemingly endless dance on screen, leaving behind faint trails. In the process, a binary world is represented as a cloud of shifting shades of gray. The work is presented on a wood podium as if it were only waiting for a priest to come and read out loud the digital Bible to the congregation.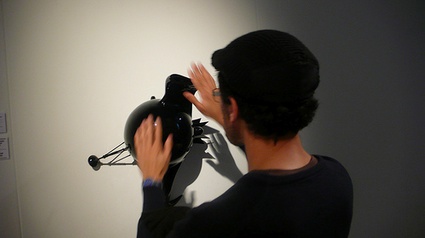 Björn Schülke, Supersonic #2, 2008
Somewhat different from the other pieces, Björn Schülke Supersonic #2 looks like a mysterious navel from outer-space and indeed emits the kind of low frequency sounds often associated with '50s science-fiction movies. The dark glossy object houses a theremin which responds to the proximity of a viewer, emitting a range of bass frequency notes.
Da video:
More images over here and on Malicy flickr set.