I'm so glad Jonah Brucker-Cohen is out of the hospital –mind you, it's not just because he's such a talented artist and researcher, it's also because I'm selfish: I love to "borrow" the stories on his blog– that I thought I could write something about one of his projects.
Wi-Fi Hog is a system for laptop or portable computer that enables its user to gain total control over a public access wireless network.
A Portable Video Jammer (PVJ) connected to a laptop communicates to software consisting of a packet sniffer and wireless stumbler which monitors incoming packets from an open node. Only traffic originating from the Wifi-Hogger's IP address may access the connection.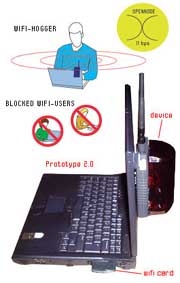 The wifi hog can even route around the wallpaper that prevents outsiders from sneaking in on companies' Wi-Fi traffic but lets other radio and mobile phone traffic get through.
WiFi-Hog is a reaction to free wireless access points. Why couldn?t people use the network in the way they want – even block it.
Brucker-Cohen?s point is to see what?s the acceptable use of the policy of Public access WiFi nodes, do they leak or pervade into public space and are they used in any way the person inhabiting that area wishes to use them?
During the presentation he made of it at the Futuresonic conference in April (Manchester, UK), he answered to the criticisms of people who saw only the selfish side of Wi-Fi Hog by hinting to some refinements that could put his creation in a more positive light: it could be used as a smart hog that would block only BT zone and gives you independence, it could become a tool for persuasive messages or allow user to connect only to a selected network.
To answer your question: no, it's not available in the shop for us to test in Starbucks!