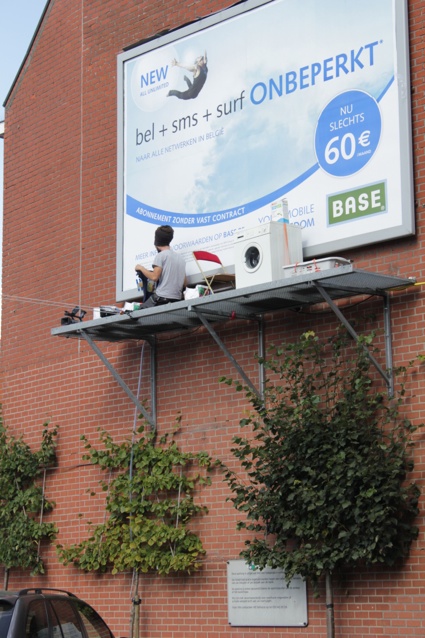 Scenography for 'Medée / Vivez comme vous voulez' (performance with Naomi Velissariou)
Karl Philips is a Belgian (h)activist, performance and conceptual artist. I discovered his work a couple of years ago when i visited the exhibition Mind the System, Find the Gap at Z33 in Hasselt (BE.) But i really took the time to click around his portfolio when my favourite blog selected him for its watchlist.
Philips casts a critical but always witty glance at society, paying particular attention to cracks in consumerism, town planning, advertising, and turning upside-down their logic. He is also one of those artists who understand that, to have any impact, activist art is best deployed in the street, not just inside the white walls of a museum or gallery.
Some of his projects involve hacking a street lantern to provide passersby and local inhabitants with free wifi and power, dressing like a train seat to cross Belgium by train, screening movies streamed from Youtube in a drive-in movie theater set up under a bridge, substituting ads on billboards with a map detailing how survive in the city of Hasselt without any financial expenses, etc. Pretty simple and pretty brilliant.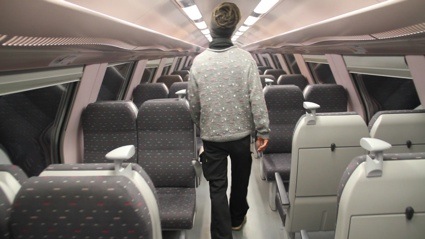 Genk-Blankenberge-Genk, 2014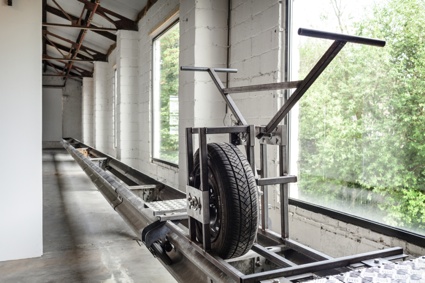 Hand Pump Car
Hand Pump Car, 2014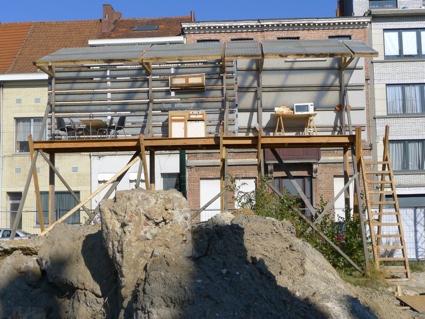 Shed, 2011
Philips has a couple of exhibitions up right now. He's part two group shows. One at the gallery Dauwens & Beernaert in Brussels. The other in Rotterdam. Hopefully, i'll get a chance to be in Antwerp (lots of exciting shows coming up at the Photo Museum!) to check out the sculpture he'll be premiering next week for the group exhibition A Belgian Politician
 at Marion de Cannière Art Space. In the meantime, i got on my laptop and asked him for an interview:
Hi Karl! Your About page talks about "a mild kind of activism" that is inextricably linked to your work. What is mild activism? How does it manifest itself? And can a mild form of activism have an impact too?
I 'm convinced that real change or influence only manifests itself indirectly. In the long run I think it's better to do so through art or culture than through direct radical activism. I think the term "mild activism" indicates a different tone.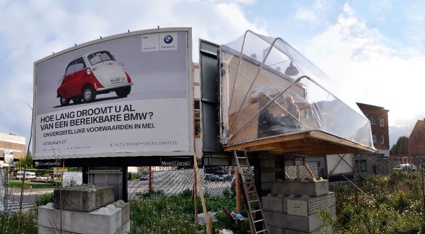 Concierge, 2010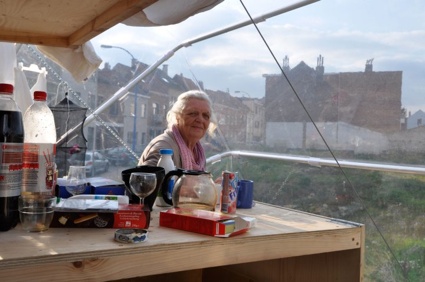 Concierge, 2010
I'd be interested to know more about Mia, the homeless woman who came to live inside one of your structures. Did she spontaneously come to live in the structure? How did you get to know each other? Did she give you any kind of 'feedback' about Concierge or your work in general?
I got to know her when I was thirteen years old. Once every year she passed by at a artist's place where I went after school since I was eleven. A couple of years ago, when she was visiting, I showed her the first designs I made. She proposed herself to represent and become a part the work. This was the first time, in my practice, that such a healthy distance was maintained between the artist and the artwork. From a neutral point of view, she talked to the people who were visiting the artwork. So while rolling a cigarette and making coffee she could easily welcome visitors, artists, curators… Due to the media attention we generated she was offered social housing. She accepted this when we were finishing "Concierge" but a month later she hit the road again.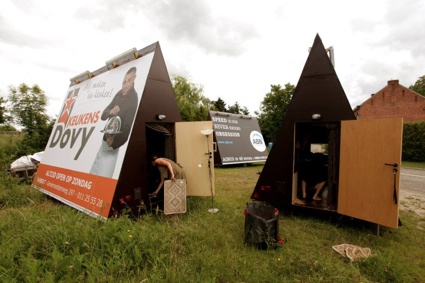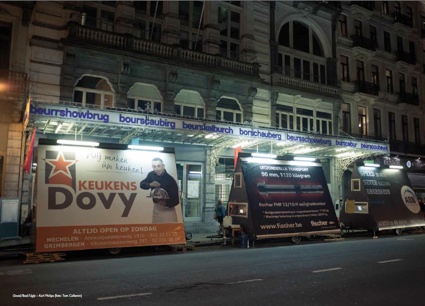 Good/Bad/Ugly, 2012. Photography: Stef Langmans
Another work involving temporary homes is Good/Bad/Ugly. Could you explain us the whole process? The financial transactions?
Good/Bad/Ugly consisted of three mobile living units. On the outside of the units were several advertisements. For every advertisement we received 500 € per month. That's 1000 € per month, per unit. This money (3000 €/month in total) was used for the performance: providing a living for the inhabitants. We travelled around to different locations. In theory it is illegal in Belgium to put this kind of advertising i, but it is allowed for local businesses. We created some sort of alternative community with it.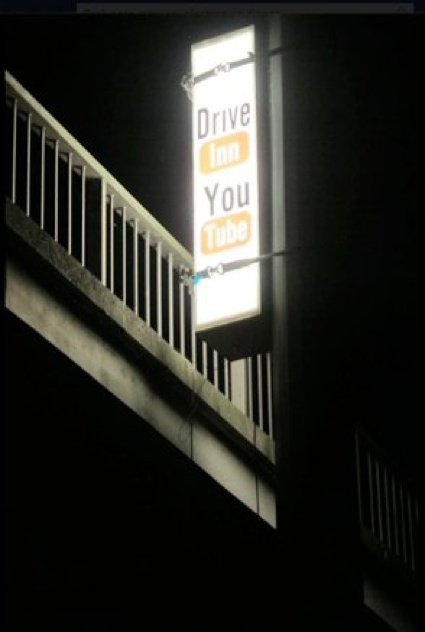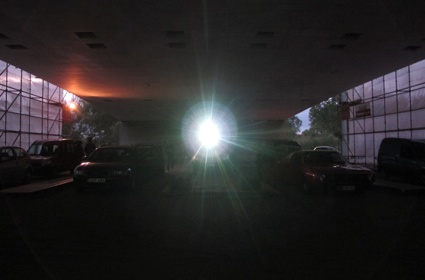 Drive-inn You Tube
I really liked the idea of a Youtube drive-in movie theater. Could you explain us how it worked exactly? Did you select yourself the videos that were screened?
It was a video projection under a bridge. It was a costless drive in movie theater where movies were streamed from youtube. I selected the videos but the last day we screened movies suggested by the public. The project was improvised on the spot so birds were flying around during the screening and car sounds or other sounds of the environment interfered with the audio of the movies.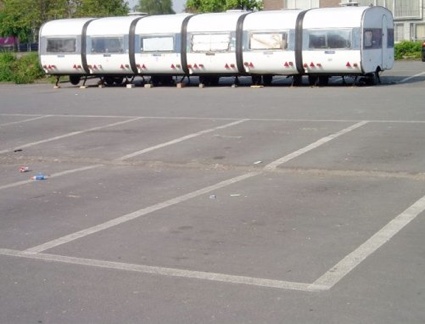 24 hours / 1 meter, 2009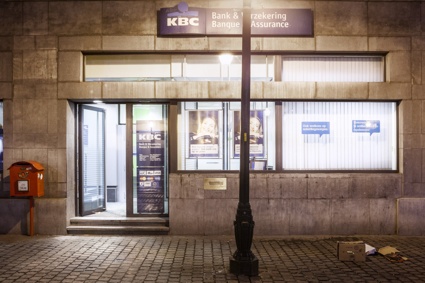 Wedge, 2014
Do you ask for permit for the various interventions in public space?
And whether you've asked for permission or not, what does working in public space have taught you about the way our space is used, managed and controlled?
Sometimes we do, sometimes we don't. We try to stretch the gap between the real world and our artistic interventions as far as we can. I think I have learned that public space has lost it's political function. Public space used to be where people got together and where politics originated but nowadays everything is controlled. That makes it harder or even impossible to rethink the function of public space and of politics.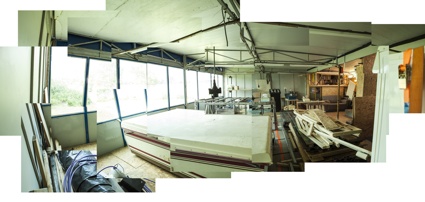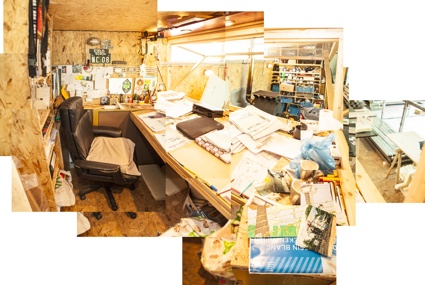 Atelier (interior). Photography: Pauline Niks
I'm also very interested to know more about the story of your studio. It is an antique fairground attraction called Jacky. What did it look like before? Where do you buy fairground attractions? and where did you install it? In a garden? inside a bigger building?
It was a mobile game hall, like an arcade for fairs. It was based on a circus wagon that travelled around for thirty years. Without the games it is now a space of 85 square meters, it is my laboratory. It is a mobile artists studio, it has no foundations or a postal address.
Who are the emerging (or not so emerging) artists whose work you find inspiring right now?
Gordon Matta-Clark, Gilbert & George, Claude Lelouche.
Thanks Karl!
No Title, 2014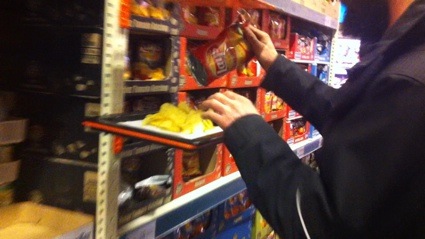 Colruyt, 2014
Retrospective / Introspective. Group show, Dauwens & Beernaert, Brussels, 15.01 – 13.03.2015.
no walls. Group show, Fenixloods, Rotterdam (NL), 17.01 – 17.02.2015
A Belgian Politician
. Group show, Marion de Cannière Art Space, Antwerp, 20.02 – 21.03.2015
Karl Philips – Daan Gielis – Tasya Krougovykh & Vassiliy Bo. Group show, W139, Amsterdam, June 2015
Phlogiston. Group show, (location to be determined), Split (Croatia) in July 2015.
Karl Philips, Solo show, Braennen, Berlin in September 2015.