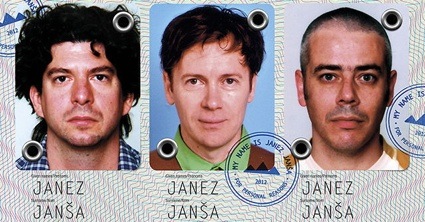 Five years ago, three artists legally changed their name to Janez Janša and joined the conservative Slovenian Democratic Party (SDS.) So far, so almost normal. Except that Janez Janša is also he name of the leader of the party and Prime Minister of Slovenia. Suddenly there were more Janez Janšas acting together within the same physical and media space.
Their experience is being turned into the documentary My Name Is Janez Janša in which individuals, artists and academics ponder about the meaning and purpose of one's name from both private and public perspectives.
A debate arose in the media and art circles around the three Janez Janša's artistic gesture: What was its intent and significance? Was it a political critique? A work of activism? Pure provocation?
Followers of the politicians didn't leave much space for discussion and subtlety when they launched a defamatory campaign and declared that My Name Is Janez Jansa was little more than a work of pornography. The cover of a recent issue of the conservative magazine Reporter illustrates the manoeuvre (the still images published on the cover are actually from Bruce La Bruce and Rick Castro's movie Hustler White which has been quoted in My Name Is Janez Janša.)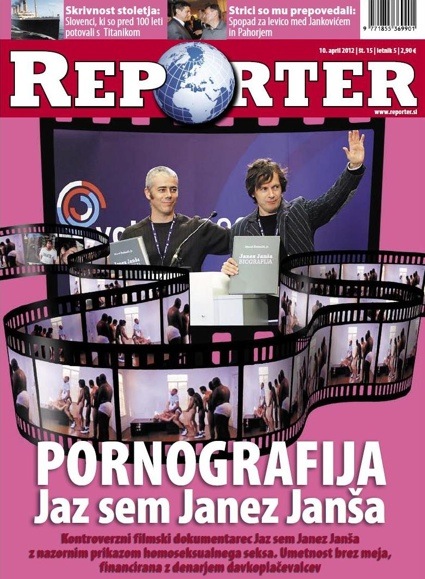 The artists have now opened a crowdfunding call to ensure that they'll be able to finish the post-production of the film and distribute it widely.
I contacted the three Janez Janša, asked them to tell us more about the movie, the name change, the defamatory campaign and immediately realized that they haven't lost any of their sense of humour in the process:
It's been 5 years already since you decided to change your names (Davide Grassi, Emil Hrvatin, and Žiga Kariž) to Janez Janša, the same name as the Prime Minister of Slovenia. I'm sure you were expecting that it would have an impact on your everyday life but what were the effects of the new names on your work as an artist?
Janez Janša: Let me correct you first. My legal name is Janez Janša while the politician's legal name is IVAN Janša. He has been called Janez since his childhood, but he never changed his legal name into Janez Janša.
Janez Janša: Interestingly enough, when he appears in front of the court, as he is involved in many legal cases, he does it with his legal name Ivan Janša while in his political life, when he represents Slovenia, when he signs state documents, he uses a pseudonym, Janez Janša.
Janez Janša: I was expecting him to change his legal name in the same name we have, Janez Janša.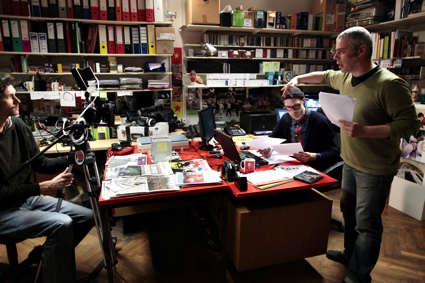 What has the experience brought you?
Janez Janša: My life didn't change because of the name changing. I still live the same kind of life and my artistic work is still my main profession.
Janez Janša: Shakespearean Juliet maintains that the name of the rose does not affect the sweetness of the rose itself. Yet, it is right my new name that makes now other people smell me different.
Janez Janša: The name is what you put forward when you introduce yourself to others. It streams your figure into public life. Other people use your name much more than you do. When you change your name, you don't change yourself. You change your "interface". That is why your name change affects other people more than it does affect you.
Janez Janša: …as one's death. It affects more relatives and friends than the one who actually died.
How do you feed the discoveries and experiences of the past 5 years into your work as artists?
Janez Janša: They basically feed by themselves into our work as artists because the name change practically merged our art with our life.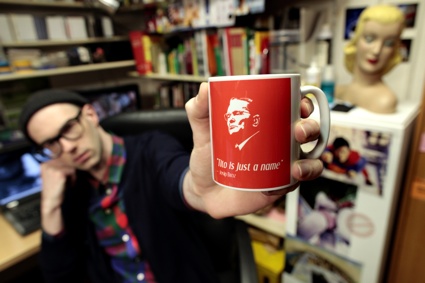 I read this afternoon in El Pais that the documentary had faced censorship. Can you explain us what happened exactly?
Janez Janša: This issue around our documentary is far from being over so I wouldn't use the pass tense here. It is rather difficult to summarize the whole story. Maybe the best is if you can point your readers to the on-line document that contains the chronology of facts. Then they can make up their minds about the issue. I'm not even sure I will call this a case of censorship. It's more a case of "preventive media pillorying", an attempt to disqualify the work in front of the public opinion before it even get released…
Janez Janša: …this way creating conditions for the public opinion to easily accept the censorship that might follow. The rhetoric used for achieving this goal is of a very populist kind. All the media close to the conservative government agree to define the movie as a "merely pornographic" and "highly offensive" product. A kind of "art" that shouldn't be allowed any further to be supported and produced with taxpayers money.
Janez Janša: The funny thing is that all the discrediting arguments are based on "something" that "somebody heard" that "someone else has seen". No one of the journalists attacking us has actually seen the work as the movie is not even finished yet.
But were you not expecting to be challenged and criticized when you decided that the 3 of you would adopt the name of the PM of Slovenia and join his own party? Surely that gesture must have been interpreted as a political position? And probably not as one that pays homage to his person and politics? How did he react to it?
Janez Janša: The first reaction by the Prime Minister was silence, and his silence was a very clear reaction. There was a lot of speculation in the media whether our name change is to be understood as a gesture of support or criticism to the politician.
Janez Janša: It is only in February 2011 that Janša, at the time the leader of the opposition, commented on our gesture. In an interview he gave for the 1st channel of the National Radio he said that he was receiving invitations to appear in front of the court and invoices for fines related to crimes we've done.
My Name Is Janez Jansa (excerpt #43)
Janez Janša: After Janša made his public statement also conservative media and intellectuals started to comment on our name change especially highlighting the way public money were spent and for which kind of "politicized art". Some of the progressive critic instead maintained that by changing our names we helped the politician to himself to the public under a better light. Other accused us of doing a mere marketing operation to gain more visibility and therefore get more money.
Janez Janša: But all of them basically agreed on the fact that this name change would be a short exploit in our careers and that soon we will all change our names back, or further.
Janez Janša: Well, they were right, at least in my case. I've changed back my name to Žiga Kariž in January 2009 and now I'm still using Janez Janša as a pseudonym especially when I do some work with these two guys, Janez Janeša and Janez Janša…
Thank you Janez Janša!
The documentary My Name Is Janez Janša is in its post-production phase, and it needs financial strengthening. Help the artists finish the film and reach worldwide audience.