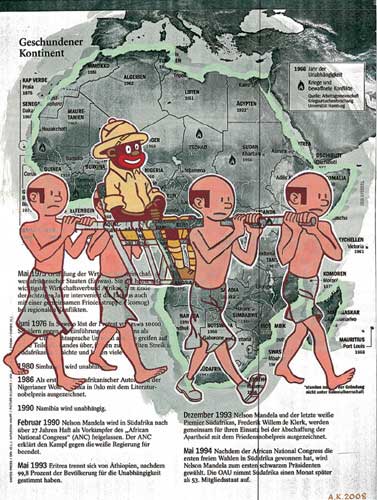 White Nightmare (Sedan Chair), 2008
Yesterday i arrived in Manhattan just on time to see the last hour of Anton Kannemeyer's solo exhibition at Jack Shainman Gallery. The title, The Haunt of Fears, comes from the 1950s EC Comics title, The Haunt of Fear, a bi-monthly horror comic from the '50s. As co-editor of Bitterkomix, the satirical comic magazine he started with Conrad Botes in 1992, Kannemeyer became known for creating a new South African brand unconcerned with hypocrisy and political correctness.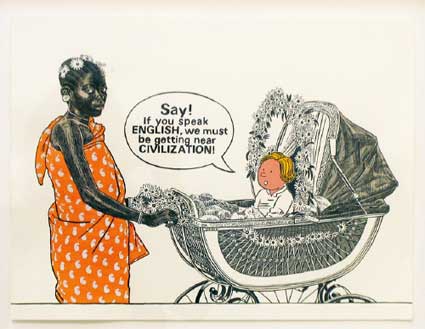 Say! If You Speak English…, 2008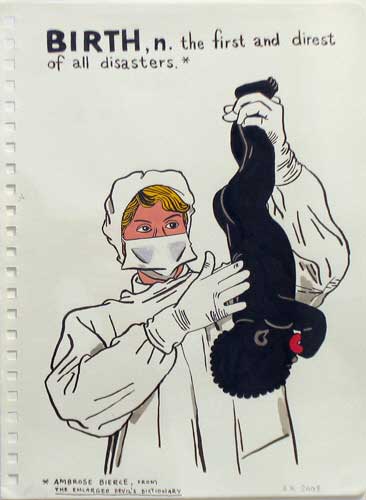 Birth, 2008
The gallery presented a selection of Kannemeyer's works on paper from The Alphabet of Democracy-series, a new series entitled Cursed Paradise and drawings from recent sketch books; all of which raise extremely uncomfortable questions in the debate about racial stereotypes and South Africa cultural and socio-political landscape.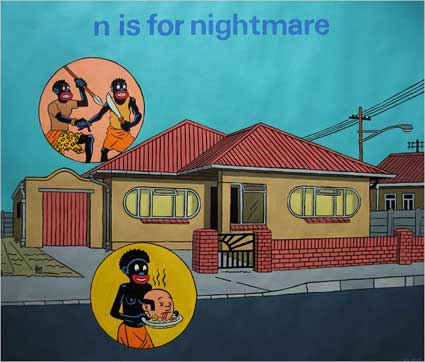 "n is for nightmare" (2008)
With The Alphabet of Democracy, the white South African artist tackles many issues politicians and journalists tent to "diplomatically" avoid. The series sharply comments on the madness below the surface of the rabidly conformist parts of white South African society, especially the Afrikaans community. Black politicians are not protected from his sarcasm either as the alphabet also targets the absurdity of some of their statements. However, some images from this series transcend satire. J is for Jack Russell, for example, shows a dog sleeping on the blanket with which its master's murdered body has been covered.
In this context, the word "democracy" becomes subversive. The liberated South African society and its form of government are shown as just another arbitrary social order fraught with moral ambiguity and human absurdity.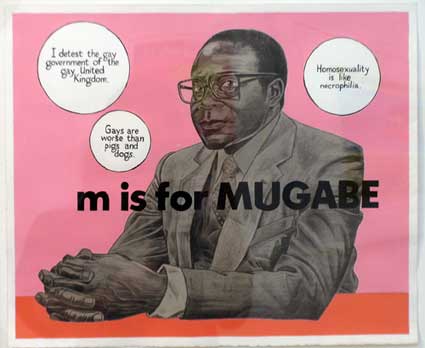 M is for Mugabe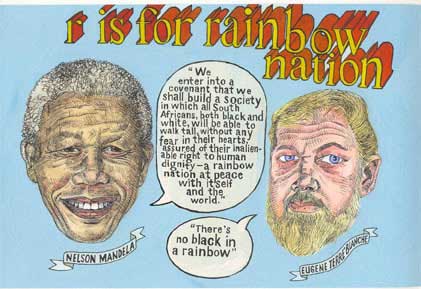 R is for Rainbow nation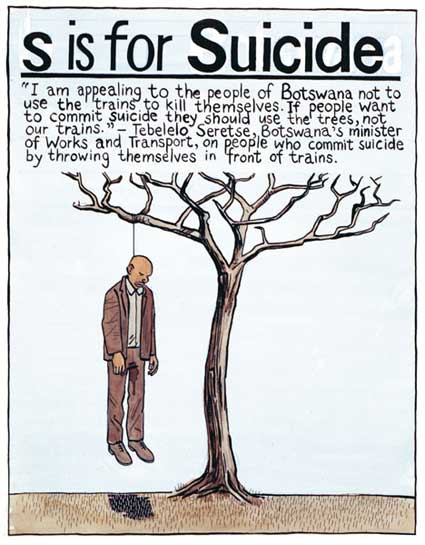 S is for suicide
In Pappa in Afrika, a parody of the controversial Tintin in the Congo, as a white African trapped in his own incriminating skin – a character who cannot escape his colonial past regardless of his personal political convictions. It depicts a content white man in a car driven by a black servant. A machine-gun-toting black soldier stands guard, while poor black natives watch the car filled with boxes labeled Texaco and Halliburton pass.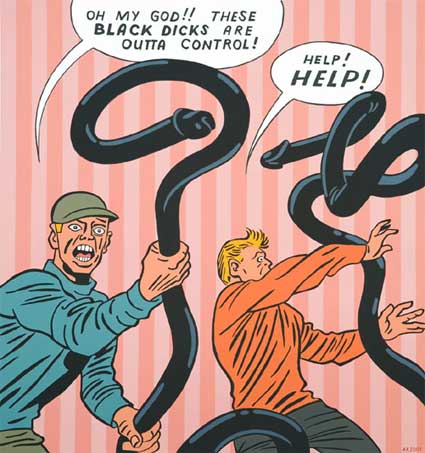 White Nightmare: Black Dicks
More images: Michael Stevenson and Jack Shainman Gallery.