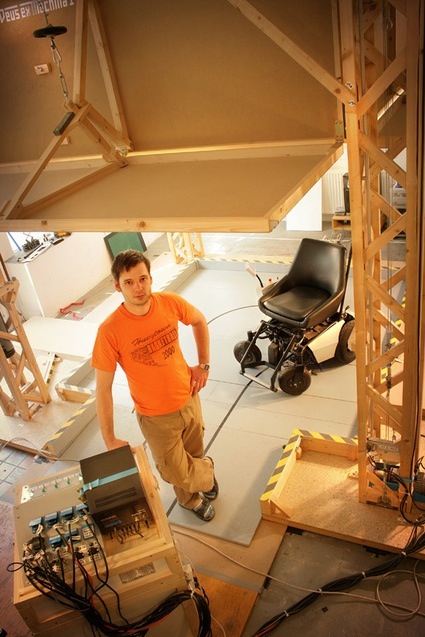 Robotik Room
It was time i'd interview Niklas Roy! Jonah Brucker-Cohen had a fantastic talk with him for gizmodo but that was 4 years ago. And there are video portraits about Niklas Roy online but there are in a language i can't quite master. Niklas is one of the most facetious characters of the 'new media art' world. His dance machine without 'annoying Dj", moving curtain, 'distributed' fountains, white cube gallery in a box, physical teapot inside a Commodore cabinet or his electromechanical version of the game Pong are certainly witty, absurd and at times, even hilarious. But don't let the jesting fool you. Behind the playfulness of Roy's machines, lay much irony and lucidity about the world of art & tech he belongs to.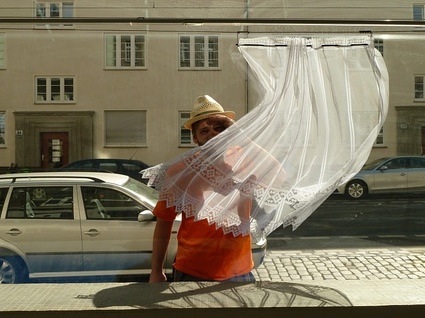 My Little Piece of Privacy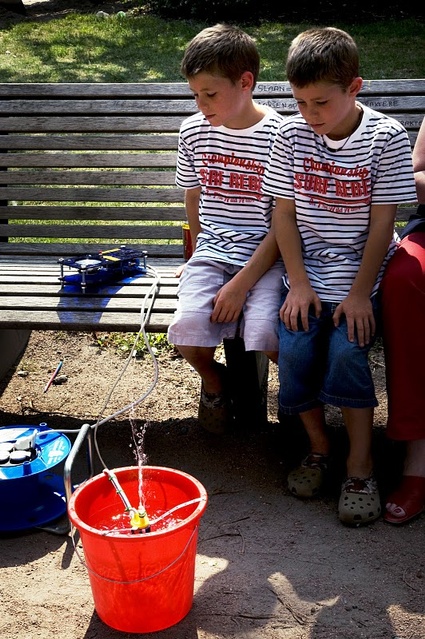 Privéfonteintjes
Hi, Niklas! Why do you feel the need to invent 'useless things'?
Well, I guess that engineers and designers which usually invent machines and devices mainly do that in order to solve a problem with their inventions. Or they want to make an existing process more efficient with the help of technology. But such efficiency-driven approaches exclude a vast field of possible inventions. I find it very interesting to explore this field as it promises to be very free.
Do you really believe that your works are useless?
Somehow, my creations often end up in art exhibitions. So the question is, how useless is art? I strongly believe that art is useful for the health of society in some sort of balancing way. From that point of view, my machines might be a bit useful.
WIA WIA – Water in Africa Water in Austria
It is a bit daunting to interview you. I'm not sure i can trust any of your answers. Especially after having had a look at the WIA WIA project for which a fictitious African artist set up an installation that consisted of a public toilet in Linz, that appeared to be hooked up via Internet to an African village's well. Why did you chose to trick ars electronica? Was it really a spoof? Surely they must have known there was something fishy in the work?
Ars Electronica is the leading Media Arts institution. Their pole position makes them define trends and create hypes. Unfortunately, I often cannot agree to those hypes – which feeds the rebel in me.
Melissa's – let's call it 'performance' – started when Ars Electronica released a 'call for proposals' for an exhibition as part of Linz' culture capital program. This open call was more or less a very clear wish list of what they'd like to show. This open call would have made a good briefing for companies which focus on designing interactive installations. But it was not suitable to address artists which should stimulate the society by expressing their own positions. My application as African artist Melissa Fatoumata Touré began as a little fun experiment. I submitted precisely what Ars Electronica asked for and spiced it up with some toilet humour. I wanted to know how they'd react to such a rather ridiculous submission. It worked out far better than I thought: As I heard later, Melissa's toilet project was the first that got accepted by the jury – and they were even a bit sad that the other submissions didn't even come close to the 'quality' of Melissas proposal. Well, this is what the jury said.
To answer your last two questions: As far as I know, the organizers really had no clue what was going on until Melissa presented her work via Skype and with a live video broadcast from her uncle's internetcafé in Africa. That happened about three weeks after the opening of the exhibition, as far as I remember. But you should not forget that they've never seen Melissa before this presentation. It was all organized just via email and phone calls. There was a lot of imagination involved. On both sides actually: I also could just imagine what the organizers in Linz would think about Melissa. And during the long process of preparing the exhibition and the installation, I often had the feeling that Ars Electronica wouldn't believe Melissa's identity anymore and that they're already playing with me.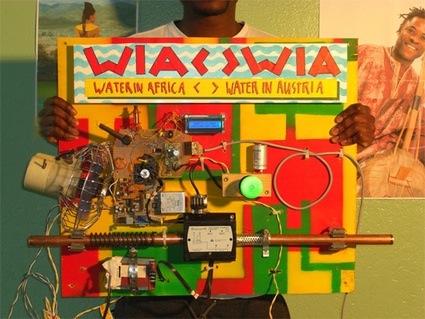 WIA WIA – Water in Africa Water in Austria
I like your explanation of why Melissa is 'the perfect dream of every new media curator.' And i couldn't help but smirk at 'her ideas are distilled media art mainstream.' Could you elaborate on this? What are 'distilled media art mainstream' ideas? Do i perceive a certain disenchantment/fatigue with media art theories and ideas? Or am i completely wrong?
I'm not even sure if ideas and theory play such a big role if you want to become successful in this field. Here are some simple lessons that I've learned so far:
1st: Don't be an artist. You should be an architect or have a background in biology, or something else more or less unrelated. Melissa was actually a computer scientist. Talking about Melissa: Your gender also plays a role. Being a woman beats being a man, as women are extremely underrepresented in this field.
2nd: No matter what you're really up to, I can recommend you to also make some experimental electronic music. This adds an interesting layer to your personality. Your level of musicality doesn't matter as that's the point where the experimental part starts.
3rd: Buzzwords and -topics are your friends and your source of inspiration. You might consider to become active in the fields of biotech, sustainability or, of course, Facebook.
[Edit: I just learned that from Ars Electronica's press release that Paolo will receive an Award of Distinction this year for his project 'Face To Facebook'. So maybe Facebook as an inspiring buzz topic might not work in the future anymore. And, congratulations Paolo!]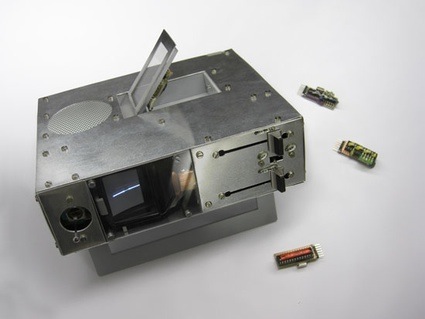 Vektron Modular
You explain that you created the Vektron modular because sometimes you need to listen to some strange zoundz. That sounds (to me at least) like a lot of work just for the sake of listening to some strange zoundz. I was wondering how often you create a work just for your own amusement. How much are you influenced by the possible feedback from public, the future reaction of the audience during the creative process? Do you give it much importance when you are developing a new work?
Building this synthesizer was actually an attempt to add an interesting layer to my personality. But I didn't want to write it so clear on my webpage, as this would have caused the reverse effect. Ok, now serious: I regard the development of things like this experimental Synthesizer as both, spare time fun and hands on research. I do that as often as possible as it often leads me to new ideas. The hard thing is actually to organize life an a way that you have so much spare time where you can work really free.
When I develop little personal devices like the Vektron, I really don't care about audience. But if it's about developing interactive installations, I certainly think a lot about mechanisms of human behaviour in advance. Many of those human reactions are quite predictable and the more you think about them in advance, the better an installation will work at the end.
Reinventing the Television – A workshop of Niklas Roy at the C:art:media program at Konsthoegskolan Valand, Goeteborg
I was very impressed by the little video documenting the Reinventing Television workshop you headed a the Valand Art School in Gothenburg. Can you take us through a couple of projects that turned old tv sets into 'storytelling machines'?
This was really a nice workshop. Anna Kindvall, one of the directors of Malmö's Electrohype biennial was teacher there at that time and invited me. The idea was to take old TV's and build new machines inside or with them. I often built TV's out of cardboard boxes when I was a child and don't get me wrong, now, but I think when something was a lot of fun to do in childhood, it's always nice to make the same things with art students.
The results of this workshop were very different and it's hard to point out one TV that I found better than the others. It was meant as a hands on technology workshop and what I liked were the very different technical approaches: While some students went deep into electronics for their first time, others built complex electro mechanic machines or crank operated devices that didn't need any electricity at all.
My Little Piece of Privacy is a curtain that moves along your studio window to protect you from the gaze of passersby and achieves precisely the opposite. I have the feeling that it is also the kind of idea that the 'creatives' in advertising and communication agencies would love to steal for their clients. Has anything like that ever happened to you? Have people from advertising ever approached you with a request to adapt one of your projects for their client? Is it something you'd be happy to do?
This installation is indeed an amazing attention-magnet. But the installation makes so much sense because it is just about a little hyperactive curtain. If the curtain would be replaced by a moving advertisement, it would be just poor. Maybe the 'creatives' which wanted to steal the idea also realized that. At least they didn't contact me and I haven't heard of any spin-offs, yet.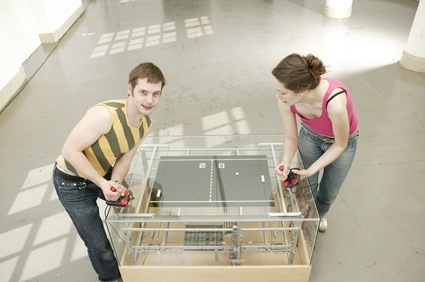 Niklas Roy, Pongmekanic, 2003-2004. Photo Andy Küchenmeister
I guess the previous question calls for the upcoming one: The first time i saw your work was at Transmediale where you were showing Pongmechanik. You were still a student at the udk in Berlin at the time. As far as i can see you're still a happy independent artist doing exactly what takes his fancy. How do you do that? Do you have any advice for talented media art students who would like to actually have a career as media artist and not as 'creative' doing websites for an 'interactive design' company?
I think I answered that already in two different ways: My personal trick is mainly to organize life in a way that I have a lot of time (and at least enough money) to work on things that I find interesting. Working in a company will not really help, as this takes too much time.
You can also try to follow those three golden rules that I mentioned before. Good luck!
How did you start being involved in media art? What attracted you in this field?
It was actually many years ago, when a friend took me for my first time to the Transmediale. I was working in the film business at that time, creating visual effects for feature films. This Transmediale visit caused two things: On the one hand, I've never seen so many interesting installations at one place before. I loved the way how technology was used in this very creative way. And on the other hand, I saw that there's plenty of space to make even more interesting things with technology. That's why I started to get involved in this field.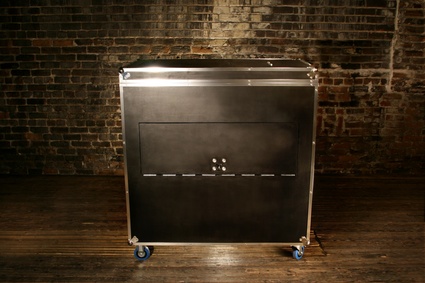 International Dance Party (The IDP in transport mode)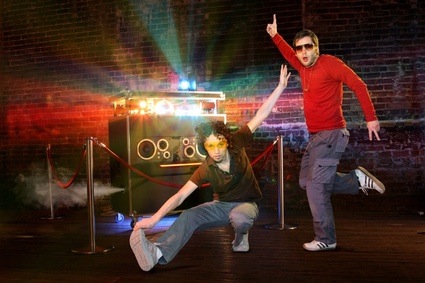 International Dance Party (Hypnotized by the music, the audience starts to dance. Energized by the dance actionthe IDF freaks out)
I saw the International Dance Party once in an exhibition in Amsterdam. i was alone in the room and could afford to throw away any kind of inhibition. But you must have witnessed the effect it has on a group of people. How do people react to it usually? Are they very self-conscious? Or rather extrovert?
Like the curtain, the IDP works amazingly well. But of course, there's a little bit of chain reaction involved. If one person starts to dance, it doesn't take long until the whole room takes off. The sad thing about this is, that I really like how the machine opens and closes and how it transforms its shape. People which are just dancing don't recognize that, as the installation always stays in full party mode. If that's the case, I sometimes try to convince the people to stop dancing. First they don't approve my suggestion, but if they do, they love the installation even more afterwards.
Has anyone ever bought the Beginner Set "Junior IDP"?
That's my main income!
Crazy Party Machine! – Amazing Technology!
Any upcoming project or exhibition that you'd like to share with us?
Yes, there's this exhibition in Barcelona's DHUB opening soon. The vernissage is on June 21st.
And then, there's another exhibition, called 'Paranoia' which is still going on in Lille's Gare St. Sauveur. Charles Carcopino curated this really great show. I can 100% recommend it and it's still running until 15th of August.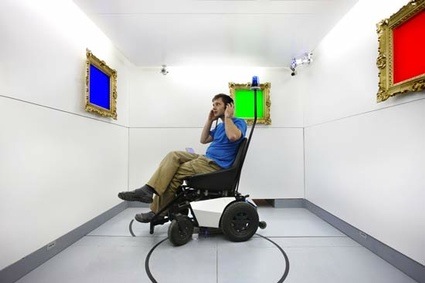 Gallerydrive / The Grand Illusion
Thanks Niklas!
Photography used on the homepage is by Martin W. Maier.