Last month i was in pretty Stockholm thanks to Iaspis, a Swedish network that supports international exchange for practitioners in the areas of visual art, design, craft and architecture.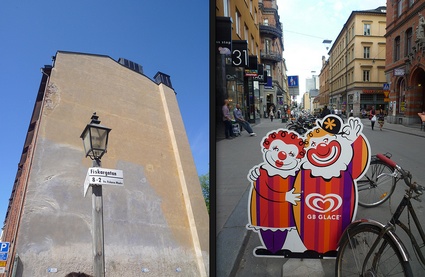 The main purpose of my visit was to give a talk at Iaspis but they kindly invited me to take part in a programme aimed at helping foreign experts get to know Stockholm designers and artists better. While the rest of the city was slowly turning into crazy madly deeply loving mood courtesy of the wedding of the Crown Princess, i got to hop from one meeting with an artist to another one with a designer, a performer, an activist or a curator. Definitely one of the best experiences of my long-ish and agitated career as a blogger.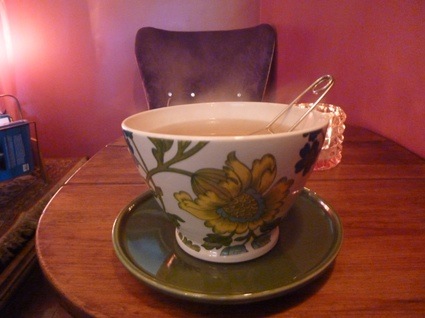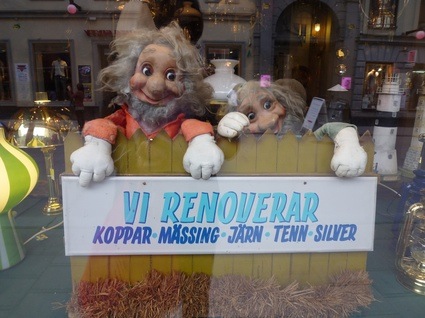 Nope, I couldn't explain this one either
One of the persons i met in Stockholm is Tor Lindstrand, an architect based in Stockholm who founded International Festival together with choreographer Marten Spangberg.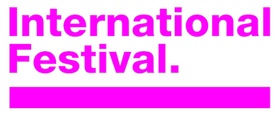 Now looking for information about International Festival online is a nightmare. Try googling them for example… IF is a blank canvas. Its name is so vague you can't define whether they deal with contemporary visual art, cinema, dance, architecture or theater. And that's exactly the way they want it.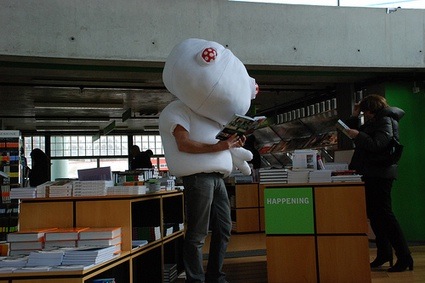 CAPITALISM! Bring It On Again, 2008. Image by Tor Lindstrand
Loosely defined as a long-term project initiated between architecture and performance presenting work in several cultural contexts, IF keeps coming up with projects and ideas that could not be more diversified: videos, perfumes, arabic courses inside Copenhagen's Temporary National Theater, TV-programs, a mini Mobile Disco, a book titled International Festival: Everything Is Turning To Gold. They even shot a remake 1949 musical film On The Town as an alternative way to explore the social and spatial geographies of New York City.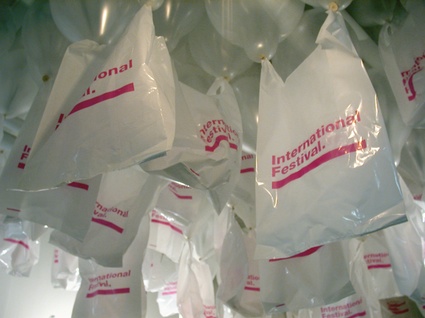 Their first big coup took place in Berlin. When the city's dance festival Tanz im August commissioned them a work for their 2004 edition, International Festival didn't build anything nor did they produce any show. Instead, they managed to convince the festival organisers that they should let them make a welcome package for the staff and artists. Branded "International Festival", the bag contained soap, t-shirt, music, readings, flip-flops, DVDs, etc.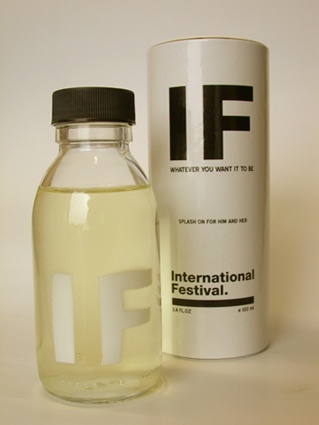 After that, they toured European theaters to distribute 25,000 plastic bags printed with the pink International Festival logo.
A year later, IF was at the Longue Nuit de la Danse festival in Brussels giving away 1000 bottles of a perfume called IF.
The audience opened the bottles, tried the fragrance on and hey presto, IF was everywhere. Its presence will keep on lingering in various spots around the world until the last bottle of IF is finished.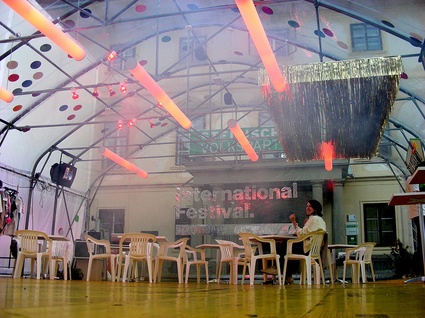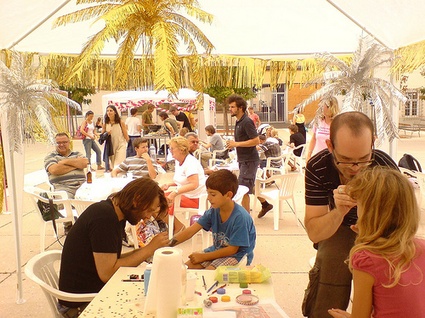 More images of The Theater
In 2007 they were at the Graz multimedia art festival Steirischer Herbst with The Theatre, a foldable and movable building that acted as a full-size stage when it was not hosting a bar, workshops on architecture, cooking, and dance, a shop, etc. A fully functioning theatre and foyer designed, built and packed with the same budget as the one of a larger scale performance. The Theatre was created to tour to different cities and contexts over a period of 3 years. Its aim is to be a platform for discourse production, debate about institution theatre and to find escapes and alternative to traditional organization, program, economy and distribution.
I didn't attend any of those events but i had the pleasure to visit Tensta Konsthall, an art center at the outskirt of Stockholm, and see what IF did with the square right in front of it.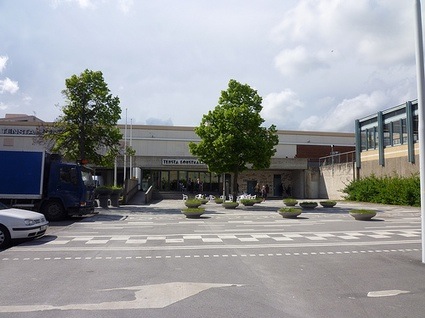 IF turned a 1200 m2 parking lot into a public square. Called Taxingeplan, the square is located at the intersection of the subway, a shopping-centre and Tensta art-centre. IF kept a part of the site for traffic and dedicated the rest to public use. They covered the tarmac with a pattern painted with road marking paint, added plastic garden chairs and large flowerpots filled with grass, and the result is quirky but also strangely inviting and relaxing.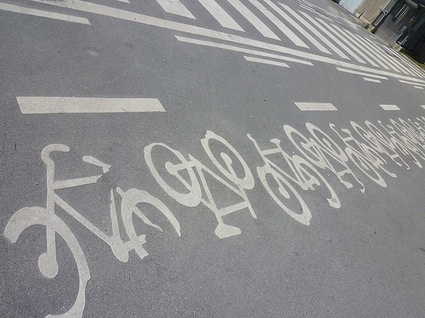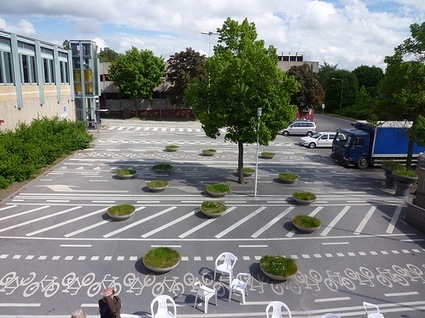 Taxinge Piazza at Tensta Konsthall, Stockholm
By inserting their actions and projects inside the gaps of cultural systems, International Festival questions cultural hierarchies, shake up the idea of a passive, contemplative audience and call for a more pervasive form of performance.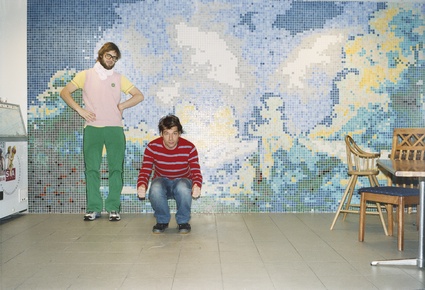 Portrait of International Festival by Andreas Ackerup
Their projects are constructed and realized in the blurry zones between aesthetics and utility, object and activation, architecture and performance. International Festival deals with the notion of spectator/viewer in respect of collectivity. A theatre audience as well as museum visitors are conventionally addressed as a population, one people. The strategies of International Festival produce an audience/viewer that by taking part individuate him/herself. International Festival has not one audience but its audience is a multitude, a heterogeneous number of individuals.
Don't miss International Festival at the upcoming Venice Biennale of Architecture which opens on August 29, 2010. They'll be working their magic at the Nordic Pavilion.
International Festival: Mobile Disco from International Festival on Vimeo.
International Festival on Vimeo.