Last week, while walking down Marylebone Road, i saw a sign pointing to an exhibition of works by graduating students from the University of Westminster MA Photojournalism. I'm not one to miss a photo show when i pass by it.
One of the most stunning photo series was In the Shadow of Faded Dreams by Zlata Rodionova. The young photo reporter traveled to Star City, a small town near Moscow that hosts the Yuri Gagarin Cosmonaut Training Center, the heart of the Russia Space Programme. She encountered nostalgia for a time when the USSR was a Space Superpower, poor living conditions, impressive machinery and an inextinguishable passion for the cosmos.
The idealism of the Soviet Space programme speaks of serving humanity and a belief in peaceful future. However, politics has left a negative trace on these ideas and we often associate Gagarin with the tense atmosphere of the Cold War. Still, for people working at the Yuri Gagarin Training Centre, a military complex where all cosmonauts have been trained since the 1960s, Gagarin remains a hero while space is the only reality they know, almost blending with the surreal machines they work with, they seem to be trapped in a window of time. In the shadow of faded dreams, thus sheds the light on a close-knit community of space-lovers, still clinging to the decaying legacy of the 1960s Space dream.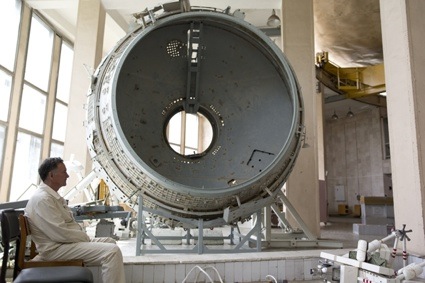 Hydrolab Instructor: The instructor's role is to help cosmonauts to adjust the lift, drift the balance and guarantee their safety when they train underwater. A training that can last up to six hours. The trainer wished to remain anonymous. Photographed by Zlata Rodionova, Copyright © Zlata Rodionova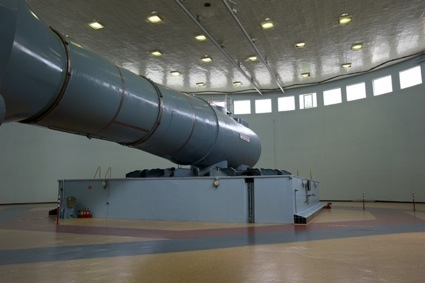 Tsf-18 Centrifuge: The world's largest centrifuge in an indoor space. It has a rotating arm of 18m in length and can simulate up to 30g with a payload mass of 350kg. The only training equipment that could easily kill a man within the centre. Photographed by Zlata Rodionova, Copyright © Zlata Rodionova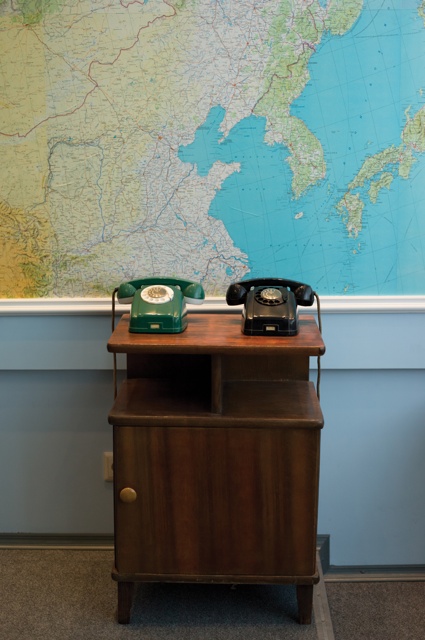 Vintage telephones from the 1960s. The two phones were used by Gagarin during his lifetime. One was used to call within Star City, the other to reach Moscow. Both devices still work although no one dares to use them. Photographed by Zlata Rodionova, Copyright © Zlata Rodionova
I contacted Zlata to know more about the conditions in which she made the photo series. I suspected that the stories she'd tell me would be as fascinating as her images. And i haven't been disappointed…
In the past, Star City was a highly secret military installation and access to it was restricted. This is not the case anymore. How easy was it for you to visit the training rooms, talk with people working there, and document what you saw? Did you need to obtain special permissions? Could you roam free and photograph as you wanted?
Indeed during Soviet Times, Star City's location was kept secret. Most ordinary Russians had only vague ideas about its location. The lucky few that had the chance to visit it (through jobs or rare state organised 'excursions') revealed that Communist's ideals promised by the State could only be seen and enjoyed there.
Today it is very different as you can visit it as a tourist, pretty much everyone in Russia knows where it is, however it is quite expensive.
For instance, the 'Russian Space Museum Tour' cost $165. You basically have to choose what exactly you want to see within the city or the centre but there is not really a tour that encompasses everything. So for me it quickly became evident that for my story to be told the way I wanted I would need to obtain a special press access.
It was very difficult to get. While explaining my project I often said that going there felt like travelling back in time to the Soviet era. For me this journey started at the very early stages, as when obtaining papers I had to deal with proper Soviet style administration. One call to one office led to another. I had to obtain different permissions to live in the city's hotel, be able to walk around the city freely and a separate one for the training centre. As in soviet times the person on the desk could not give me any information as long as the head or deputy-head of the administration was not there. If the person in question was on holiday I would have to wait for days. I don't know what it would have been like for a foreign photographer, as the first question I would be asked was "Do you have Russian passport?", which fortunately I do.
The process became a bit easier when I commissioned my story to the Russian political weekly magazine Profile which regularly runs photo-reportages alongside more political and business orientated articles. With their support (they were more keen on working with an accredited photographer than an MA student), I was given access and allowed to live within Star City in the hotel Orbita for two weeks. In the whole it took me a month to get all the papers I needed.
Once on site, I could walk around freely in the residential area and document it in depth as well as discover its spirit and people but the training facility remained a closed zone. I was only allowed to be there on particular times, specific areas and always accompanied by someone from the media team or one of the instructors. Also when international crews would be training I was not allowed to photograph as it meant I would have to get another authorisation from NASA.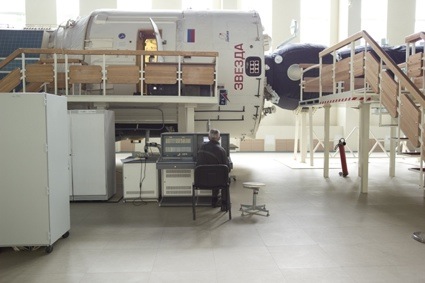 Zvezda Service Moduke. Photographed by Zlata Rodionova, Copyright © Zlata Rodionova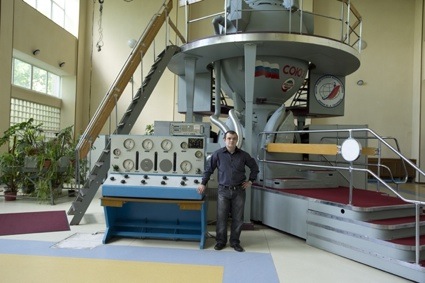 Gucilnikov Alexei Anatolivich, Head of Department of training on Soyuz TMA machines. Photographed by Zlata Rodionova, Copyright © Zlata Rodionova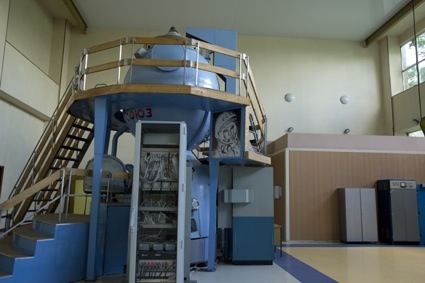 Training Simulator TDK 7ST2. Photographed by Zlata Rodionova, Copyright © Zlata Rodionova
How big is Star City? How many people are living and working there? I'm interested in the size of the place because many of the photos show huge rooms with machines, cockpits, training simulators but there is no animation, no people busy working on it, getting in or out of the capsules for example. You mostly show people posing for a portrait. Is Star City so vast and desolate? Or was it just your choice to depict it like that?
Star City itself is a small town about 25km of Moscow, it is within this town that you can find the Yuri Gagarin Cosmonaut Training Centre but they are two distinct areas and have two distinct administrations. They divided in 2009 when the town itself became subordinate to Moscow Oblast (Moscow region) while the centre is administrated by Roscosmos.
The city has about 6,500 inhabitants. Approximately one-third of whom are pensioners aged 60 to 90 years. This year the city will even celebrate the 100th birthday of one of its citizens. Most of them are former employers of the Yuri Gagarin Cosmonaut Training Centre (GCTC).
The city was an intriguing place. To me it felt as if I was in an Soviet sanatorium or pensioner's retreat but one dedicated to Gagarin, his statues and portraits gaze at you from every corner while you can buy your groceries at the supermarket Little Star or go for lunch at the cafeteria Little Sun. On the days where I couldn't photograph there were old people sitting by the lake sun bathing. But the glory of the olden days is definitely gone. The town has not received any funding since the nineties, and the flats have not been renovated since the sixties. For many residents hot water or heating is a treat that only occurs on occasional days.
The training facility itself is a place of visual contradictions – colourless decaying buildings are aligned in an orderly way, however inside you discover machines that you could only expect to encounter in Stanislav Lem's science-fiction novels.
For my project, I decided to focus predominantly on the training centre, as Star City's residents' lives revolve around it and it is there that you can see all the commitment, relationship between men and machines as well as the last glimpses of the Soviet Space dream. While walking around it, you can see people are working and it is more active than shown in my pictures, however as the physical space and machines are huge it always seems pretty empty. The atmosphere that comes out of this gives you the impression of walking through a dream that is slowly fading away, I wanted to capture the strange magic locked beneath the surface in order to reveal the nostalgia associated to the USSR's status of Space superpower and shed the light on a close-knit community of space-lovers, still clinging to the legacy of the 1960s Space dream.
Thanks to the use of my medium format camera, the Leica S2, 30 x 45 mm in size, which often had to be used on a tripod due to poor lighting conditions within the training centre, I managed to create a distance both physical and psychological between myself and my subjects. The aim was to create a surreal, respectfully distanced and neutral mood leaving the viewer to make his own opinion about my pictures and this particular place.
Being motivated by the desire to uncover the unknown, understand its purpose, and display its majesty this format also permitted me to show all the surrealism and grandeur of these gigantic training devices. Finally, this camera, does not allow you to take photographs in an instant, it requires more installation and planning, which gave me two advantages. First, it offered time for my subjects to open themselves up to me, and gave me the opportunity to shed the light on individuals that traditionally do not receive such attention. Second, the photograph produced is still, detailed and frozen, which helped me to suggest a community and place fixed in time in a volatile moment in the country's history.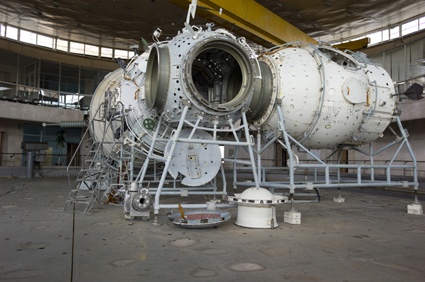 Module of the International Space Station (ISS). Photographed by Zlata Rodionova, Copyright © Zlata Rodionova
The Russian space program seems to be pretty active though. I was reading this morning about the Soyuz capsule returning to Earth. Did your visit to Star City and the discussions you had with the people working there make you perceive space missions as adventurous and glamorous as ever? How much has your experience there changed or reinforced your perception of space travel?
One of the Russian space industry's main problems is financing. A third of the industry's enterprises are practically bankrupt. Compared to developed countries, Russia invests ten times less in research and development in the industry, and five times less in basic assets and personnel training.
Every single person that I spoke with: trainer, engineer, cosmonaut said that no one comes into this industry for money.
Also there is simply a loss of interest, if in the Soviet era cosmonauts were considered heroes and every single child dreamed of flying in the outer-space nowadays Russian schools don't run programs like astronomy anymore. I was amazed to find out that a cosmonaut who finished his military service, finished an MA in aerospace engineering, spent about 15 years training and 164 days in the outer space only received around $350 a month as well an allocated room within a shared flat for him, his wife and child. Another one told me he worked as a part-time taxi driver to make ends meet.
So the image I got out of there was definitely not the glossy one you get from US blockbusters with big rooms full of flat screens, and sleek looking man running around with perfectly ironed white shirts and coal black suits. The GCTC's people you see are probably from the most ordinary archetype you could imagine. Chubby smiling middle-aged men, or on the contrary older very dignified veterans, resembling the ones you see on postcards from the Soviet times. I also gained new respect for them, they really all are people of dreams. When asking the question what brought them here, most of them replied that they still remembered the day Gagarin was sent into space or the fact that they've been dreaming of flying to the stars since childhood. One of the trainers who works in the Hydrolab and couldn't qualify to be a cosmonaut said that after training cosmonauts for long hours under-water, at night he sometimes dreamed that he was himself walking in the outer-space.
They are all very aware of the crisis within the industry but no one wants to change jobs because it's simply their passion and they couldn't imagine their life without it. It does seem like they live in a bubble where time is standing still.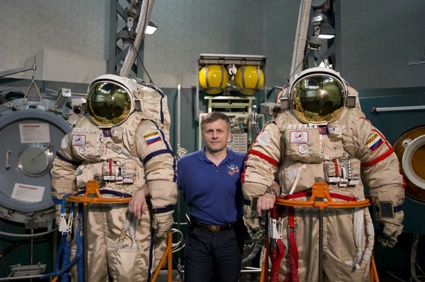 Boricenko Andrei Ivanovitch, Cosmonaut, time in Space 164 days, 5 hours, 41 minutes: "It was once said that those who go into this profession are not romantics but fanatics. You need to be fanatically in love with Cosmos to pursue this career." Photographed by Zlata Rodionova, Copyright © Zlata Rodionova
What are you going to do now that you've graduated?
My main problem is that I have too many interests. Besides photography I have a real passion for writing. For me they complete themselves.
So right now I am really hoping to find a job as a writer on photography, and finish to build my online portfolio and website, which I couldn't concentrate on while doing my MA. I am also hoping to promote and sell my project to a magazines as I really want my story to get out there.
Once I build up a portfolio strong enough and wider range of contact I would ultimately like to become a foreign correspondent.
Thank you Zlata!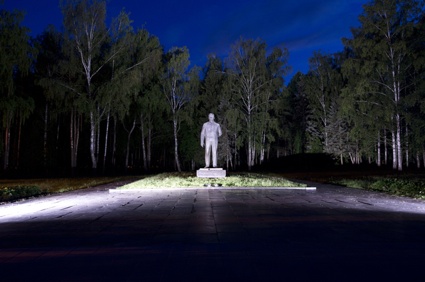 Gagarin Yuri Alekseyevitch, First Man in Space. Photographed by Zlata Rodionova, Copyright © Zlata Rodionova
More information in Source and in the book In the Shadow of Faded Dreams.