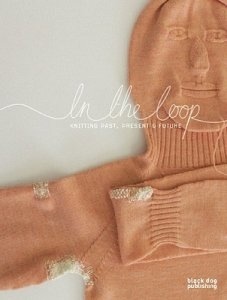 In The Loop: Knitting Now by Jessica Hemmings (available on amazon USA and UK.)
Black Dog Publishing writes: In the Loop shows the different aspects of contemporary knitting practice and transforms our understanding of knitting away from retro hobby to mainstream craft and artform.
In the Loop features essays and images that show the progression of knitting and discusses the topics of knitting in art, international knitting traditions, knitting as social activism, the oral history of knitting, and knitting technology. The book include case studies on knitting clubs, artists using knitting in their work and provides an attractive and informative review of the subject. The illustrations provide a fresh look at this subject and ensure this is an essential book for anyone with an interest in contemporary crafts.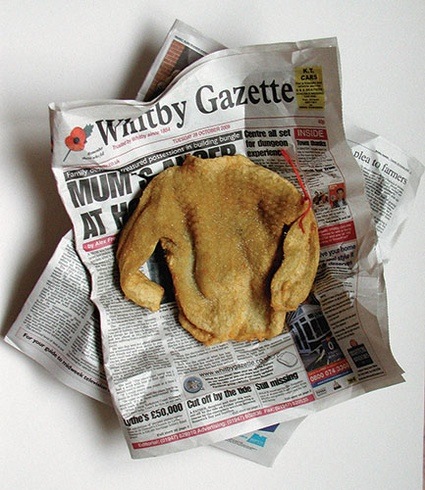 Annie Shaw, Gansey, deep-fried at a fish and chip shop, Whitby, North Yorkshire. Photograph: Annie Shaw
Just when you thought you had read them all, here comes another book on knitting. This one however has a unique approach. Instead of listing quirky artists and modish projects, In the Loop unravels knitting through disciplines as different from each other as taxonomy, psychoanalysis, history and literature (more precisely 'knit lit'). Each of the contributors of the book, whether they are artists, tapestry maker, scholars, costume designer or fashion designers, is challenging any expectation and perspectives we might have on knitting.
The book is divided into four main sections: Rethinking Knitting, Narrative Knits, Site and Sight: Activist Knitting and Progress: Looking Back.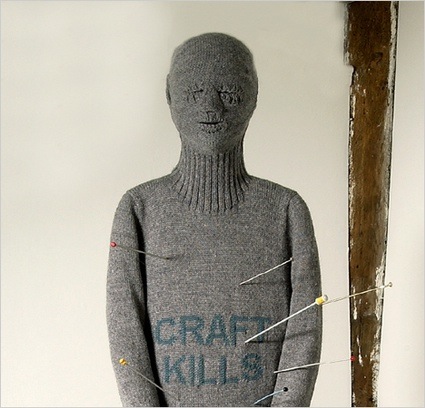 Freddie Robins, Craft Kills (Detail), a comment on the post-9/11 ban on knitting needles in airplanes
I was particularly interested in the essay written by Freddie Robins. I've followed her work for a few years and the book gave me for the first time the opportunity to read her own account of her practice. She explains how she uses technology to give a seamless perfection to the life-size 3D human bodies she knits. Sabrina Gschwandtner (author of the brilliant KnitKnit: Profiles + Projects from Knitting's New Wave) takes an unexpected path by dedicating her contribution to Kite Aerial Photography and drawing parallels between this hobby and her own.
There's more familiar names in the book. In the section about narrative knits, needle king Mark Newport exposes his fascination for superheroes in heavy woolly overalls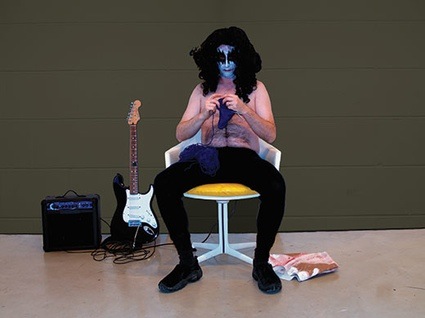 Mark Newport, Alter Egos: Backstage, 2009. Photograph: Mark Newport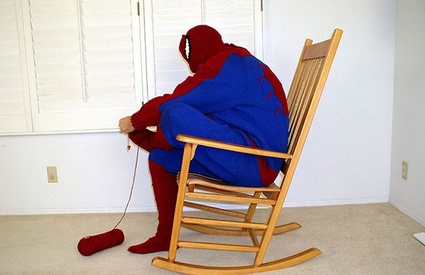 Mark Newport, Self Made, 2004
The section about activism demonstrates how knitting is used to bring a political discourse in the classroom, in landscape, local communities, collaborative practices and even sexuality.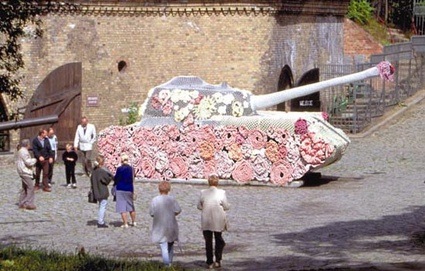 Jerilea Zempel, Guns and Rosettes, Poznan, Poland, 1998
Progress: Looking Back goes from craft, hand-made and traditional to modern technology. And back. In her essay for the book and artistic practice, Rachel Beth Egenhoefer links knitting patterns to computer code, turns ethernet cables into cloth, animates stitches with a zoetrope and even brings the venerable craft to the Nintendo Wii.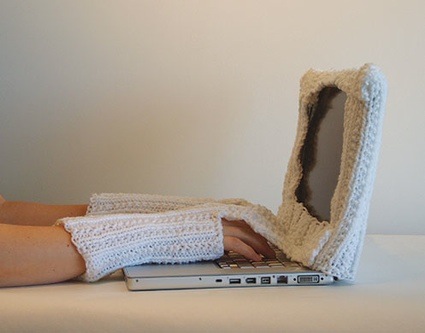 Rachel Beth Egenhoefer, Knit negotiation, 2004. Photograph: Rachel Beth Egenhoefer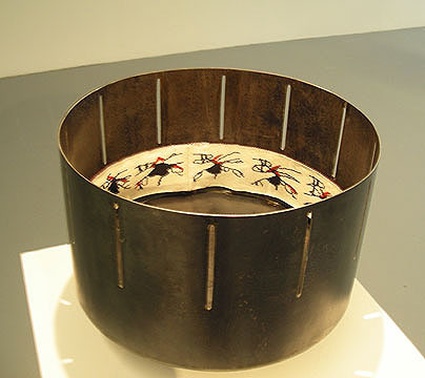 Rachel Beth Egenhoefer, Looped, steel zoetrope and knit animation, 2008
Photo gallery at The Guardian.
See also: Book Review: KnitKnit: Profiles + Projects from Knitting's New Wave.
Previously: Craftwerk 2.0: New Household Tactics for the Popular Crafts, 24c3: The history of guerilla knitting, Interview with Cat Mazza (microRevolt), Knitted Shields, Pricked: Extreme Embroidery, Diritto Rovescio, Threads that weave art, design and mass creativity and Delirious knitting show at Craft Council.