In the 19th century, despite the best efforts of body snatchers, the demand from medical schools for fresh cadavers far outstripped the supply. One solution to this gruesome problem came in the form of lifelike wax models. These models often took the form of alluring female figures that could be stripped and split into different sections. Other models were more macabre, showing the body ravaged by 'social diseases' such as venereal disease, tuberculosis and alcohol and drug addiction.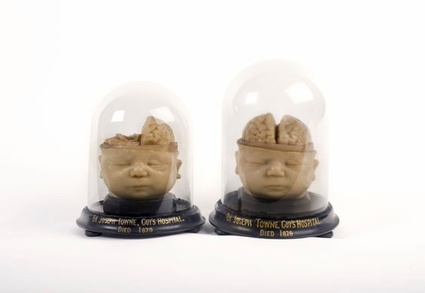 Dissection of the heads of babies. Photograph: Wellcome Library, London
You would never ever get me into a Gunther von Hagens show but if the Wellcome Collection puts together an exhibition of arty anatomical models and historical artefacts, surely i can go. Art, history… Does it mean it's not going to be shocking and sometimes gross?
The answer to that question is a big 'no' but Exquisite Bodies nevertheless takes you on a fascinating ride, one that blends Victorian freak show, forgotten pages in medical history and crude lesson in anatomy and diseases. The artefacts were not only used in medical schools, some of them were exhibited for educational and entertaining purposes in museums around Europe. The last public museum of that kind in London, Dr. Kahn's Grand Anatomical Museum on Oxford Street, was smashed to pieces by the Metropolitan police a century ago. Suddenly that kind of information was deemed 'indecent and demoralising'. By the look on visitors faces today, it seems that the most sophisticately educated among us have not lost their appetite for the gore and the sinister.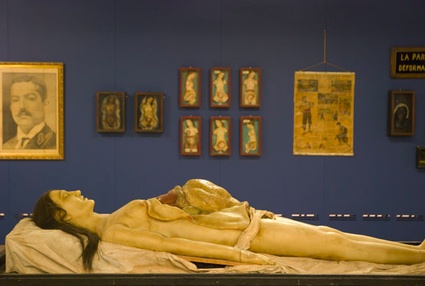 The anatomical venus on its display mount. Photograph: Patrick Gemmell
A quick walk through the exhibition: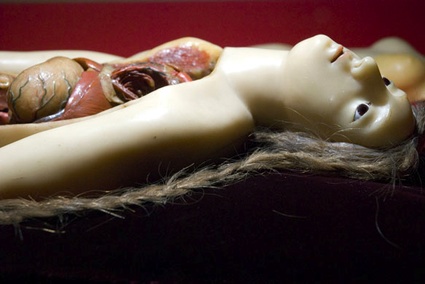 Female dissection models were often made beautiful and alluring, in contrast to grislier models portraying the ravages of drug and alcohol addiction. Photograph: Patrick Gemmell
The most shocking anatomical models can be found in the second room of the exhibition. Just like heavy velvet curtains hide a series of graphic (i fear that id i write 'life-like', i'm going to put you all off sex for a month or two) human genitalia in extreme stages of disease modelled in flesh-coloured wax featuring real pubic hair, i'll conceal those images behind links.
The book 'A survey of the microcosme; or, The anatomy of the bodies of man and woman' enables readers to peel off the body's layers and perform virtual 'dissections' by lifting the flaps to reveal internal organs. First published in 1619, it was the first anatomical atlas to make full use of this method of illustration.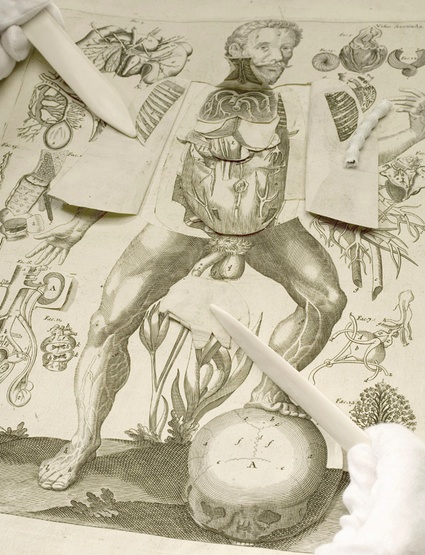 Male anatomical illustration from 'A survey of the microcosme; or, The anatomy of the bodies of man and woman'. Johann Remmelin, Stephanus Michel Spacher and Clopton Havers (D Midwinter and T Leigh: London, 1702). Wellcome Library, London
A wrist with a 'cutaneous horn' growing from it. At the time some believed that the malformation may have been caused by exposure to the sun: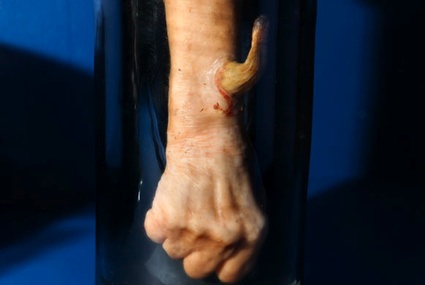 Photograph: Graham Turner (The Guardian)
Around 1900, a waxworks museum was established by fairground entrepreneur Señor Roca in the heart of Barcelona's red-light district. The location was no accident, the collection targeted the local inhabitants with spectacular visual information about the contemporary 'plagues' with which they were all too well acquainted: tuberculosis, alcoholism and syphilis.
Known as 'The Parade of Monsters', it originally contained a mechanical wizard, a 'house of murders' and a section devoted to human oddities alongside embryological and anatomical models and jars of human parts.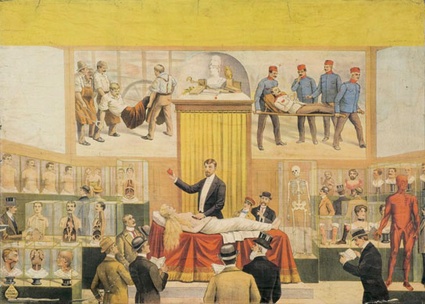 Poster from the collection of Señor Roca, a successful fairground entrepreneur. Photograph: Collection Family Coolen, Antwerp/Museum Dr Guislain, Ghent, Belgium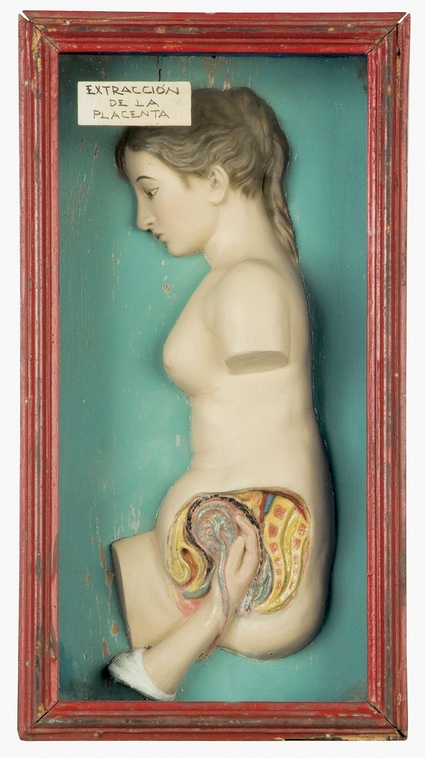 Extraction of the Placenta. Credit: Collection Family Coolen, Antwerp / Museum Dr. Guislain, Gent, Belgium
"Le Grand Musée de l'Homme", a popular attraction at fairgrounds in Brussels until the late 1950s, hid its pedagogical message among models of bearded lady, Cyclops and two-headed calf.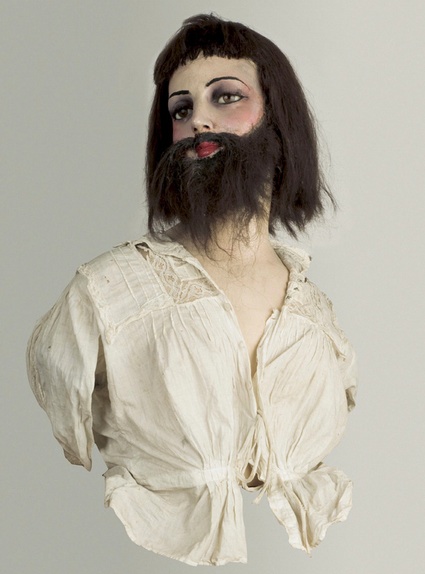 Bearded lady, Undated (c. 1900). Collection Family Coolen, Antwerp/Museum Dr Guislain, Ghent, Belgium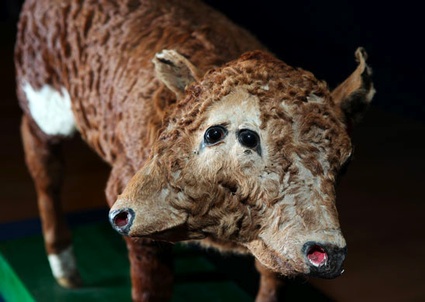 Photograph: Graham Turner (The Guardian)
Exquisite Bodies is open until 18 October at the Wellcome Collection in London.
More images at Morbid Anatomy and The Guardian. BBC has a lovely slideshow with audio comments.