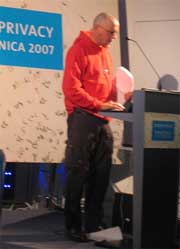 One of the highlights of the Goodbye Privacy symposium at ars electronica was a talk given by Graham Harwood. The Mongrel artist demonstrated several strategies developed by Mediashed in reaction to surveillance.
MediaShed is a "free-media" space open to the public in the east of England. Free media – "as in free speech not free beer"- is a means of doing art, making things or just saying what you want for little or no financial cost by using the public domain, free software and recycled equipment. It is also about saying what you want "freely", using accessible media that can be taken apart and reused without unnecessary restrictions and controls.
It's not just a matter of allowing artists, hackers, activists, etc. to use these free tools but also those you would not expect to find in this art context.
For example, Mediashed involved a group of kids who usually hang around in the streets to engage in Video sniffin' activities and turn CCTV into a free broadcasting system for their own use. "Why would you want to buy some video equipment when there are already so many cameras around for you to use?" They bought in a high street store some relatively cheap and small devices which can sniff out the street for signals broadcast by wireless CCTV networks. Using the surveillance images captured, the kids then created their own movie.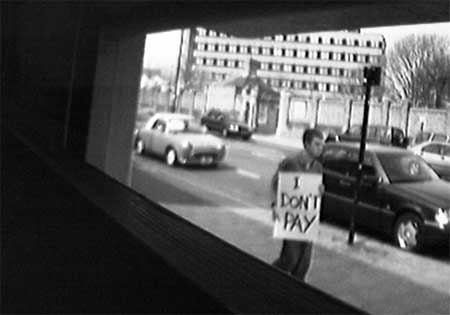 Next their video sniffing adventures were invited to Futuresonic, as part of the festival's Art for Shopping Centers selection. This time the film, called The Duellists, combined free-media with free-running. Inspired by the parkour sport, free-running involves fluid uninterrupted movement adapting motion to obstacles in the environment. Like free-media, free-running makes use of and re-energises the infrastructure of the city.
Futuresonic 2007 presents The Duellists by MediaShed ft Methods
The performers were professional parkour breakin' crew Methods of Movement and their acrobatic choreography was filmed in the shopping centre over three nights. The film was shot using only the existing in-house CCTV network of 160 cameras operated from the central control room, with a soundtrack created entirely from the found sounds and noises recorded during the performance. Sometimes the quality of the camera is incredibly good, elsewhere it is just b&w and grainy.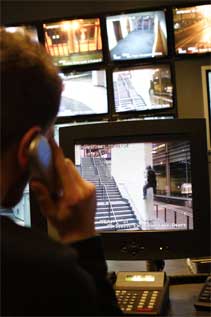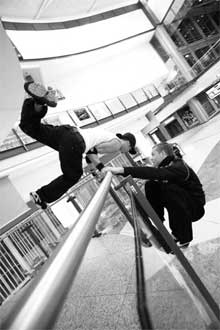 The movie was projected on a big plasma screen inside the Manchester Arndale Shopping Centre where an average of 6000 people shop every day. On the second day, they had to take the movie off, some people were not too happy at the idea that performers were messing up with a space meant for shopping activities.

The project was the first official UK implementation of GEARBOX the free-media video toolkit developed by MediaShed with the Eyebeam Studios in New York. Comprised of "how to� step by step examples, Gearbox shows people how to record footage using combinations of found resources (such as CCTV Video Sniffin' or Spy Kiting which allows you to get images that -sort of- look like they were taken from helicoptor but using cheap wireless cctv technology and a kite instead) and low-budget methods of reproducing professional film making techniques (for example, achieving a crane shot using a fishing pole).
Related: Michelle Teran's Life: A User's Manual and Manu Luksch's Manifesto for CCTV Filmmakers.