No proper building. Not even an architecture project that would give a hint of what its future headquarters would be like. That didn't prevent El Bòlit, a brand new Contemporary Art Center, from opening its borrowed doors a few weeks ago in Girona.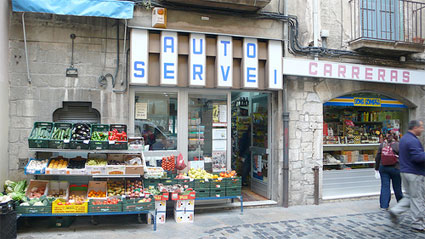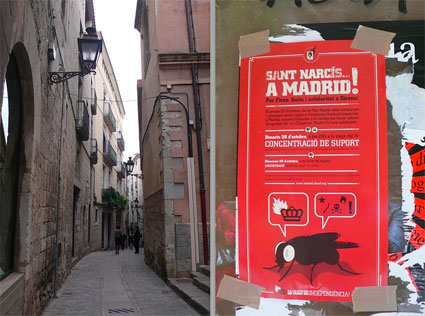 For many Europeans used to fly on the cheap, Girona equals Barcelona or the Costa Brava. Ever since one of the most famous 'no frills' airlines chose the airport as one of their hubs, hordes of travelers land there, grab their luggage on the rotating belt and hop on an hour bus ride that brings them directly to Barcelona centre. They never get to see Girona. They miss a lovely medieval city. Its cathedral is celebrated as one of the finest specimens of Gothic architecture in Spain, there's a local tradition of climbing steps to kiss the butt of a stone lioness and people will invite you to eat chocolate flies. And now there's that new contemporary art space called El Bolit.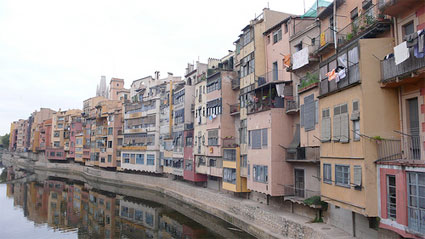 The Bòlit was a game popular among children in Catalonia until the middle of the XXth century. "It's a metaphor for a dynamic center, one that is constantly moving and is pushed forward by people", explained its Director, Rosa Pera, to Spanish newspaper El Pais. The opening exhibition of the center proves that, if the center is still waiting for a proper building, it certainly doesn't lack a strong personality, a dauntless attitude and a very promising exhibition programme.
As the introduction to its current show, In Construction. Recipes from Scarcity, Ubiquity and Excess, states:Beyond the construction of a building, the creation of a contemporary art centre involves first and foremost the construction of a discourse, relationships and dialogue. This is why the first exhibition at the new centre focuses on processes that explore new methodologies to articulate narratives with the context as a starting point.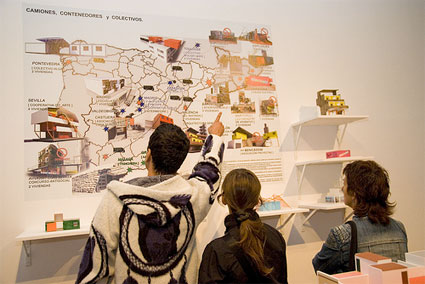 Retrospective Cirugeda. Image courtesy El Bolit
Heading the party is Santiago Cirugeda whose Recetas Urbanas (Urban recipes) are lined up for a retrospective made of models, videos and a brand new intervention. The work of the Sevillan architect fosters the dialogue between institutions and citizens in order to come up with better ideas susceptible to solve the issue of housing and public space management.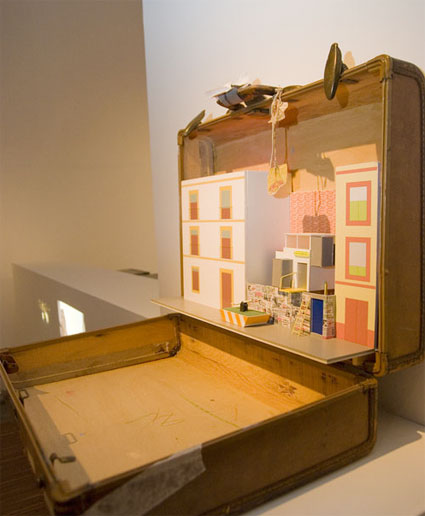 Retrospective Cirugeda. Image courtesy El Bolit
Santiago Cirugeda has sometimes been labeled as a "guerilla architect", "a subversive artist", "a urban hacker". His action/constructions are always adapted to the situation. Because his home town, Sevilla, would not authorize him to build a playground, Cirugeda obtained a dumpster permit and installed a playground on top of a dumpster container. In another intervention, he built and occupied a rooftop crane that passersby believed was there only to move building materials. He even posted on you tube a video to demo how to build a temporary flat in your rooftop. Cirugeda's recipes are cheap, fast, accessible to everyone and one of their key ingredient is that some of them exploit the gaps in administrative structure and official procedures. They intervene where the law falls short.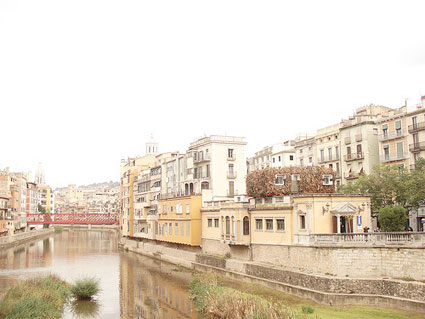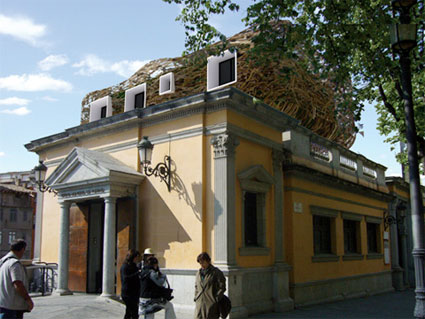 Santiago Cirugeda, Niu. Images courtesy El Bolit
Cirugeda also developed a site specific architectural intervention on the roof of Girona's Sala de La Rambla (where half of the exhibition is hosted.) The temporary infrastructure has been designed with the aim of hosting artistic activities as well as providing a working space for Spanish and international artists invited to work at El Bolit. El Niu (the Nest in catalan) is made of several containers and covered with branches and leaves.
Probably more famous to the new media art community, Michelle Teran opens the second chapter of the exhibition, the one dedicated to Ubiquity. The artist is showing her recipes for making and re-making narratives out of everyday experience inside Girona's intimate Capella de Sant Nicolau.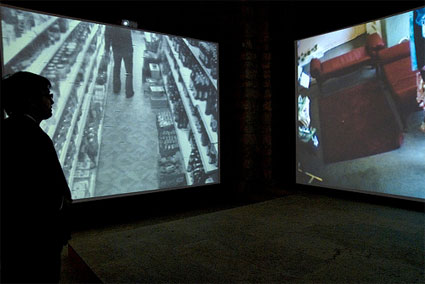 Screening of videos by Michelle Teran inside the Capella de Sant Nicolau. Image courtesy El Bolit
In her performance series titled Life: A User's Manual, the artist applies potential literature methodologies and uses video scanners to pick up images recorded on wireless security cameras (inside hotel lobby, private home, bank entrances, etc.) Scenes thus recorded in 17 cities around the world are projected in the exhibition space. I had seen the work of Teran in countless exhibitions but it was the first time i had the opportunity to see displayed next to one another not only the videos of her performances, but also the wide range of devices she uses to host the video scanners. Suddenly i realized the breadth and complexity of her work. I was particularly struck by A20 Recall, a collective exercise in cultural memory carried out by the artist over the course of three weeks with the help of residents of Quebec City. The result of the experiment is an online map of made of texts and images documenting situations that arose in response to the fortification of Quebec City during the FTAA Summit of the Americas in 2001.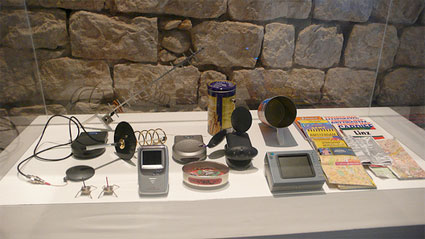 Technology is used as a tool to discover the significance of the trivial and to re-endow hidden stories with meaning, while fostering a critical spirit among citizens from their immediate surroundings. This is active, collective voyeurism used to combat indifference and oblivion.
The third part of the exhibition is From excess, recipes for an architecture of accumulative thought by Catalan artist Jordi Mitjà. The Catalan artist defines himself as an 'image collector'. He has carefully compiled and slightly edited images recorded by amateur film-makers in the 1970s in order to create a singular portrait of Empordà County in Catalonia.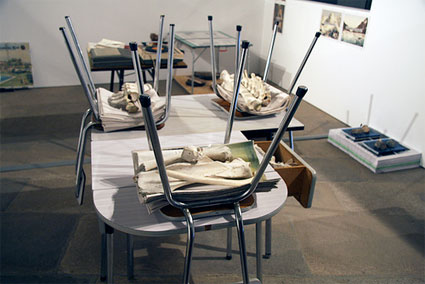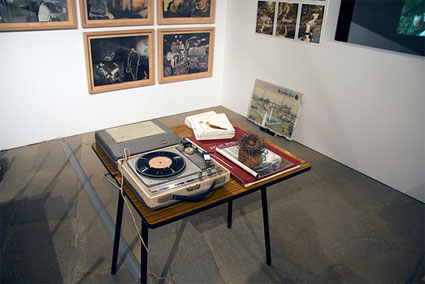 Installation of Jordi Mitjà. Image courtesi El Bolit
Mitjà has also composed a large-scale installation for El Bòlit. An accumulation of old photos, fragments, left-overs, video, and findings, the piece builds up the foundations of argumental architectures that welcome and rebuff those who, trapped perhaps between illness and therapy, dare to enter.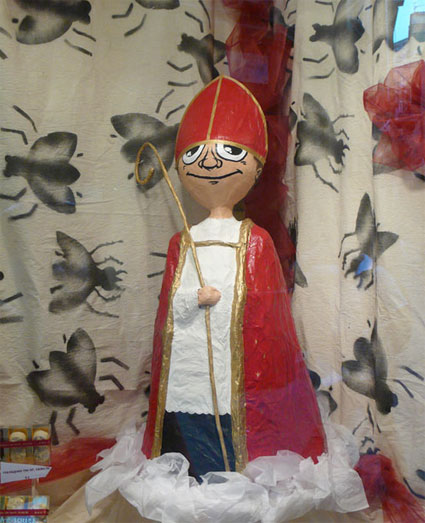 The smart-looking little man up here isn't very concerned by the exhibition but i'd nevertheless like to introduce you to him. He is Sant Narcís (St Narcissus), Girona's patron saint, famous for having defeated French invaders by throwing swarms of flies at them.
More images from Girona and El Bòlit.
In Construction. Recipes from Scarcity, Ubiquity and Excess runs until January 11, 2009 at El Bòlit, Girona (SP).