I discovered this one yesterday during a talk that Oron Catts from Symbiotica was giving at the VASTAL (the VivoArts School for Transgenic Aesthetics Ltd) at the Waag Society in Amsterdam right before the tissue culture workshop he was heading together with Adam Zaretsky. The talk was entitled "An alternative timeline for regenerative medicine – A biased history." I'll come back to it later on this week. Here's the image: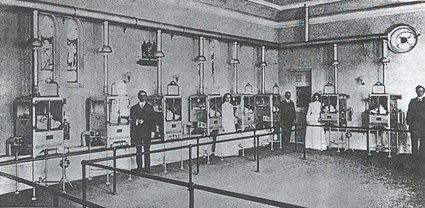 Interior of the infant incubator building in Buffalo, 1901, showing eight incubators, each containing a "live babe"
It's a show of baby incubators at a freak show!
Dr. Martin Couney, a pioneer in the care of prematurely born infants, showed baby incubators at fairs and freak shows in Europe and the U.S. His Infant Incubators was the most successful attraction at Coney Island, surpassing the appeal of bearded ladies, Siamese twins and sword swallowers. The admission fees subsidized the development and application of medical technology. The premature infants on display were being treated with equipment and techniques more sophisticated than those available at most hospitals; the survival rate of over 80% was unsurpassed at any medical facility in the world.
Interest for the incubator 'oddity' dwindled when the New York State Hospital finally opened its incubator ward, and hospitals across the country followed suit.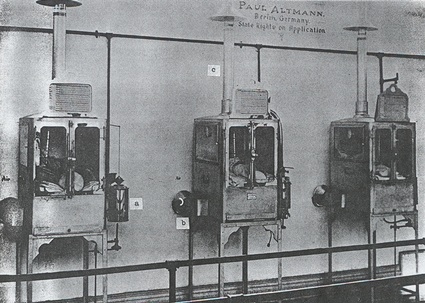 Infant incubators in operation at the Trans-Mississippi Exposition, Omaha, Ne., 1898
Images from neonatology.
Oups! Forgot to mention that there's only a few days left to apply for Symbiotica's residency program. Tomorrow, Saturday 19, don't miss the Sequence DNA by Chance Lab at Waag (i wrote down some info over here.)