I passed dozens of times in front of the German Historical Museum on Unter den Linden and never paid much attention to its programmation. I realized that was a bad idea last Friday when i decided to check out their exhibition on Art and Propaganda – Clash of Nations 1930-1945. I might write about that one next week, but today i feel like mentioning a smaller show i visited upstairs: Transitions – Biographies between GDR and Federal Republic of Germany.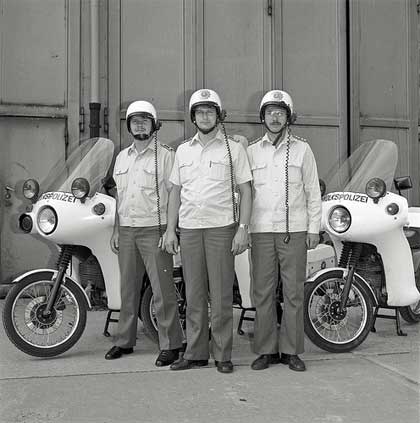 Volkspolizei, Oranienburg 1990
Germans born after 1990 no longer know the German Democatic Republic. They have grown up in a country marked by transition.
Just after the fall of the Wall photographers Angelika Kampfer and Ewald Hentze set off to photograph the people in a state they knew would soon no longer exist.
They returned to photograph the same people in 1992 then in 2004 and 2005. Nothing remains of the pathos of work that could still be felt in 1989. The spaces captured in 1989 to a large extent recall the early 20th century. The factories, craft centres and schools have all since been modernised. The brief span of sixteen years saw the emergence of the tidy world of employees and sanitary workplaces, the fully rationalised world one has to get along in – some much better than before, others not as well.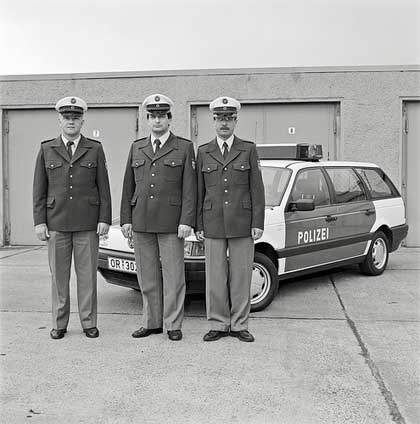 Verkehrspolizei, Oranienburg 1992
Actually i had the feeling from the snippets of interviews that accompanied the pictures that at least half of the people photographed were not completely thrilled by the changes, either because "social security sucks now" or because "today there are shopping centers where there used to be factories."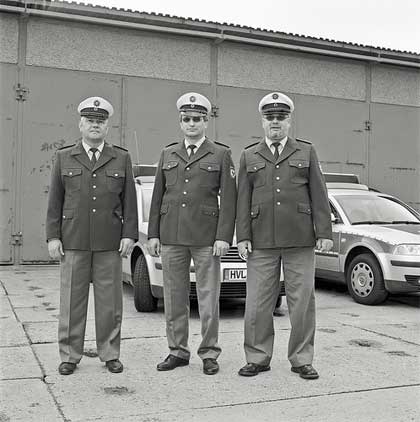 Verkehrspolizei, Falkensee 2005
Favourite quotes: "When the reunion came i was right in line for a Trabant, for which i had applied at least 10 years earlier", said an electromechanic. "It used to be called 'keeping busy' but now we do 'projects'," explained a nursery school teacher.