I might get what? 2 or 3 emails per day from people who ask me to write a story to promote their own event. I would love to help everyone but publishing every single call and event i hear about would be a full time job and i am not up for that one.
Besides, my readers know very well that they can find this sort of information on rhizome (who btw has a commission call for media art works running), networked_performance and various mailing lists. Wmmna is mostly about reports from exhibitions i've seen around which leaves no space to announcements. However, there are exceptions to this rule, wmmna is a personal blog and as such highly subjective, so once in a while (read every 6 months) i will blatantly favor organizations i like A LOT because i know each of them treat artists as well as they deserve. So here, dear readers, two calls for proposals which might give you the opportunity to get some fantastic holidays in Spain develop your own project in the best conditions you could dream of: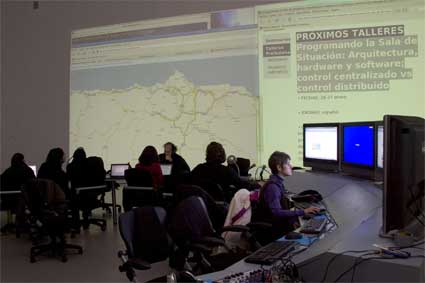 Situation Room. Image Julio Calvo. Courtesy of LABoral
– LABoral is launching two calls. One is for a curator in residence. Curators and researchers interested in media and visual arts, gaming, robotics, architecture, design, ecology, science, technology, interdisciplinary and emerging forms of art are invited to develop a research and production project at LABoral, Gijon, for two months during 2008. Deadline is May 30 and if i wasn't already so busy answering all those emails from people who ask me to promote their events i would be very tempted to submit my candidacy.
LABoral is also calling for proposals from artists to develop a research and production project at LABoral for two months during 2008. Same deadline: May 30, 2008.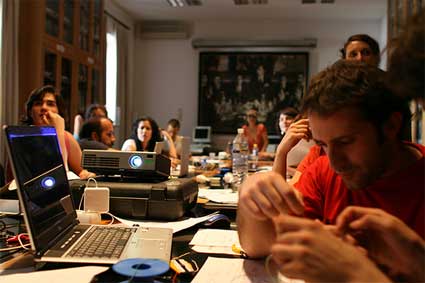 Image Medialab Prado
– Meanwhile Medialab-Prado is also looking for the submission of projects to be carried out as part of the production-oriented Interactivos?'08: Vision Play workshop, which will take place from 30 May to 14 June 2008 in Madrid. The workshop aims to use open hardware and open code tools to create prototypes for exploring image technologies and mechanisms of perception.
The Interactivos? workshop will be lead by Álvaro Cassinelli and Simone Jones, with the participation of the research group Light, space and perception (Daniel Canogar, Julian Oliver and Pablo Valbuena.)
Deadline: 25th April.
Related: my previous posts about the Interactivos? workshops and about LABoral (i also wrote an article about them in Art Review a while ago.)
While i'm at it, i'll also mention (but i don't know them as well as Medialab Prado and LABoral) that NEW LIFE BERLIN is taking place in Berlin from June 1-15th, 2008 and artists are encouraged to apply for participation now.
The festival is organized by the wooloo and is open to international artists.