Sony Computer Science Laboratory in Paris, is a scientific lab specializing in surprising experiments in robotics.
One of them, the Playground Experiment uses AIBO to study how infants develop increasingly complex sensorimotor and communication skills. Sony robot dogs are programmed with software that simulates "curiosity" and are placed on a baby's activity mat where different objects can be bitten, bashed, or just visually detected.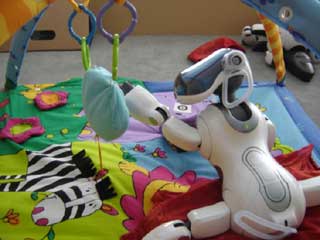 By trying different motor primitives, which it can modulate, AIBO progressively discovers that some objects are easier to interact with than others. As the robot learns to master particular sensory-motor trajectories, its behavior gets more complex. A bit like a baby
Presentation of the Sony lab in Paris and overview of the experiments in Technology Review.