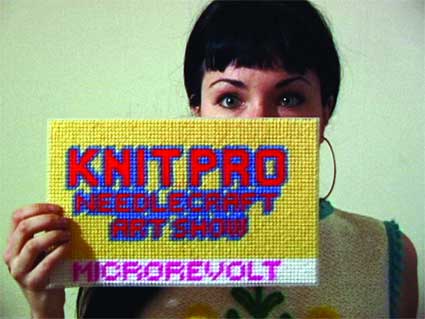 Artist and activist Cat Mazza is the founder of microRevolt. This collective of "craftivists" develops projects which combine knitting with machines, and digital social networks to investigate and initiate discussion about sweatshop labour.
A 2007 Media Arts Fellow in New Media (funded by the Rockefeller Foundation), Cat has exhibited her work and given workshops and lectures around the world. In 2005, she received a "Digital Communities" award at Ars Electronica for her project knitPro, an online tool that translates digital images into knit, crochet, needlepoint and cross-stitch patterns.
Her 2006 Turbulence Commission: Knitoscope Testimonies is the first web based video using "Knitoscope" software, an experimental program that translates digital video into a knitted animation. She is Assistant Professor of New Media as at UMass, Boston.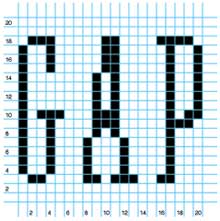 How and when did you start to be interested in anti-sweatshop issue?
In 2002 I moved to Maine after working for 3 years at Eyebeam (a New York based art and technology center), and was doing research in new media, women's studies and globalization. That work led me to volunteer with a Bangor based organization called Peace through Inter-American Community Action (PICA). I met people active in the anti-sweatshop movement there, and that's where it began for me.
Sweatshops scandals have received some press coverage over the past few years. And i suspect that you follow the issue more closely than most. Did you see the situation evolve for the better since you started to get interested in the issue?
I don't know that labor exploitation in manufacturing global goods has changed in the last 6 years, but I do agree that there has been increased visibility of the crisis. This ultimately makes a difference. One thing I've witnessed grow in the United States (with some international allies) is a series of local groups networked into a coalition called Sweat Free Communities (SFC) who campaign for better trade and purchasing policies. There also have been some great films like Maquilapolis and China Blue that have helped raise awareness. And we should not underestimate the resurgence of craft and the subsequent alternative on-line micro-economies that have developed. So even if the working conditions have not improved, many consumer, activist, entrepreneurial and legislative change agents are finding ways to confront the problem.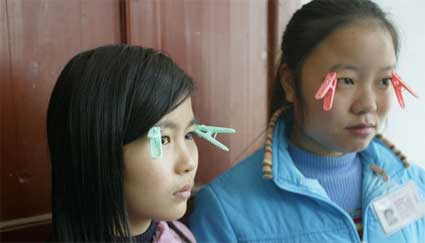 Image from the movie China Blue: To avoid getting fined for falling asleep, Jasmine (17) and Liping (14) use clothespins that keep their eyes open.
What is the value of micro-revolting? Of the small acts of resistance that your work encourages? How significant can they be?
The concept of "micro revolt" is loosely inspired by the idea of molecular revolutions*. What if social change was not simply a consequence of governing or economic policies; and small, disconnected resistant acts overlapped to nudge along change?
MicroRevolt in many ways began as an experiment more than a conviction. These web-based projects did achieve networking craft hobbyists in a form of labor activism, but the efficacy or value is hard to measure.If it's "revolutionary" to favor drastic economic or social reform, knitting could be an interesting place to begin. I was just reading this book where Noam Chomsky was asked about the significance of policy reform "tinkering" and he said this can be preliminary to large-scale structural change.
Why not? What is the political potential of craft and can it be an avenue for pleasure as well as organizing for social good? You could ask the same question of art.
* This winter I hope to have a podcast of a chapter of a book by this title.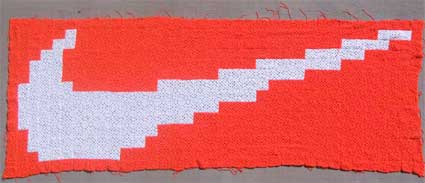 The Nike Blanket Petition project started in 2003. How did it evolve, grow and what impact did it have?
The Nike Blanket Petition started with learning how to crochet. I was interested in the tradition of pre-industrial crafts, tacit knowledge, learning to make stuff with my grandmother. I then met up with a local craft group and they agreed to help. Gradually more and more people participated. It was on the microRevolt website that attracts a lot of traffic because of knitPro, a useful pattern freeware, so people learned about the project there. It went to craft and electronic arts festivals nationally and sometimes internationally. The project has been going on for years, but it has been this slow trickle of signatures, like a 1950's mail art project or something. People often send a single square and occasionally I'll get multiples from a Women's Center or a knitting circle from Portugal, and encouraging notes like "Good luck with the revolt!".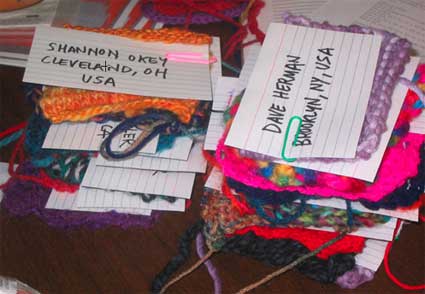 Hand-made petitions for Nike Blanket, 10.16.2004
People have participated from over 30 countries and every state and I'm still behind updating the data. It's hard to measure the impact. My hope is that individuals who participated in the project have started a discussion in their circles and considered their own methods for activism.
Stitch for Senate invites knit hobbyists to craft helmet liners for every US Senator in an effort to encourage them to support the troops sent in Iraq by bringing them home. I first read about that project in March 2007. What is the outcome of SfS so far? Did you get any reaction from the Senators?
This is a very important year in the United States because of the presidential election, and 1/3 of the House of Senate seats will be campaigning as well. To get elected they will have to be bold about their position on our troops in Iraq, and the Stitch for Senate project is an attempt to engage people in discussion with their public officials about the war. There are some tenacious knitters out there willing to knit a helmet and make testimony. All of the participants support the troops; most of them are pro-peace (including some military moms). I've lived in New York State for 8 years and on the morning of 9/11 I was trying to walk over the Queensboro Bridge while the towers were in smoke… but I never supported this administration's approach to this war, or my Senators (Hillary Clinton and Chuck Schumer) authorization of military force in Iraq. US Senators are required to respond to every letter they receive, and they'll likely be glad to articulate their position. We are not mailing the helmets to the offices until we have 100 so we can send them all at once, with 100 people from all 50 states. I am hoping we can do this before the November election.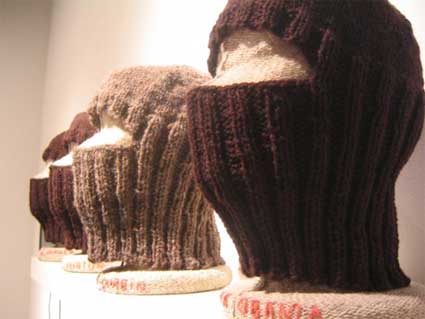 You participated to the Hackers and Haute Couture Heretics workshops in Istanbul last summer. Could you give us some details about what you've been developing over there?
Firstly, Istanbul is breathtaking. For me this was a really thrilling trip because the exhibit's organizer Otto von Busch is so amazing. His writing is really interesting, and he is extremely skilled at designing. Most wonderful is his community based fashion projects like Dale Sko Hack and Merimetsan Alchemy – a fashion project in a mental health facility. I think you interviewed him about this. But also, he is a fashion theorist. What is that? You have to hear it in his words. I recommend his book Abstract Hacktivism. He had a very particular idea for this exhibit and I hope he writes about the outcome. The people he invited perhaps under the "craftivist" flag; all have very different practices and maybe even agendas. So that was interesting. It is unfortunate but I think that in some ways the intended project failed. We were supposed to collaborate with a Turkish high fashion brand called Vakko. Some of us were already skeptical and they ended up canceling after we each did an intensive design challenge. Instead, there were many fruitful workshops (Junky Styling, Counterfeit Crochet, Hacking Couture). What is special is just to have a public space where people can come in and learn and make, sew, knit, machine knit, etc.) Amazingly, this all took place in a gallery right next to a Nike Town store. The highlight for me was after four years, with a lot of help from Otto and the attendees; hundreds of the post-mailed squares were stitched into the border of Nike blanket. So it's nearly finished. I also met beautiful Iranian sisters who took me on a ferry around the Bhosphorus.

Testimonies: Alex Tom, Chinese Progressive Association, San Francisco and Yannick Etienne, Batay Ouvriye, Haiti
What are you working on currently? Is there any upcoming public event in the microRevolt agenda?
From now until August my main focus is a new artwork – Knitoscope Sampler. I may have to put microRevolt reBlog to sleep for a little while and shift my web presence from labor to war because of the election and Stitch for Senate. Also on January 26, 3-5:00pm, "Crafting Protest" – Panel Discussion and Craft Reception at The New School, Theresa Lang Community and Student Center, 55 West 13th Street, 2nd floor, New York City, NY. Moderator: Julia Bryan-Wilson, art historian and critic. Panel includes artists: Liz Collins, Sabrina Gschwandtner, Cat Mazza, Allison Smith. February 20-23 in Dallas, Texas I'll be participating in two events Social Fabrics and Gestures of Resistance as part of the CAA conference. Stitch for Senate helmets and video exhibits at the Museum of World Culture in Göteborg, Sweden opening January 17.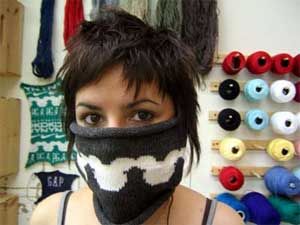 Now something more personal. I've always been fascinated by knitPro, , a program that translates digital images into knit, needlepoint, x-stitch and crochet patterns. However, i can't knit and even if i could, the only moments when i picture myself knitting would be while i'm bored in the plane or at the airport. But they would probably confiscate my needles there.
Is there any service that would allow me to send a pattern to someone and get the shirt back nice and ready to be worn?
Not that I know of, but this could be a highly successful business. What about going to your local yarn store and asking? People that go and work at yarn stores are usually totally pro and up for commissions.
Or is there any place where one could buy one of those leg warmers featured on your blog or the little face mask. I have one and people keep asking me where they can buy one.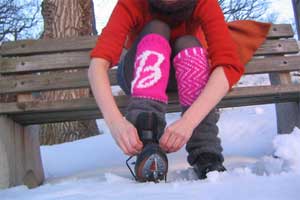 So far I haven't been into selling the knitwear that I make. The logoknit series was made to bring attention to the branding of corporate monopolies that were sweatshop offenders and also to show what is possible with knitPro. I made two Mickey Face Masks that I donated to Turbulence.org. I was really glad you got it because the other one didn't sell and I felt bad because it was a fundraiser. The Barbie Legwarmers I sold to Natalie Jeremijenko's daughter for her art collection. But that's it. I'd rather organize uploaded knitPro patterns into a searchable database than make and sell knitwear. Plus this is an election year; must focus.
Is it totally silly of me to assume that most craftivists are women? Or is it more gender-balanced than i'd assume? Do you come to expect that most of the people who will engage with your project will be women? How much do you think that it matters as far as your own work is concerned?
Craftivism is a new term I think coined by Betsy Greer, of craftivism.com. I am not sure I understand what and if craftivism is yet, but it's not gender specific. See: (menwhoknit.com). As far as my work is concerned, I have worked with mostly women but many men too. I just got the first balaclava from a male knitter from Federal Way, Washington who stitched for Senator Maria Cantwell and it's wonderful because it's his first knitting project with round needles. Also, I met my boyfriend because he needlepointed a series of pillows of Communist Heroes from South America.
So if one can't (or just won't) knit which kind of small acts of resistance do you recommend to people who want to protest against workshop labour?
1) Investigate your local Campaigns and see how you can help
USA: SweatFree.
Intl: Clean Clothes.
2) Vote with your dollar (Support sweat free labels, fair trade, worker owned co-ops, etc.)
3) Be sure to know about where your public officials stand on trade, petition and vote
Thanks Cat!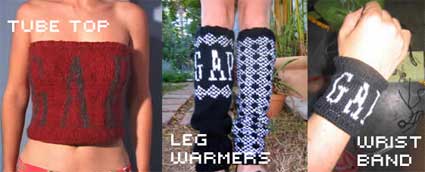 Logoknitting, a tactic that uses knitPro to knit logos of well known sweatshop offenders as a way to raise a discussion on how advertising, labor, production and consumption relate