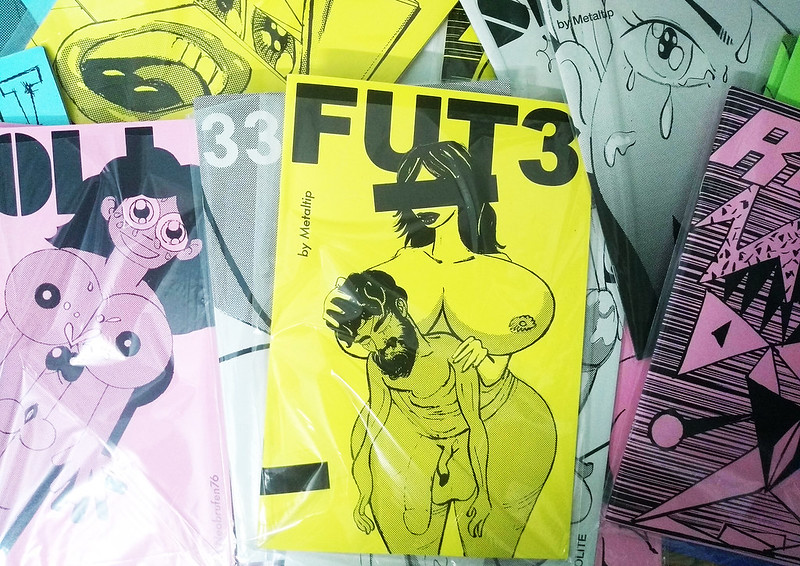 Flattening, futanari, genitalia in unusual places, detachable head, hundred sexes, milliard sexes, hyperpregnancy, male pregnancy, toilette, inflation, visual bondage, metal tip, etc. No matter how eccentric your fetish, it has a space in Francesc Ruiz' extraordinary collection of underground comics. And if you're not finding anything there that reflects your own fantasies, you can always enroll in the Institute of Porn Studies training program he is running together with Ona Bros and Lucía Egaña Rojas.
I discovered Ruiz' alternative porn publications during the press view of the 10th edition of the MOMENTUM biennial in Moss, Norway. The artist has opened the House of Fun bookshop on top of the bookshop and café House of Foundation in Moss. You climb the stairs to the first floor and find yourself inside a colourful and entertaining bookshop selling small comics ordered alphabetically or according to fetishes.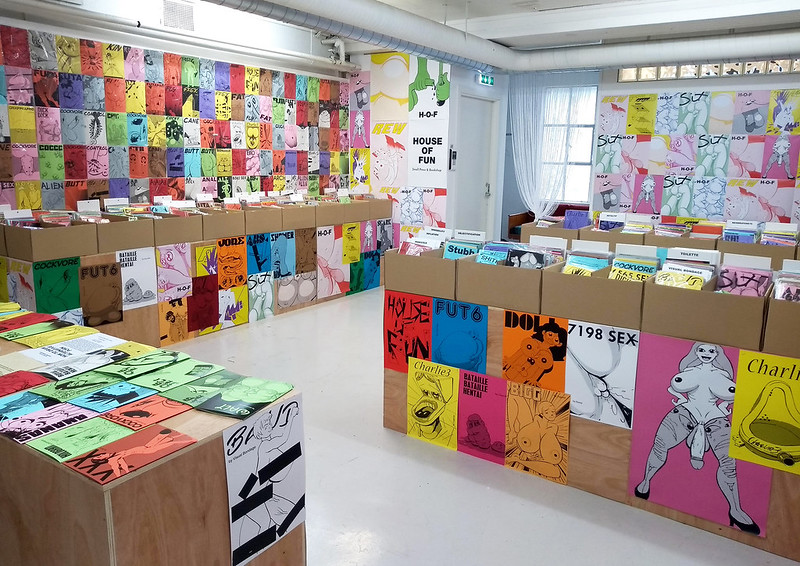 House of Fun, House of Fun, 2019. Exhibition view at MOMENTUM10, The Emotional Exhibition. Photo by Francesc Ruiz and Pepo Salazar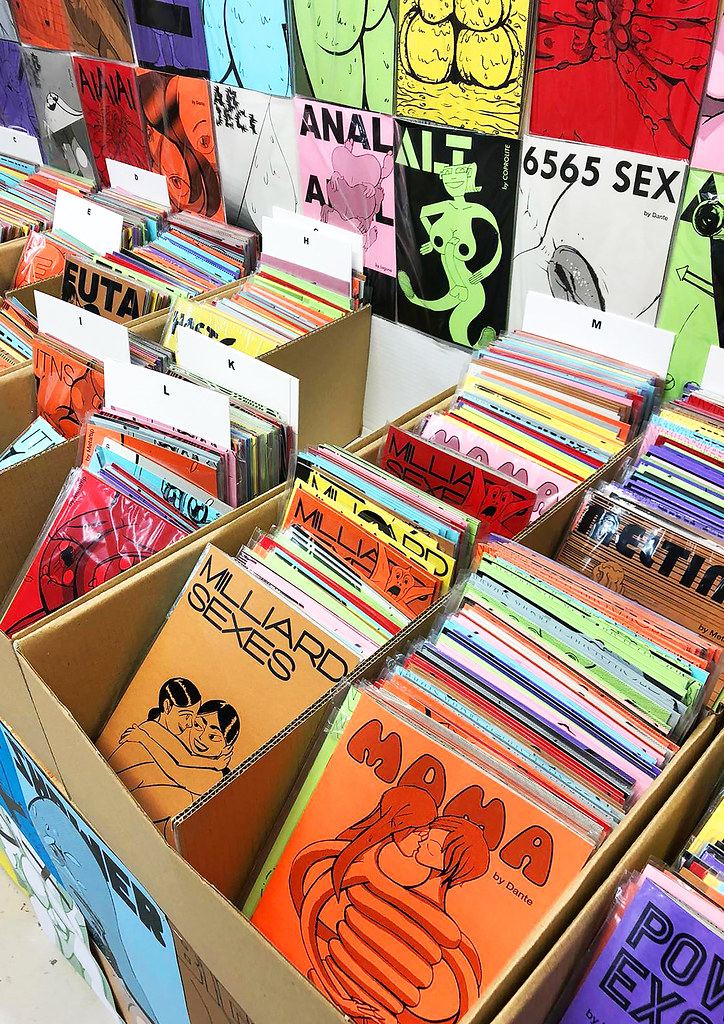 House of Fun, House of Fun, 2019. Exhibition view at MOMENTUM10, The Emotional Exhibition. Photo by Francesc Ruiz and Pepo Salazar
Comics, according to Ruiz, is the ideal medium to imagine new types of bodies and sexualities. It is flexible, quick and affordable. It offers a safe space to test the limits of representation and build new imaginaries and mythologies that escape normative representations. Furthermore, because comics books are so small and mundane, they can travel from hand to hand and facilitate exchanges of ideas about sexual diversity.
Part of these explorations of radical sexualities already exist on the internet but Ruiz gives them a physical space in his bookshop. And i'm going to send them back online again thanks to this interview with the artist:
Hi Francesc! I've been wondering how important it is for you to print the porno comic books on what looks like a very humble material: cheap printed paper that visitors can even touch and read through. Why did you decide to use such a mundane material?
House of Fun is a comic bookshop hidden on the top of another bookshop: House of Foundation, an independent cultural space in the city of Moss, Norway.
House of Fun is also a fiction, even if it looks like an actual bookshop, it is an art work created entirely by me, trying to convert the alternative hentai subculture that inhabits some internet boards into something physical: a very specialised erotic comic bookshop.
I've been always interested in the power of drawing and comics to depict sexuality and create new desires, expanding our minds through imagination and bringing new fashions and trends into the real world, I always think about Tom of Finland's erotic drawing production and how it helped to crystallize the imagery of gay leather fetish culture.
Comic bookshops connect me with past times when paper and cheap printed matter were the main way of distributing images. I'm thinking about newsstands or sex shops filled with porn magazines, the kind of spaces that doesn't exist anymore. Comics are still creating some resistance to the internet space by creating networks and very strong communities. That's why I wanted to bring porn back into reality by using the comic bookshop structure, a non individualistic space, where a community of producers and consumers can meet in the real world and be at the same time in a safe space.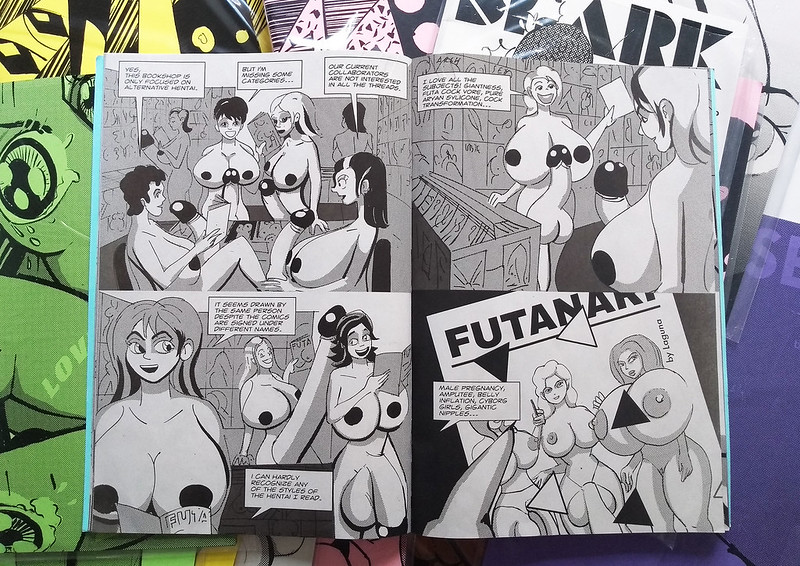 House of Fun, House of Fun, 2019. Exhibition view at MOMENTUM10, The Emotional Exhibition. Photo by Francesc Ruiz and Pepo Salazar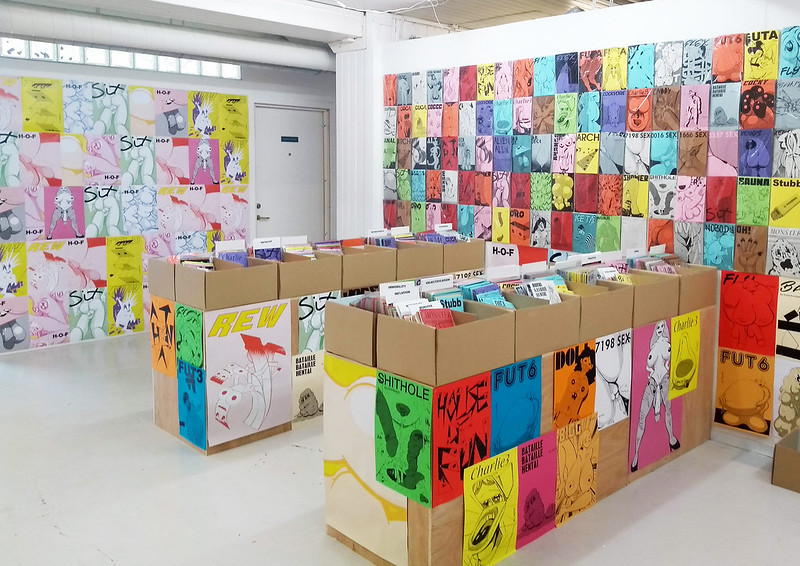 House of Fun, House of Fun, 2019. Exhibition view at MOMENTUM10, The Emotional Exhibition. Photo by Francesc Ruiz and Pepo Salazar
During your short presentation of the installation in Moss you mentioned that the comic books refer to the hentai tradition. What else or who else influenced the work we can see in the House of Fun? Promises of technologically or genetically-enhanced bodies? Other works of printed porn?
I discovered alternative hentai five years ago. Since then I've been trying to embody this whole new world of radical imagery myself, doing research, giving lectures on the subject and organizing drawing workshops. All this process brought me to some very interesting readings on queer porn and non-prohibitionist feminist perspectives on pornography.
I also discovered a whole genealogy of alternative drawn pornography connecting ancient Pompeii graffiti, Sade, French libertine prints from the 18th century, Japanese Shunga prints and Tijuana Bibles.
I started understanding porn drawing as a technology that helps to imagine future bodies and desires, sometimes more sophisticated than the 3D or virtual reality porn that is now emerging on the Internet. That understanding of drawing as a technology able to create and develop new identities also connected me with Paul Preciado's thought and his description of our current pharmacopornographic regime and more recently to Laboria Cuboniks' Xenofeminist manifesto specially their antinaturalistic approach to sexuality and gender.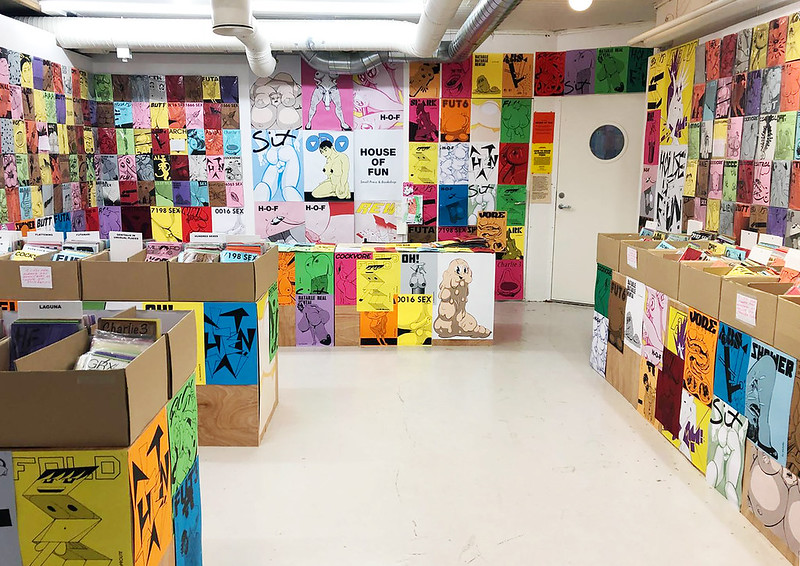 House of Fun, House of Fun, 2019. Exhibition view at MOMENTUM10, The Emotional Exhibition. Photo by Francesc Ruiz and Pepo Salazar
In a description of Institute of Porno Studies, you explain that the Institute "focuses mainly on non-Anglo-Saxon thought and production" and that Barcelona plays a role in the identity of the comics. Could you explain us what you mean by that?
The Instituto de Estudios del Porno is a collective project run by Ona Bros, Lucia Egaña and yours truly. We're interested in developing a critical approach on pornography from a very located place, Barcelona, a city with a long tradition as a production and distribution center of porn imagery.
The city holds its own porn festival, many porn producers have their headquarters here, Private Film and Magazine Emporium moved their headquarters to Barcelona in the late 80's. More recently, the gay porn company Tim Tales and Erika Lust's feminist porn company also decided to operate from Barcelona. On the other side, Barcelona is also the city where all the post porn movement emerged in the 2000's as a very strong voice to rethink and defy mainstream porn, with people like Maria Llopis or Diana Pornoterrorista, collectives like Post-Op and events like La Muestra Marrana.
If we talk about drawn porn, Barcelona has been also a very important place for the production and distribution of porn comics: from the protoqueer underground comics of Nazario in the 70's to alternative comic magazines like El Víbora or publishing houses as La Cúpula. I think it's also important to mention that Barcelona was one of the main distributors of Italian porn comics in the 80's and that under the shadow of this massive production, that also circulated in the Latin American countries, some other small companies developed new comic magazines where people like Sebas Martín, one of the more prolific and established gay cartoonist, started publishing with total freedom.
Instituto de Estudios del porno wants to work form that decentralized perspective where Barcelona has still a lot to tell and offer.

House of Fun, House of Fun, 2019. Exhibition view at MOMENTUM10, The Emotional Exhibition. Photo by Francesc Ruiz and Pepo Salazar
I'm very curious about the workshops you organised with Hangar and Hamaca. Who participates to these workshops? Do you need to have crazy weird fetish in order to want to engage with alternative porn? Or is it more a question of being open to exploring more radical scenarios and imaginaries?
The whole program of the Instituto de Estudios del Porno is for people who, for various reasons, want to learn about porn. Lucia Egaña has developed a reading and study program that will provide partecipants with a theoretical background to the Instituto workshops, with sessions focused on porn manifestos, the porn debate in the feminist agendas in the Kingdom of Spain or the lesbian BDSM perspectives on pornography.
The workshop by Ona Bros wants to think critically about the audiovisual production of porn, its nature, structure and active agents, in order to dissect the porn image by giving theoretical and practical tools to confront it.
My workshops, for instance, are focused on exploring collectively and through drawing all kinds of new fetishes, more as a creative research on the richness of sexual diversity than as a sexual activity.
Among the people who enroll in our courses we find artists who are interested in or who work with porn, people who have a professional relationship with porn or want to have it, people who -for one reason or another- want to learn what's behind porn and in which ways they can approach the pornographic production. Most of the workshops have both a practical and an experimental approach to porn so after them, knowledge is transformed into texts, performances, drawings… or 3D printed objects which will be the case of the sex toys workshop we will develop with Belén Soto.
I found the House of Fun charming, amusing, seriously weird but not "in your face" nor shocking. It wasn't too hard-core. Was there any form of self-censorship at work when you decided which comics to print and present in Moss?
I agree. I decided no to show some of the alternative hentai threads that exist on the internet boards. I wanted to balance the content by focusing on those categories I found more creative and closer to creative processes like objectualization, inflation, flattening, melting… categories more related to a link of flesh plasticity and what I call new sexual mythologies like futanari cock vore, definitely not naturalistic at all.
Another thing about this project is that I really wanted to draw all the content by myself, that meant that I had to adapt my own drawing style to the alternative hentai manga style, embodying it into my practice, the final result is more cartoonish or flat and less shiny, humid or sweaty.
Finally I decided no to show lolicon or shotacon, which involve children. That is a very difficult issue and one of the actual boundaries of image representation. Even if it's not an actual image, there are some specific laws in some countries that do not allow such representations and I didn't want to break them,
In the other hand, I'm very happy to have introduced inside my alternative hentai point of view some issues that were not so present on the hentai alternative subcultures like exploring other genitalia, creating new sexes and situating bodies and genders on other levels.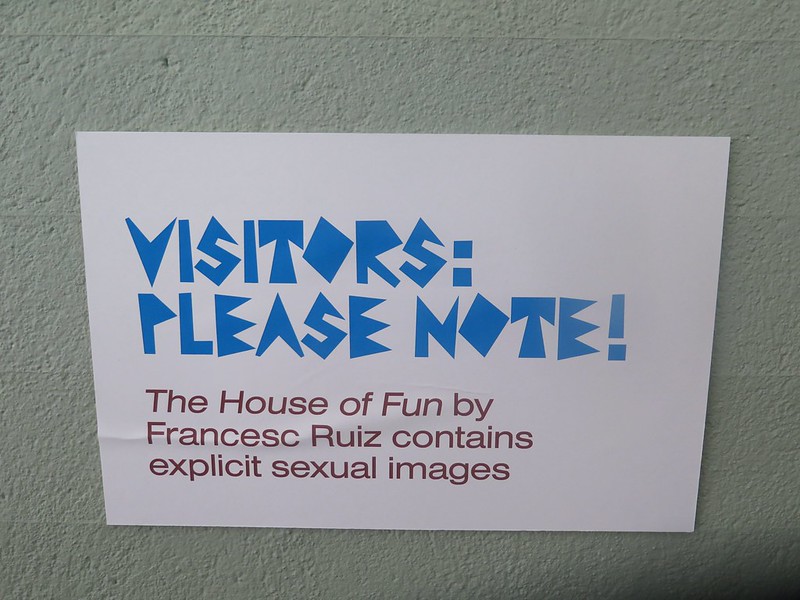 House of Fun, House of Fun, 2019. Exhibition view at MOMENTUM10, The Emotional Exhibition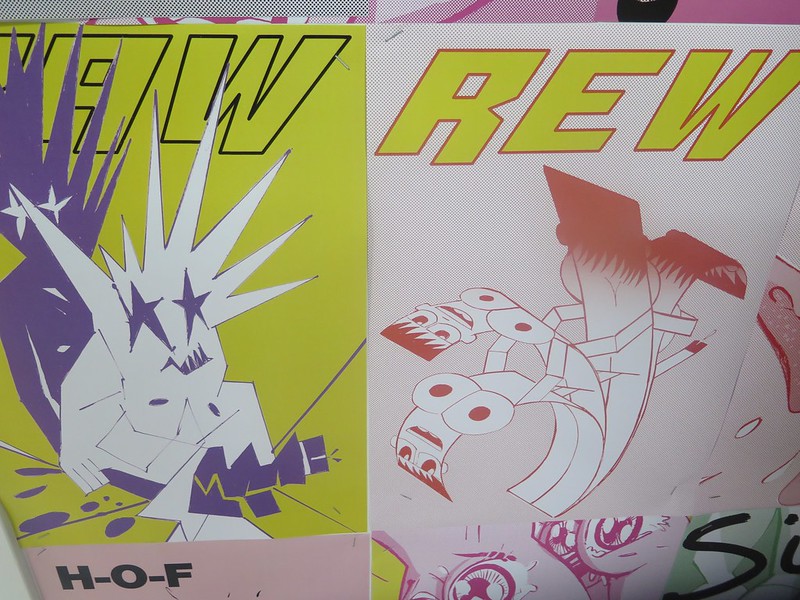 House of Fun, House of Fun, 2019. Exhibition view at MOMENTUM10, The Emotional Exhibition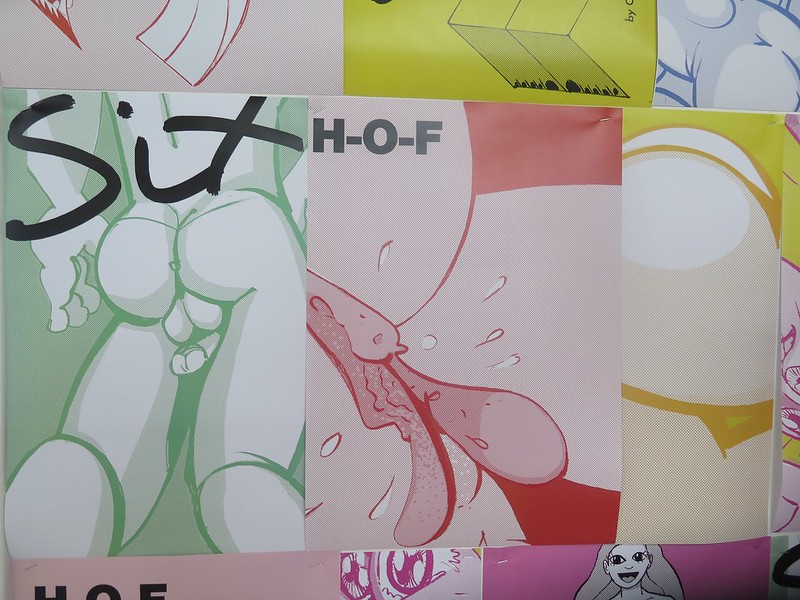 House of Fun, House of Fun, 2019. Exhibition view at MOMENTUM10, The Emotional Exhibition
Thanks Francesc!
The tenth edition of Momentum, The Nordic Biennial of Contemporary Art, curated by Marti Manen with the assistance of Anne Klontz, remains open until 9 October 2019 in Moss, Norway. The locations of MOMENTUM10. The Emotional Exhibition are: Momentum Kunsthalle, Gallery F15, House//of//Foundation. Besides, a few public art pieces are scattered around the city.
Previously: MOMENTUM10, the Nordic Biennial of Contemporary Art.