Petra Trefzger 's Flying carpet is decorated with geometric patterns that swirl around your feet as you walk or dance on it. An ultrasound sensor monitors your position as you walk on the carpet: the patttern runs away from you and bounces back when you're gone.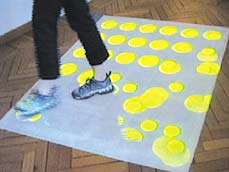 She also made a vacuum cleaner version, called Vorwerk. When the real vacuum cleaner is turned on, the position and movement of the cleaning nozzle is tracked using an infrared-sensitive camera. The areas of the carpet that the cleaning nozzle covers are erased from the projected carpet image (have a look at the video and you'll see better what I mean.)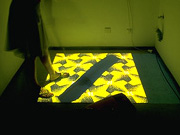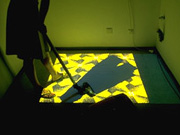 Oter carpets: Pacman carpet, digital quilt.