A virtual discovery of Copenhagen in the footsteps of Hans Christian Andersen has been hacked, possibly by gay-activists.
To celebrate the writer's bicentenary, Footsteps of Hans Christian Andersen – A Sound-Walk through the author's Copenhagen invites people to follow Andersen's footsteps and listen to audio narratives via their mobile phones at selected locations.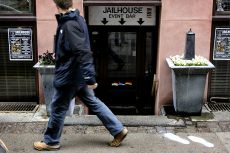 The route is marked with 2000 footsteps painted on the sidewalks, but someone added a few extra footsteps and diverted the route to the doorstep of local gay-clubs.
The small hack might be a statement as Andersen anniversary has been criticized by the gay community for ignoring the author's homosexuality. A few months ago, a papercut by HC Andersen portraying two men holding hands inside a heart was used as a motif in a Christmas decoration by a famous department store – but instead of two men holding hands, the original artwork was "corrected" to a woman and a man.
Via Guerilla-innovation.