An upcoming exhibition in London will show that knitting has become a politically engaged artform, from knitted sex adverts to subversive toys.
For many political knitters, the craft represents an act of rebellion. Artist Shane Waltener explains: "By knitting you are resisting capitalism and consumerism. You are not responding to the fashion industry; you are making your own decisions."
Kelly Jenkins (the one of the knitted radiator) uses computerised techniques to machine-knit hangings based on sex-industry calling cards. By drawing attention to industrial knitting techniques, she reminds audiences that "everyone wears a piece of knitting every day".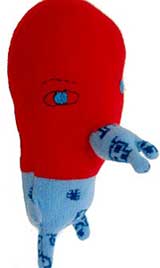 There is even a club, Cast Off, that stages knit-ins on the London Underground, occupying a carriage and knitting around the Circle line. Katie Bevan, one of the exhibition's curators, believes that Cast Off's knitting in public seems "almost as transgressive as breastfeeding in public 20 years ago."
Knit 2 Together: Concepts in Knitting runs at the Crafts Council Gallery, London N1, from February 24 till May 8, 2005.
Via Londonist The Guardian.
Related: MicroRevolt's work in knitting activism.