Haarlem was a city i associated so far with OTT Dutch cuteness and with the novel The Black Tulip by Alexandre Dumas.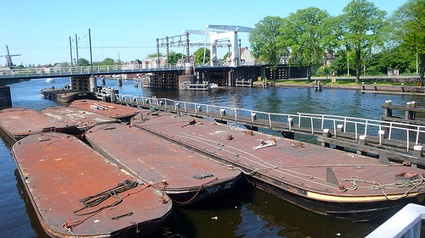 Haarlem is just a 20 minute train ride from Amsterdam. I was there a couple of weeks ago to see an exhibition called Green Revolution at Nieuwe Vide, a new art space located in an old industrial area turned into a hotspot for all kinds of creative practices.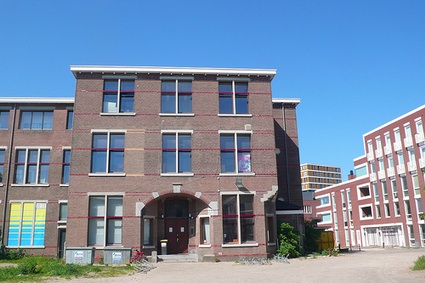 Green revolution is an agricultural revolution of the 50's that encouraged the use of industrial and biological technology in agriculture. Not in order to create alluring black flowers but to feed nations. Today, some agronomists state that the Green Revolution has allowed food production to keep pace with worldwide population growth while others believe that it caused the great population increases seen today. What is sure is that the Green Revolution has had major social and ecological impacts, making it a popular topic of study among sociologists.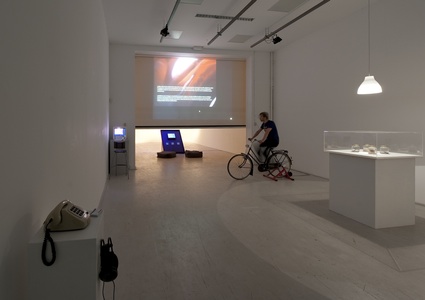 Exhibition view. Image courtesy Nieuwe Vide
The exhibition Green revolution, which invaded the walls of the Nieuwe Vide art space until last June 13th, offers a broader, contemporary and decidedly darker take on the idea of a green revolution. The show brought together artists whose work investigates and comments on the current, complex and often hard to fully grasp mutations in our environment, whether it's the environment in its green and eco sense or more generally the new political climate. Some of the artists selected use or comment on man-made disasters, others bring about distressing scenarios of a future life, others investigate the field of biotechnology, opening up new perspectives and questioning the world we live in. That was a lot to take in in one go.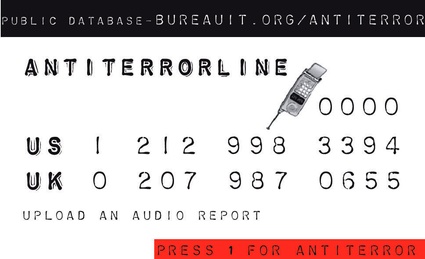 The Bureau of Inverse Technology's Antiterror line accumulates audio reports on civil liberty infringements and other 'anti-terror' events.
You make a simple phone call and leave a message. Your audio recording is automatically uploaded to an open online terror database, thanks to BIT's uphone system which enables any phone to act like a distributed microphone. The audio files can also be monitored, syndicated or remixed for your purposes. An audio accumulation of micro- incidents which individually may be inactionable but en masse could provide evidence for a definitive response.
Akos Maroy's project bio.display is of a more playful and experimental nature. Its purpose was to create a dynamic display made of millions of genetically modified fluorescent bacteria.
The project is inspired by GFPixel, a static display made of fluorescent and non-fluorescent bacteria and created by Reinhard Nestelbacher and Gerfried Stocker. Unlike its precursor, bio.display would change its contents with time.
The display used using E-Coli bacteria that has TorA-Green Fluorescent Protein mutant 3* (TorA-GFPmut3*) added to it. The pixel of E-Coli can be turned 'on' and 'off' by changing the pH value of its surroundings.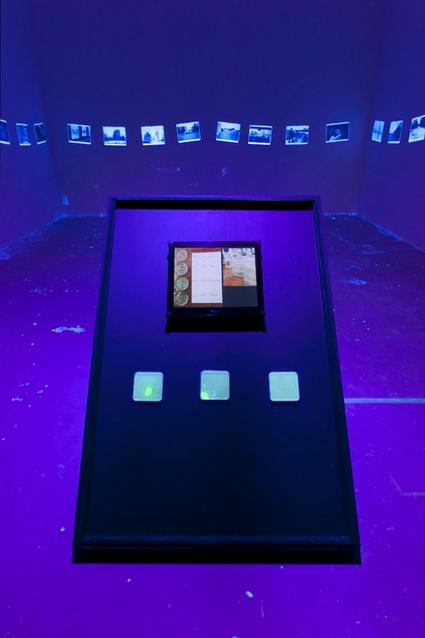 bio.display. Installation view
Other works in the exhibition include Jon Ardern's project Design Solutions for Post-Crash civilization that stems from the discrepancy between the mounting body of scientific evidence that reveal the dangers inherent in continuing with our current lifestyle and the fear of impeding the current economic paradigm. His project is echoed in drama and aesthetic by Alice Miceli's photographies of Chernobyl's exclusion zone (check also the interview with Miceli, Chernobyl Project – Images of the Invisible).
Investment consultation between, ark member, Shem and ARK-INC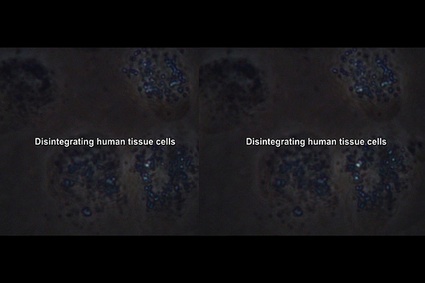 Critical Art Ensemble, Immolation
I was also glad to see again Immolation, a video installation concerned with the use of incendiary weapons on civilians after the Geneva Convention and the Protocol on Prohibitions or Restrictions on the Use of Incendiary Weapons of 1980. The U.S. have refused to sign the convention and make regular use of firebombs in the Middle East.
This video highlights the major war crimes of the United States involving these weapons on a ( macro) landscape level, and contrasts it with the damage done to the body on the (micro) cellular level. To reach the cellular level, the Critical Art Ensemble grew human tissue at SymbioticA, and using high-end microscopy shot the micro footage of skin cells dying by either exploding or imploding. In parallel, CAE shows film footage of present and past wars that have used immolation against civilian targets as a strategic choice for the sole purpose of terrorizing entire populations.
Green Revolution, curated by Emilie Oursel, closed on June 13th, 2009.
See also Transmediale 09 – Survival and Utopia, Sk-interfaces (Part 1).