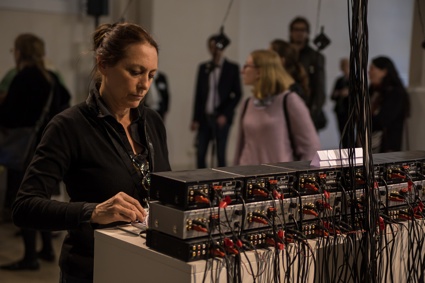 Cécile Babiole, BZZZ! The sound of electricity, 2012. Image courtesy RIXC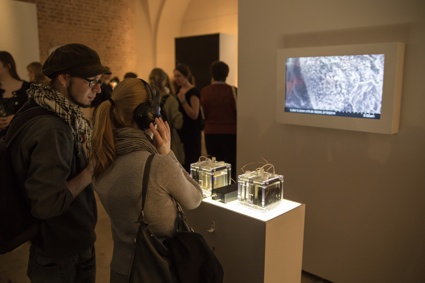 Raitis Smits, Rasa Smite (RIXC), Voldemārs Johansons and Jānis Jankevics, Biotricity, 2013 – 2014. Image courtesy RIXC
Last month, i was in Riga for the festival Art+Communication and this was undoubtedly one of the most pertinent and satisfying art & science events i've ever attended. I'll do my best to share my enthusiasm in a series of upcoming reports and interviews with artists. Let's start with a broad overview of FIELDS, an exhibition which was huge and surprisingly devoid of any weak work.
FIELDS investigates the place of contemporary art practices in society and the role artists can take not just as generators of new aesthetics but also as catalysts of active involvement in social, scientific, and technological transformations. While some of the works in the show present a critique of ongoing political or ecological issues, others go a step further by suggesting positive visions for the future.
The artworks exhibited explore alternative energy, others engaged with neo-liberalism, unemployment, surveillance, endangered bee ecology, global market crisis, climate change, genetic mutations, etc. A sense of urgency emanated thus from the exhibition rooms but any doom and gloom was compensated by hints of defiant counter-action and strategies of productive rebellion.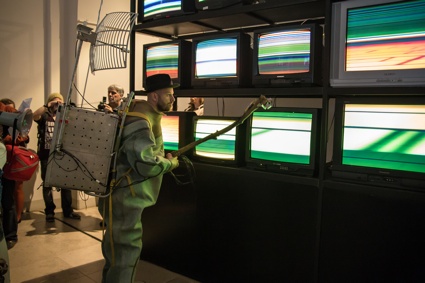 Martins Ratniks, Fields, 2007 + Michal Kindernay, Ondřej Vavrečka, Milos Vojtechovsky, Imagograph, 2013/2014. Image courtesy RIXC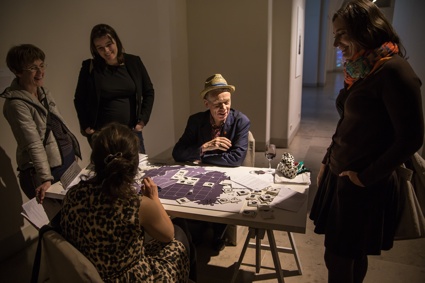 Isidora Todorovic, Luka Ranisaljevic and Andrea Palasti, Can you feel the spill?, 2013. Image courtesy RIXC
We were expecting proposals from artists, who are working with contemporary ideas and tools, science and technologies, yet are deeply engaged with social issues, curators Raitis Smits and Rasa Smite explained. We call them 'critical interlopers', because Fields artists instead of unrealistic future scenarious, propose constructive approaches towards more sustainable future and more then that – they act, through their creative practices obtaining a touch of reality.
Armin Medosch, the third curator of the exhibition, goes further: If we look at energy, agriculture, transport, systems of production, it is clear that the ideology of limitless expansion is driving us straight into catastrophe. Everybody knows that, but while there are many initiatives, mainstream society seems to be blindly following its course, unable to change. In this situation new patterns are urgently needed, new ways of thinking, but not just that, new ways of interacting with the world, with technology, with nature. An ecological turn is overly due, but to achieve this seems almost utopian within current social relations. In this situation art can provide new models, new directions, but those are models, like in a mini-mundus world. Art gives Form to the imagination, Herbert Marcuse wrote. And this artistic imagination we are talking about in Fields is involved in the construction of a new society.
This is Riga: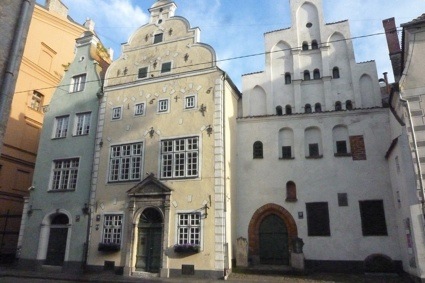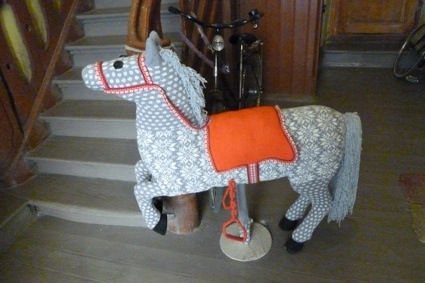 The exhibition presents almost 40 works. I won't be able to cover all of them but i'll bring the spotlight on a dozen of them over the coming days. Here are four of the art pieces i found particularly compelling: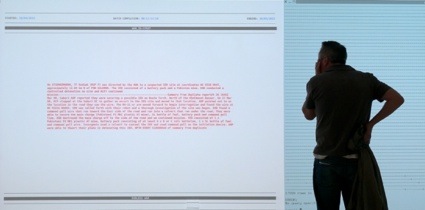 YoHa (Matsuko Yokokoji and Graham Harwood) and Matthew Fuller, Endless War, 2012 (image)
YoHa (Graham Harwood and Matsuko Yokokoji) and Matthew Fuller's Endless War scours in real time through the data obtained from Wikileaks' release of the Afghan War Diaries. Characters on the screens show the slow process of going through over 76,000 files covering the war in Afghanistan from 2004 to 2010.
The reports were written by soldiers and intelligence officers and calculated by clocks, computers, and satellites. As the war is fought it produces entries in databases that are in turn analysed by software looking for repeated patterns of events, spatial information, kinds of actors, timings and other factors. Based on this analysis, military decisions are taken.
Instead of looking at the War Diary as a record of specific military acts, Endless War critically reflects on the database machines that generated it, showing how the way war is thought relates to the way it is fought. Both are seen as, potentially endless, computational processes.
Graham Harwood writes: If journalists tried to make the data transparent, to use it as a window to real world events, what we wanted to make visible was the data itself, and its role in a system of war in which we are also implicated. Endless War was an attempt to convey a sense of how the machine is able to read the entries in a way that is unlike a human, yet makes sense of the entries, ordering them in order to allow the human to participate in an intelligence that is not their own.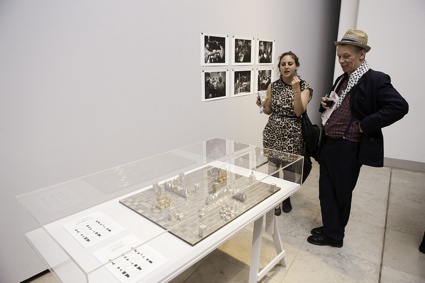 Class Wargames, The Game of War
ClassWargames, The Game of War
One of the keynote speakers of the conference that accompanied the FIELDS exhibition was Richard Barbrook, an author, lecturer at the University of Westminster who, as part of his research into the politics of ludic subversion, co-founded Class Wargames in 2007. This group of artists, academics and agitators plays and explores the possibilities of Guy Debord's The Game of War. While the game has sometimes been dismissed as Debord's 'retirement project', Barbrook affirms that it not only 'plays well', it also offers lessons in life and politics inspired by the tactics of situationism.
Debord's Game of War was inspired by Carl von Clausewitz, a Prussian general and military theorist who stressed both the "moral" and political aspects of war. In the Napoleonic-era military strategy game, armies must maintain their communications network to survive. For Debord, The Game of War wasn't just a game, it wasn't about competing but about exploring ways for people to live their lives within Fordist society. By playing, revolutionary activists could learn how to fight and win against the oppressors of spectacular society.
Debord wrote in 1989: So I have studied the logic of war. Indeed I succeeded long ago in representing its essential movements on a rather simple game-board… I played this game, and in the often difficult conduct of my life drew a few lessons from it — setting rules for my life, and abiding by them. The surprises vouchsafed by this Kriegspiel of mine seem endless; I rather fear it may turn out to be the only one of my works to which people will venture to accord any value. As to whether I have made good use of its lessons, I shall leave that for others to judge.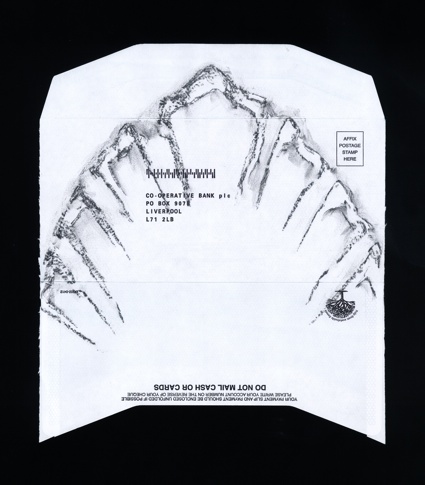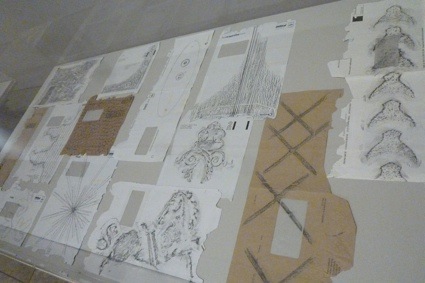 I was also intrigued by Hayley Newman's Daylight Rubbery.
As part of her work as a Self-Appointed Artist-in-Residence in the City of London, Newman is a 'bank rubber', she makes rubbings of the fronts of banks in the City of London. She performed dozens of bank rubbery on used envelopes to form a Histoire Economique, a sort of natural history of the banks in the City. The rubbings are exhibited in vitrines, like dried plants in the natural history museum.
I am interested in unconscious aspects of corporate life – what is repressed and what is revealed, the artist explained in an interview with Corridor8. Frottage seemed an appropriate technique to use in that it is often applied in an attempt to relinquish conscious control of an artwork. In Histoire Économique I use it as a method to help reveal something (the unconscious?) of the bank I am rubbing.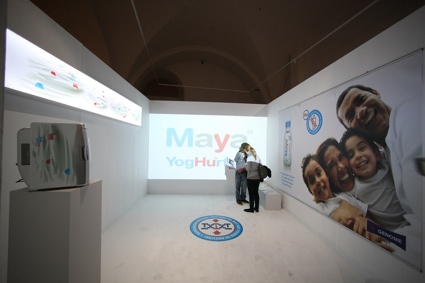 Maja Smrekar, Hu.M.C.C. m.k.2 (Human Molecular Colonization Capacity), 2013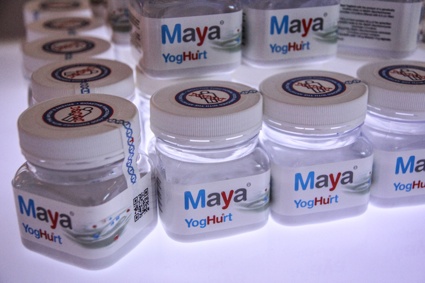 Maja Smrekar, Hu.M.C.C. m.k.2 (Human Molecular Colonization Capacity), 2013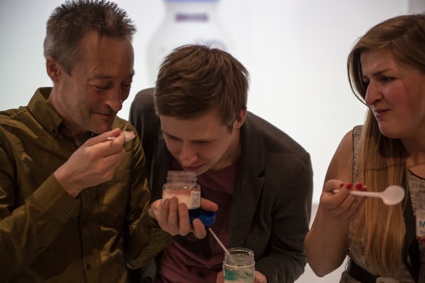 Maja Smrekar, Hu.M.C.C. m.k.2 (Human Molecular Colonization Capacity), 2013
The food industry is exploring how the new possibilities offered by synthetic biology and biotechnology could meet the demands of a growing global population. Maja Smrekar embarks on a similar quest with her project HuMCC–Human Molecular Colonization Capacity, a line of yoghurt containing her own enzyme that she offers for public consumption.
Working with scientists at the University in Ljubljana, the artist combined her own DNA with that of a common yeast Saccharomyces cerevisiae which, after being genetically transformed with the artist´s gene sequence, produces lactic acid.
The project also references Soylent Green, a scifi movie set in a future when most of the world population survives on rations produced by a corporation that produces Soylent Green, a green wafer advertised to contain "high-energy plankton". However, the main protagonist of the story discovers that the oceans no longer produce the plankton from which Soylent Green is reputedly made, and infers that it must be made from human remains, as this is the only conceivable supply of protein that matches the known production.
The artist explains that the work is located in the Soylent Green paradigm where the fear of ecological cataclysm turns into a subtle critique of corporate cannibalism: not only are corporations actually using people to continue to maintain themselves in their own lives but these same people are simultaneously yearning for those products! "Maya Yoghurt" is an overidentification tactical media product as means of producing pressure on the population–this infinite desire of capital to continue developing regardless of whether that would include even (sublime) levels of cannibalism.
I guess i'm completely immune to the ever-seducing 'shock factor' of cannibalism. Out of habit of seeing art/design projects dealing with similar topic and also for the very mundane reason that i already take probiotics that contain human strains. The 'human dairy' scenario also reminded me of the breast milk ice cream sold in London a while ago.
I was however, very seduced by Smrekar's suggestion that our own body, this nutritious source of "uncolonized biotechnological materials", might hold a key to the way growing populations might be fed in the future.
Fields exhibition was produced by RIXC and curated by Raitis Smits, Rasa Smite (Latvia) and Armin Medosch (Austria).
The show remains open at Arsenals Exhibition Hall of the Latvian National Arts Museum (LNAM) in Riga until August 3, 2014.