The Experimental Party DisInformation Center, by the US Department of Art & Technology, an immersive media installation subverting Republican propaganda, opens in New York on Saturday, August 21st and will run through Saturday, September 4th.
The project is an initiative formed to activate citizens across the country in an effort to bring the artists' message to center stage of the political process. This is a political awakening.
Among featured projects are:
– Homeland Insecurity Advisory System: broadcasting the daily governmental threat.
– USA Exquisite Corpse: a dark portrayal of the Spirit of America.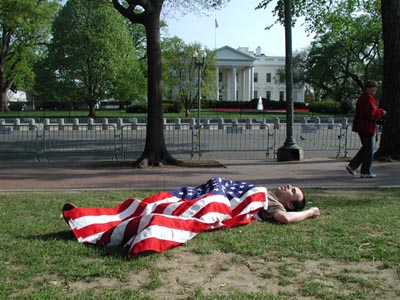 – Abe Golam for President 2004 (A PolyVocal Remix): a politically reborn avatar-candidate.
– the Media Deconstruction Kit which scrambles live news broadcasts and puts the altered matter out on the Net as a revolutionary weapon.
– Society of the Spectacle (A Digital Remix): ten-minute DVD art-loop by DJRABBI.
– WetheBlog.org: a virtual community for media artists and cultural critics.