Since 2009 writer and filmmaker Arnold van Bruggen and photographer Rob Hornstra have been touring around Sochi (Krasnodar Krai, Russia), a small city on the Black Sea that will host the Winter Olympics in 2014. The choice of Sochi is not the most opportune one. Not only does the area boasts exceptionally mild Winters by Russian standards, it is also located in close proximity of some of Russia's most unstable regions. Hornstra and van Bruggen currently have a show at Foto8 gallery in London that focuses precisely on one of those regions: the Republic of Abkhazia.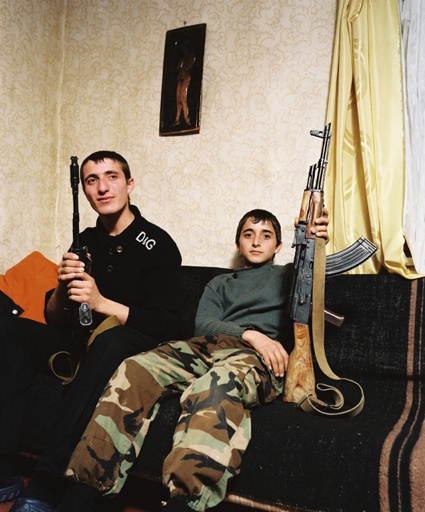 Kuabchara, ABKHAZIA, 2009 – Brothers Zashrikwa (17) and Edrese (14). Copyright © Rob Hornstra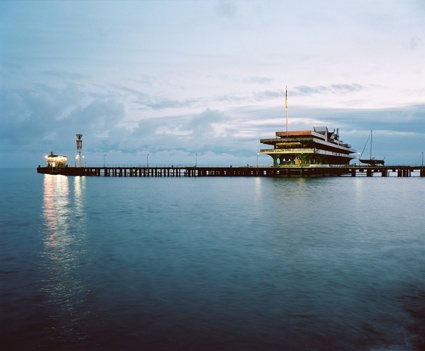 Sukhum, Abkhazia, 2010 – Sea terminal (for ferries) in the center of Sukhum. On the left side cafe Apra
You might never have heard of Abkhazia and that's probably because only a handful of countries regard it as an independent state.
Abkhazia broke away from Georgia after a short, violent civil war in '92-'93 and only Russia, Venezuela, Nicaragua and the atoll of Nauru recognised it as independent state in 2008.
The 13 month long war killed between 20,000 to 30,000 ethnic Georgians and between 2,500 and 4,000 Abkhaz. Over 250,000 Georgian refugees were displaced. Abkhaz 20,000 became refugees.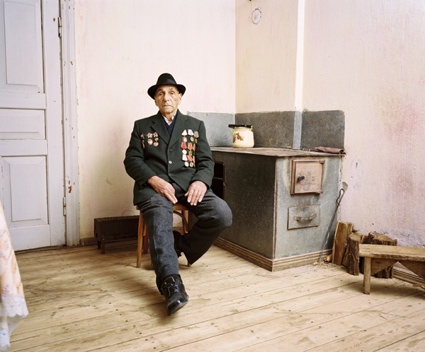 Eshera, ABKHAZIA, 2009 – Mikhail Yefremovich Zetunyan (88). Copyright © Rob Hornstra 2009
The artists spent four years witnessing and documenting the country's attempts to repopulate with new immigrants a country that is ravaged by the war, almost empty and in great economic distress.
In 2007 we first visited a refugee centre in Tbilisi, where we interviewed Georgians who had fled from Abkhazia during the war in 1992-1993. An estimated 250,000 Georgian refugees have since been living in 'temporary' accommodation, such as former student apartments, old primary schools and abandoned hotels. Every Georgian president has promised the refugees that he would end the frozen conflict and that the refugees would soon be able to return to their homeland Abkhazia. When we visited these refugees in 2007 in a totally rundown former student apartment in Tbilisi, they had already spent 14 years in their 'temporary' accommodation. But we could still detect a faint glimmer of hope among the refugees we spoke to.
In 2010 we visited many of the refugees we had met in 2007. All hope was gone. It was distressing to see that the situation had not improved for any of them.
Small selection of images with text found on Time Machine (as well as on a leaflets inside Foto8 exhibition space):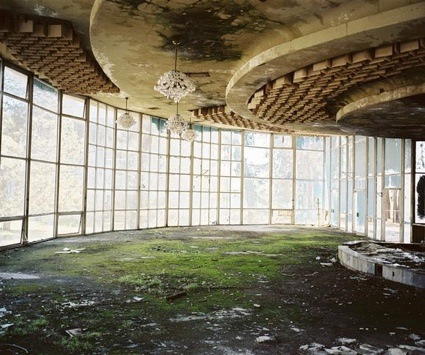 Pitsunda, ABKHAZIA, 2009. Copyright © Rob Hornstra/INSTITUTE
Pitsunda is a resort town on the shore of the Black Sea. In October 1964 Nikita Khrushchev was vacationing in Pitsunda when he was deposed from power. There are many hotels for Russian tourists, who frequent the area in summertime.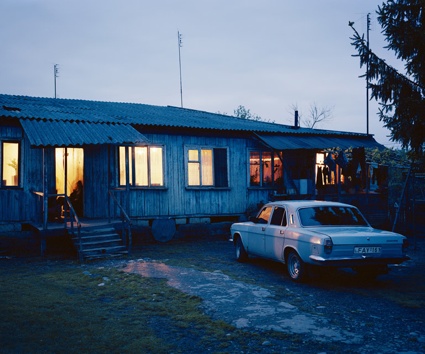 Shamgona, Georgia, 2010
A blue painted wooden kindergarten has been used as a shelter for refugees. In the early 1990s for the ethnic Georgians forced to flee Abkhazia were housed in student flats, hotels and schools across Georgia, with the promise that they would soon be able to return to their homeland.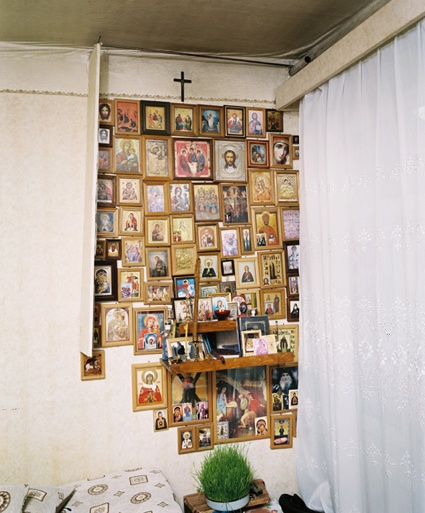 Tbilisi, Georgia, 2010 – Altar of Mediko Zarandiya (56) in a refugee kommunalka on the outskirts of Tbilisi
A kommunalka is an apartment building in which dwellers share facilities like toilet and kitchen. Until the early nineties this building was used as student housing. Since the Georgian – Abkhazian war, the building has been occupied by Georgian refugees from Abkhazia.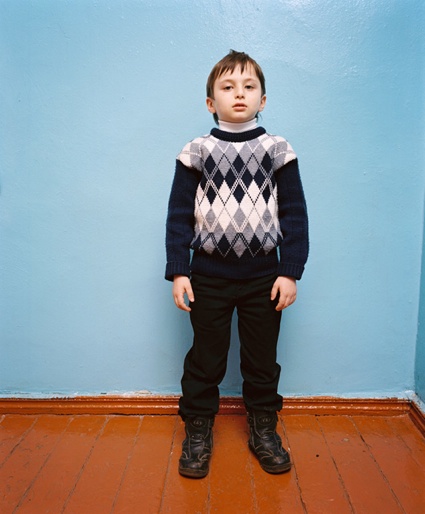 Tkuarchal, Abkhazia, 2010 – Ainar (7) in his class in Tkuarchal. He wants to become the president of Abkhazia
The image that Abkhazia wants to present to the world is one of a real country, with all the institutions and infrastructure that it involves: schools, healthcare institutions, administration, police stations and a prison. That's right, the whole country has only one prison but then there are only some 240,000 inhabitants in Abkhazia.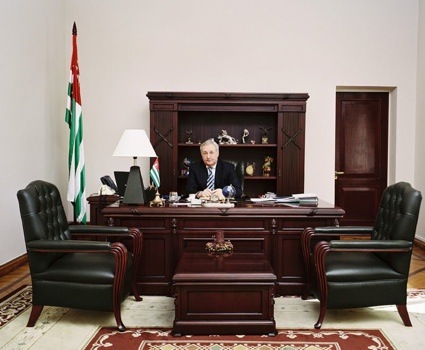 Sukhumi, ABKHAZIA, 2007 – Sergei Vasilyevich Bagapsh, President of the Republic of Abkhazia since 2005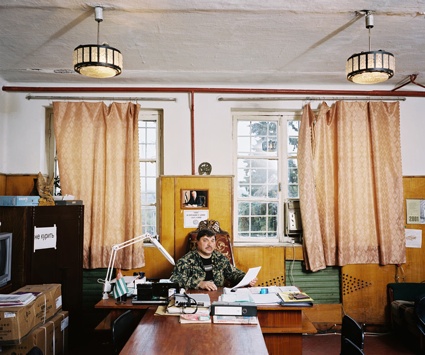 Dranda, Abkhazia, 2010 – Director of Dranda, the only prison of Abkhazia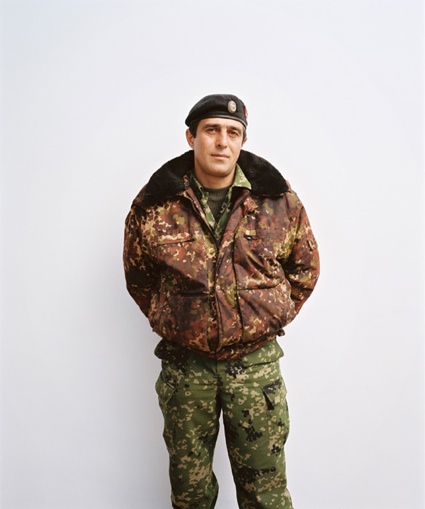 Abkhazian police man and peace keeper Eric Amichba (33) in Azhara, 2009
In the shadow of the war between Georgia and Russia in August 2008, a small war is still playing out. With Russian support Abkhazia captured the officially demilitarised Kodori Valley, a remote mountainous region on the border of Abkhazia and Georgia. Since then, Georgia has attracted another 2,000 refugees. As a notable exception, Abkhazia allows journalists to visit the region.
The Sochi Project: Empty Land, Promised Land, Forbidden Land remains open at Foto8 in London through April 21, 2012.
More info about The Sochi Project. Images on Borotov, Time Machine and INSTITUTE.
Previously: The Sochi Project.