The project 'Scentient Beings' by Jenny Tillotson implants smell technology into multi-sensorial clothing and turns the living dress into a sensitive Smart Second Skin.
Just like the scent of the skin changes with emotion, the Smart Second Skin fabric interacts with human emotions whereby the aroma dimension is an integral part of the wearers wellness sensory experience.
The dress mimics the body's circulation system, the senses and scent glands. The interactive fabric emits a selection of scents depending on your mood. Aromatic messages are actively 'pulsed' electronically through a cabling system, to key points of the body in order to activate the smell centre.
The project is from the Science Fashion Lab® which brings together the disciplines of Analytical Chemistry, nanotechnology, perfumery and fashion design to be the pioneers of 'Scentsory Technology'.™
Among their fascinating projects, the romantic girl –badly hidden– in me quite liked "Love is in the air."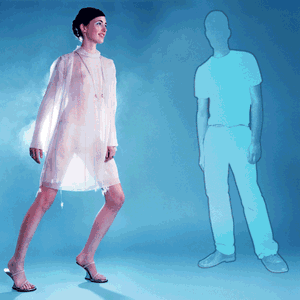 As much of the research in Smart Second Skin clothing includes work with pheromones –the 'aromatic' molecules, which smell musky when we are sexually aroused and are found on our skin, the lab is working on sensors in garments that could be programmed to detect someone whose pheromone profile is of interest to you and send them a sample of your own pheromones. This would work by 'matching' your ideal mate by attracting them with your personal pheromones for that seductive moment.