Two nights ago, Canadian photographer Edward Burtynsky was speaking at the Long Now Foundation in San Francisco, proposing a 10.000-year gallery to go along with the Clock of the Long Now, as part of their Seminars About Long term Thinking.
C. N. Track No. 1
For those not familiar with the project, among many other endeavors, the foundation is planning to build a mechanical clock in a remote mountain site, designed by Danny Hillis, which will run for ten-thousand years along with a library. Practically all the foundation's projects aim to provide counterpoint to today's "faster/cheaper" mind set and promote "slower/better" thinking. The foundation's work is very intriguing in the way that they undertake seemingly vast projects which in turn force their creators to radically re-think many of the notions of today's processes as we are not used to long term thinking, which, as it becomes increasingly clear that our survival might depend on just that.
Burtynsky says the clock (which will most likely live at Mount Washington) reminds him of land-art projects like James Turrell's Roden Crater or Walter De Maria's Lightning field, in the way that it might almost become a site of pilgrimage once it will be finished. In order to give the future pilgrims an additional benefit, and also a sort of cultural context out of which the clock was coming from, he thus proposes a gallery of contemporary photography to go along with it, a Long Gallery. As he pointed out, most cave paintings and other archaeological findings like the pornography in Pompeii was simply a testament to that period's system of thinking, and-being a photographer himself-he proposes that we do the same. So what's the case for photography over contemporary art like painting? He says that photography essentially is an outcome of an industrial process, which has been shaped by us, but by which we're also shaped as well. We have personal memories, but often enough they refer to photos that have been taken of us on our way through time, and the very same applies-thinking of iconic historical photos- to humanity as a whole.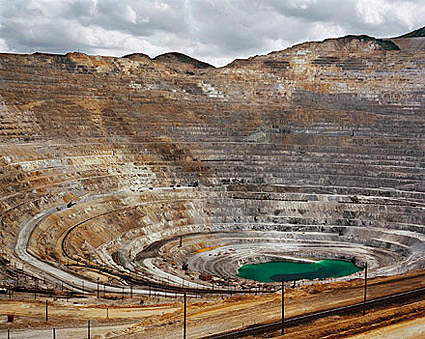 Mines 22
Finding a technology for creating ultra-durable photographic prints proved to be quite a challenge. Initially looking at inkjet-prints which might employ the same pigments as highly durable paints used in cars, he ended up with a process which was developed in 1855: the carbon transfer print. This time and money intensive process produces the most durable prints we know, but is somewhat of a dying technology which only a handful of companies in the world still employ. With this project, they also help to revive it a bit. The prints would be applied on special paper, which as opposed to the alternative porcelain, is unbreakable and less sensitive to fluctuations in atmospheric temperature and moisture. However, there's still hope for a much less expensive yet equally durable inkjet-technology to appear before the launch of the gallery in 5-10 years time.
So what to show? Burtynsky proposes a range of different exhibitions to be stored with the clock, each curated by another photographer and consisting of approximately 20+ images. He as gathered three proposals so far which are somewhat different approaches to representing the contemporary world: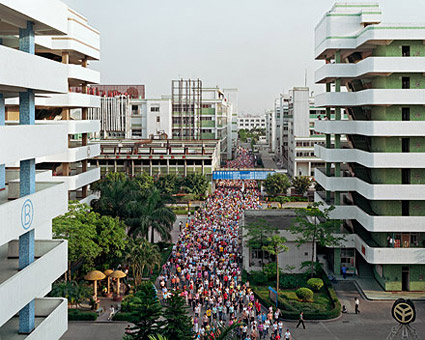 Manufacturing #2
Canadian photographer Vid Ingelevics proposes a Museum of the Mundane, which would working with the elements of the banal, "stuff that we already feel archival about", as Stewart Brand later put it. The show would consist of images on two sides-side one shows photos of everyday objects taken from two big Canadian archives, one of which belongs to a major department store, mostly items from the past. Side two shows photos of items that will be bought in contemporary dollar-store, representing a more present and probably also more readily disposable world of things. It would be an unofficial poll of the the "true necessities of life", and as such anticipating a future archaeological dig, in most of which usually the mundane is discovered and often most intriguing (see Pompeii pornography) because it shows that people's needs and desires often change very little.
The second proposal is curated by Marcus Schubert and would be titled Observations from a Blue Planet. His approach is to collect images from the web, in a found-footage manner and present similarities and differences in the form of diptychs. For Schubert, planet Earth is an "experiment in diversification and consumption" and the juxtapositions (for instance well-fed American families from the sixties and starving families from East Africa, Manhattan and slums and the likes) serve to show us the range of lives that exist within the same environment.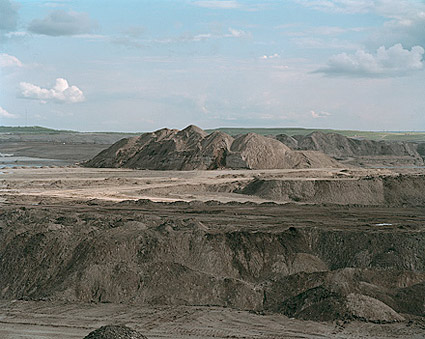 Oil Fields No. 25
Finally, the third exhibition would be curated by Burtynsky himself, mostly talking photos from his series In the Wake of Progress which he has been working on for 25 years. Most of his work focuses on the notion of industrialization which was created in Europe and in the last centuries has changed our relationship to what we regard as nature as profoundly as probably nothing before. In the process, internal combustion engines have boosted human expansion to the point where in Burtynsky's lifetime, human population has so far more than tripled. His work, mostly landscapes which show how "the surface of the Earth is a skin and [how] we shape it in a certain way", are meant to be reflexions of these relationships.
For him, mines are especially iconic, since it has been natural resources like metals and especially oil (driving the engines) for which the Earth is being reshaped in many places. Burtynsky has taken many photos of mines, for instance the largest copper mine in the World in British Columbia, or more recently the oil sands of Northern Alberta where oil-soaked bitumen is being converted into oil in what is currently the largest surface-engineering project on the planet, and they've only touched 1% of the area. The forest that is standing on top (sometimes called "The right lung of the Earth") of the sand is being cleared and this and other reasons cause the oil to have a four times larger carbon footprint than even regular oil. For this reason, the state of California is refusing to import oil from this source.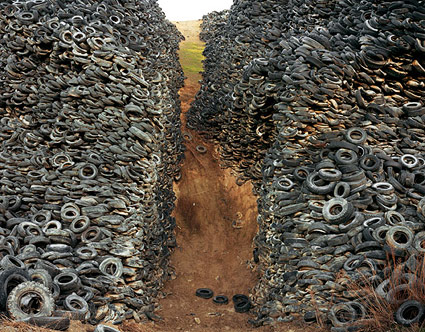 Oxford Tire Pile No. 8
Other impressive examples include 40 million tires that had been dumped outside of Modesto, California in a field so massive that a power plant was built to turn the tires into energy, halfway through which the field caught fire and the project had to be abandoned. Or spaces in granite-mines in Vermont and the famous marble-quarries in Carrara, Italy, where the removal of giant cubes of stone has created an "inverted architecture" of sorts, just as copper and ore-mines often create inverted pyramids into the ground.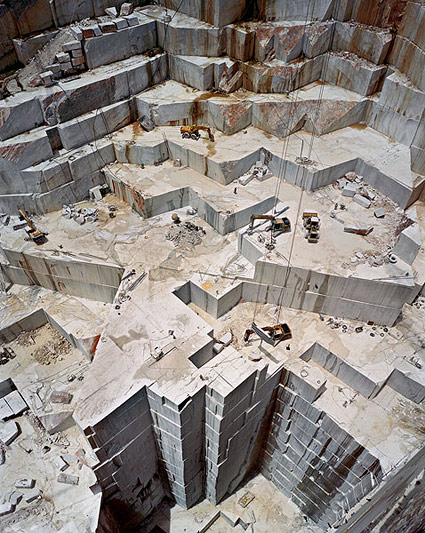 Carrara Marble Quarries
More recently, Burtynsky has focused on the notion of globalization and received a lot of acclaim for his large-scale images of Chinese factories (with a mobile workforce currently in the range of 100 million people) and Bangladeshi ship-breaking yards. This he argues, "is the export of ideas from the west, unbolted and transported to China" to become the world's factory. Which is consistent with the notion that his images are trying to connect us to the earlier ages of our industrial society-a world that still exists, but has been moved out of sight for many Westerners, which is why these photos today serve a particular role.
UPDATE: Long Now have just published the talk as an MP3 and you should also be able to subscribe to the podcast (which you should do anyway) and get it.
Related: Chinese industrialization