More Dutch design (my favourite with the one made in UK) with Droog. Their exhibition this year is called Garden of Delight. It's the usual good old, lovely and easy Droog.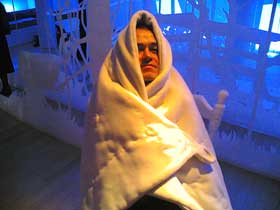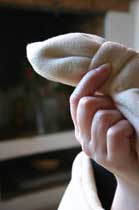 I'll just highlight a blanket that i immediately added to my Iwantoneofthose list. Undercover, a working prototype designed by Dana Gordon and Alejandro Zamudio Sanchez, is a super soft soundscape that will go with you anywhere in your house, bringing you a vibrating experience from head-to-toe. The blanket can be wirelessly connected to any source of audio allowing you to listen to your favourite music or radio station. Tugging on the top corners of the blanket adjusts the volume and intensity to vary the experience according to your mood.
This project was produced during an Applied Dream workshop at Interaction Design Institute Ivrea. My images. Photograph on the right courtesy of Aram Armstrong.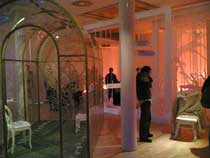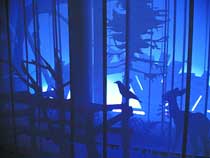 And if you need some relaxation, the Droog show features the now famous Tickle Salon but also Petra Eichler and Susanne Kessler's charming Sound of Silence 1. The installation is made of white paper that forms a forest where one can wander but with extreme care. Otherwise the paper tears up. Lights and a sound give the feeling that dawn is slowly coming upon the paper landscape.