Finally! I found some time to type down my notes from the DocLab: Interactive Conference, a one-day event that looked at how artists, film makers, designers and entrepreneurs are exploring digital behaviour and redefining the documentary genre in the digital age.
IDFA DocLab is part of IDFA, the International Documentary Film Festival Amsterdam. I didn't have the time to see any of the 'traditional' documentaries (alas!) but i did get to try some smart interactive and/or immersive virtual reality works in the exhibition. I'll probably publish tomorrow my thoughts on that show and the conference notes below might provide a good introduction to it.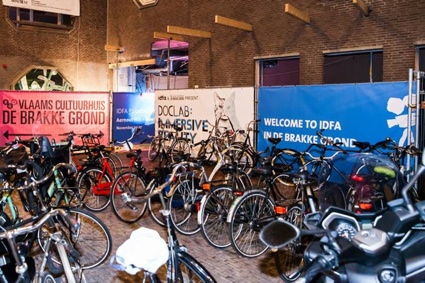 Entrance to De Brakke Grond. DocLab: Interactive Conference. Photo by Nichon Glerum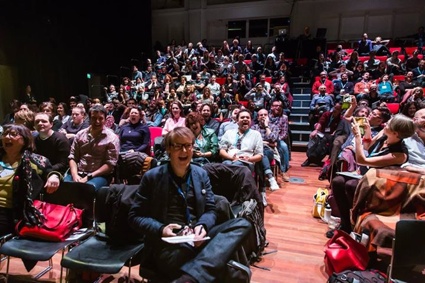 The audience at the Immersive Reality Conference. Photo by Nichon Glerum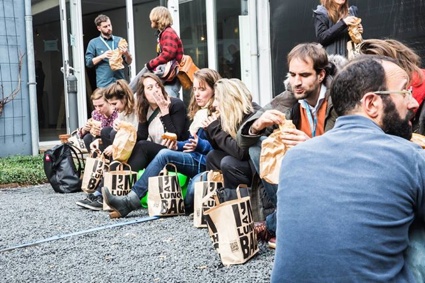 Picnic at the Immersive Reality Conference. Photo by Nichon Glerum
The Interactive Conference surprised me. In the best possible way. I was expecting to be entertained by the artists' talks and bored by anyone else who stepped on stage before or after them but it turned out that i didn't have one dull moment that day (I did sneak out of the auditorium as the 'Financiers Round' was starting though.)
There was a genuine sense of excitement and wonder in the room. Virtual reality and other new media are about to break into the mainstream and most speakers still have the feeling that they are experimenting and pioneering new ways to engage audiences.
I've already told you about James George's talk at the conference. The following notes are far drier and don't cover everything i heard that day. I'm not even going to mention every single contribution to the event. I've just picked up my favourite moments:
Monique Simard, president and CEO of the Development Corporation of Cultural Enterprise for Quebec (SODEC) noted that people consume culture in different ways than in the past. Nowadays, i's much less television that entertains us than mobile phones. Yet, while TV channels still invest in developing new creative content, mobile phone companies hardly invest in content. There has to be a re-balance of the financing of culture.
Juha van 't Zelfde, artistic director at the Lighthouse in Brighton, talked about How the web lost its innocence. An incomplete index. He shared his observations about the dark side of the internet and illustrated the collateral damage of technological innovation through 5 artworks:
Holly Herndon, Home
1. Total Surveillance
Holly Herndon's video, Home. Directed by Metahaven. The musician spends most of her time on her laptop. So much that it feels like home. The NSA scandal has altered the relationship she had with her computer and her song is a musical response to the NSA agent, it is a love letter as much as a break-up song.
2. Predatory Capitalism. Apple, google monetizing on anything.
Random Darknet Shopper, by Mediengruppe Bitnik, is an automated online shopping bot which uses a budget of $100 in Bitcoins per week to randomly buy an item on Darknet.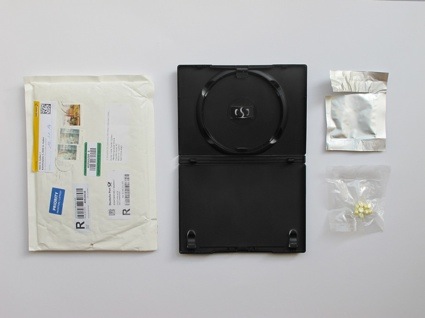 Mediengruppe Bitnik, Random Darknet Shopper, 2014
3. Non-state Terror.
Metahaven looked at the political use of memes by both state and non-state actors and at the weird propaganda tools found on social media.
Example: The mocked-up Grand Theft Auto-style trailer that features virtual fighters shouting "Allahu Akbar!" as they attack U.S. troops.
4. State Terror
Terminal Beach looks at the non-sensical experience of drone attacks. From afar, they might look like a video game but they are traumatizing generations of children in other countries.
Their work BLIND DATA, for example, recombines images and sounds sourced from youtube and other platforms, subtracting them from the flux of communication as a way of "decommissioning" an increasingly weaponized infotainment complex and contributing to a more general disactivation of the ideologies and affectologies of vision, knowledge and power that underpin drone warfare.
5. Disconnecting People
That's the paradox of the web. It was imagined as a platform for democratic ideals and has turned into an infrastructure of total surveillance.
Hito Steyerl's How Not to be Seen: A Fucking Didactic Educational .MOV File is a caustic educational video instructing you on how to avoid being seen. From going off-screen to being female and over 50 years old.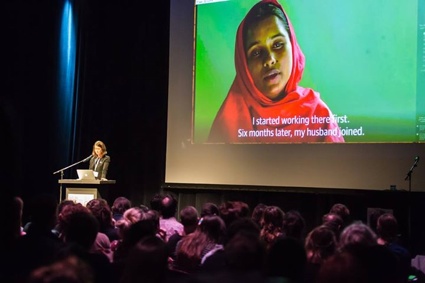 Francesca Panetta at DocLab: Interactive Conference. Photo by Nichon Glerum
Francesca Panetta, multimedia special projects editor at The Guardian, talked about the newspaper's experiments in storytelling. She briefly explained some of these new exercises in storytelling:
The Shirt on Your Back: Video, texts and photos that document Guardian the human cost of the shirt you are wearing.
While The Guardian's interactive NSA Files: Decoded was linear, The Seven Digital Deadly Sins is not. The short series asks what pride, greed, gluttony and other deadly sins would become in our digital era. The work is based on video interviews but it also features voting polls asking you whether or not you condone the digital deadly sin exposed.
Why? The Guardian feels the need to reinvent itself because the traditional newspaper industry is dead.
How? By adding to their own pool of journalists and photographers, a multimedia desk of filmmakers, designers, developers, etc.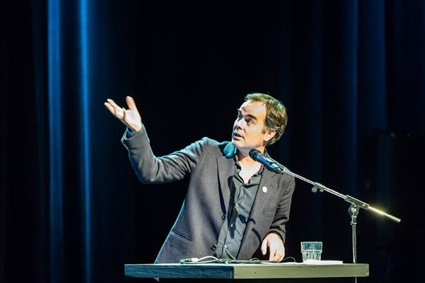 Jan Rothuizen at DocLab: Interactive Conference. Photo by Nichon Glerum
Visual artist Jan Rothuizen draws by hand huge maps of locations as different from each other as the worst hotel in Amsterdam and a refugee camp for Syrian Kurds. These maps are less about topography than about presenting a whole narrative in a very open way. It's non-linear and non-scripted, it's layered and you're the one who has to retrieve all the clues in the drawings and weave the whole story.
Examples: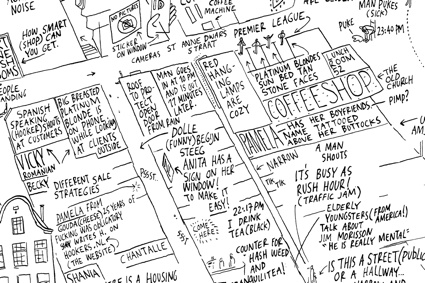 The Red Light district in Amsterdam (detail)
The detention center located right next to the runway at Schiphol airport is off limit to photographer but, as a drawer, Rothuizen was allowed to enter and sketch around.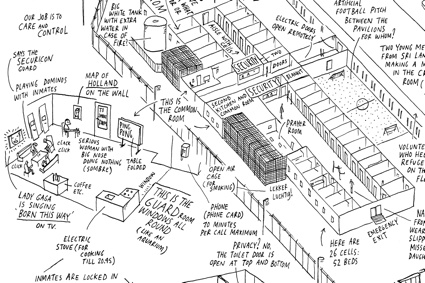 Schiphol Detention Center (detail)
Thomas Wallner, founder and owner of DEEP Inc., opened the afternoon talks about VR creativity.
He showed DEEP 360, an experiment that uses early non-3D spherical camera prototypes to create immersive cinema. One of the works in the series is The Polar Sea, the first 360 documentary shot in the Arctic. The work follows the film crew as they are sailing through the Northwest Passage and experiencing the effects of climate change.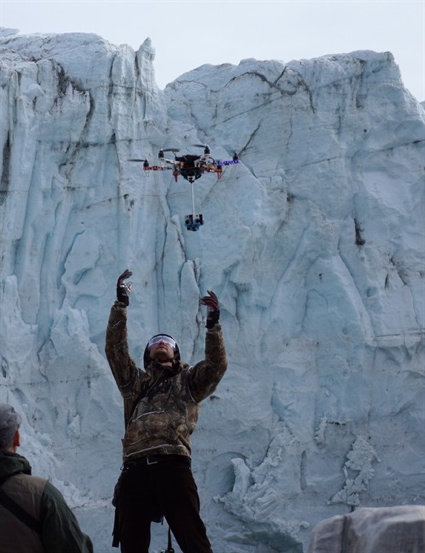 Deep 360 founder Thomas Wallner launches a camera-equipped drone to film an online companion piece to the TV documentary The Polar Sea. Photo The Canadian Press/HO-TVO (via)
According to Wallner, the arrival of the Samsung's VR headset that uses the new Galaxy Note 4 as its main display will further mass market virtual reality. However, he also firmly believes that a technology that can't tell a story is doomed to fail.
Lady In The Lake – Trailer
He gave the example of 1947 MGM' film Lady in the Lake which attempted to create a cinematic version of Chandler's first-person narrative style of Philip Marlowe novels. The audience could only see what the detective did. Metro-Goldwyn-Mayer promoted the film as 'the most revolutionary style of film since the introduction of the talkies.' It didn't meet with much critical success.
For Wallner, it's tricky to simply try to replicate a classic cinematographic experience in virtual reality. In cinema, we create an empathic relationship with the characters but it's difficult to find this relationship when you are wearing VR goggles and are at the center of the experience. Therefore we need to find new kinds of languages to tell the stories.
He also pointed to the fact that cinema, as we know it now, is part of a continuum and tomorrow's cinema still has to be invented.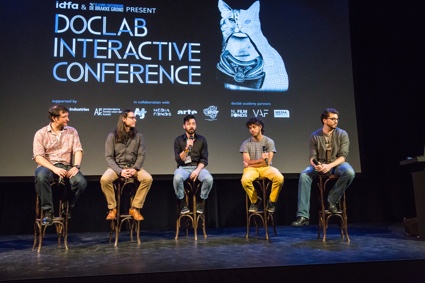 Panel about virtual reality. Photo by Nichon Glerum
Next there was a panel about virtual reality. Panels tend to be a bit bland. Not this one. Here's what i learnt from panelists Danfung Dennis (a film maker who founded a company that combines advanced 3D graphics with high-res video to create immersive video applications), creative developer Brian Chirls, Thomas Wallner, one of the developers at BeAnotherLab and media artist Oscar Raby:
– many developers approach VR from a game perspective or a cinema perspective. This involves peculiar expectations about what the experience should be like. But we need to see VR as an open field to explore as its own unique medium.
– it's too early to actually make mistake. We are at a stage where we have a lot to learn from every experiment.
– there is a fear that big studios (like Pixar) are going to use VR to make more spectacular versions of Marvel comics, instead of investigating new possibilities. Independent creators can't compete in money and power so they should create their own art forms and make the best of existing shortcomings in the technology instead of trying to perfect a technology (you need lots of money to do that.)
– the political applications of VR: using VR as a tool for propaganda and brainwashing, to replicate the existing status quo and ideas.
– VR can be used to understand other conscious beings like animals, VR can connect us to other beings in emotional, empathic ways and thus could be a tool to make us feel more connected to the other.
– we don't know yet how the VR content will be distributed but it is possible that it will be distributed through a model similar to the one of the Apple store. Which reminds us of the web that was created as an open, distributed platform. And not as a network that depends on a central authority.
Someone in the audience asked the panel if the only way to make VR was to be incredibly well funded. BeAnotherLab is an example that you don't necessarily need a big investment to start. They worked without funding for 3 years. The panelists advised to start with a computer and a head mounted display. Some are really affordable now. E.g. Google Cardboard.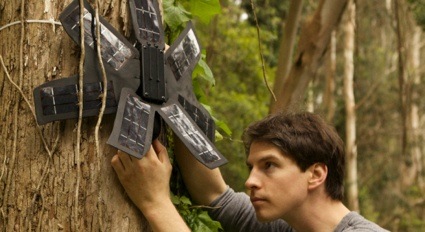 Rainforest Connection (image)
Next came Liz Cook. The film community manager at Kickstarter listed projects her team is particularly fond of. Magzine.it helpfully uploaded the video of her talk. In case you want the short version of her talk, the projects she mentioned are: Radiotopia, the video game Nevermind, Blast Theory's Karen app, Rainforest Connection and Lunar Mission One.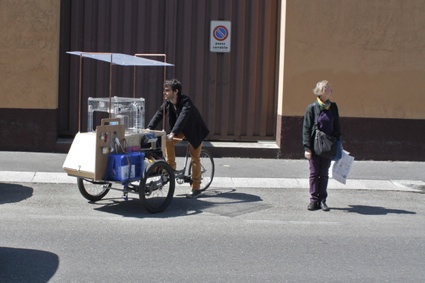 Unfold, KIOSK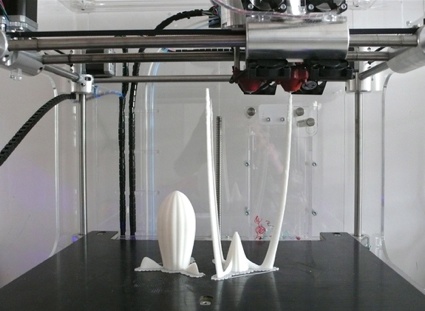 Unfold, KIOSK
One of my favourite talks of the day was by Dries Verbruggen from Unfold. It's always uplifting to see that a designer whose work you're admiring turns up to be a fantastic speaker. Verbruggen 'loves the fluidity of the digital but not the rigidity of the screen' and it's only fitting that his studio would work a lot with 3D printing.
Kiosk, for example, is a cart to 3D print in the street. Pick an object you covet and Kiosk can copy or customize it on the spot. During the Salone del Mobile Unfold made 3D scans of the new objects presented at the fair and started to appropriate, sample, remix, improve, up/downscale or copy new objects 3d-printed on the spot.
The performative work echoes a Tate debate that discussed when 3D printing was ok. Unfold did not 3D replicate to offend or steal but to start a discussion. And as Verbruggen concluded, Unfold might not steal other designers' works but others are doing it already and they are selling designers' ideas on 3D platforms.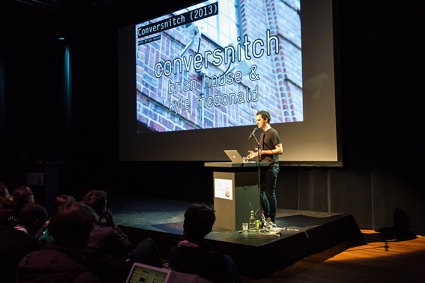 Kyle McDonald at DocLab 2014. Photo by Nichon Glerum
Kyle McDonald gave the final keynote. The media artist showed his works and the trouble some of them got him into. I'm sure you know most of his works (if not, this is the place to go!) I particularly like his Social Roulette, an app that give you one in 6 chances to delete your Facebook account. Facebook was not amused.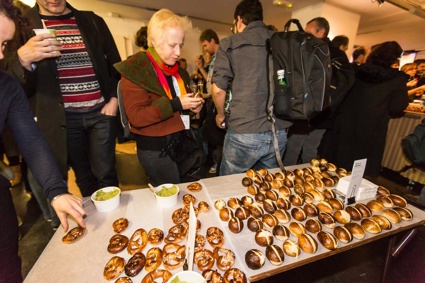 The day ended with an amazing kale mustard with pretzels (that didn't look like pretzel but whatever). Photo by Nichon Glerum
DocLab: Interactive Conference was presented by Ove Rishoj Jensen, Caspar Sonnen and Veerle Devreese. It took place on Sunday 23 November at The Flemish Arts Centre De Brakke Grond in Amsterdam.
More images on Brakke Grond facebook page.
Previously: James George's talk at the DocLab Interactive Conference.