The Triennale in Milan is showing Diritto Rovescio, an exhibition on knitting, embroidery and all those (mostly) feminine crafts that are now so much in favour. I've seen quite a few exhibitions on that very theme over the past few years and this one is definitely not the best but it has merits. The best asset of the show for me was that it made me discover young Italian artists who approach knitting in a truly interesting and personal way.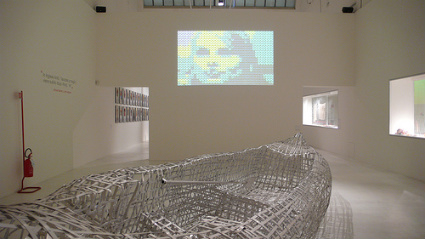 Generally speaking, the works exhibited are very good, you just can't help but wonder what it is exactly that brings them together apart from the use of thread, wool and needles.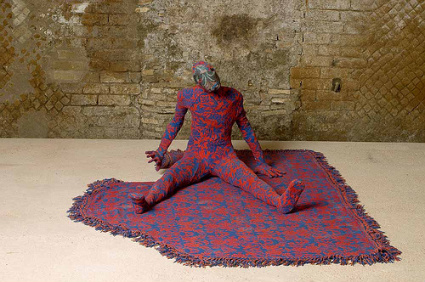 Il Signor K. – Elisa Nicolaci
The press blurb sells the exhibition as follows: Diritto Rovescio proposes a reflection on the textile Loom as metaphorical structure of the thought and the company, and at the same time as individual participation and the creative process ,through installations of international artists, design objects and a permanent workshop opened to the audience.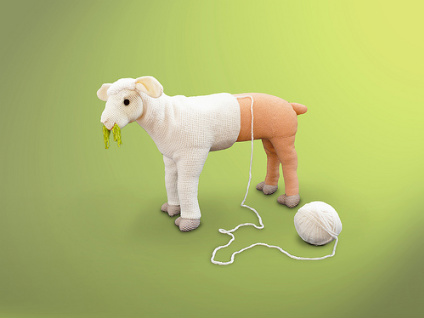 Patricia Waller – Sheep
Diritto Rovescio features a bit of everything: the darlings of the blogosphere (Patricia Waller and her circus of ever-suffering animals), the brainy (Daina Taimina's crocheted models of hyperbolic space), the activists (Cat Mazza (microRevolt)), the designers (the Campana brothers, Tom Dixon, Marcel Wanders, Tokujin and Patricia Urquiola), and many more.
Below is a quick selection which doesn't necessarily reflect my preferences. I couldn't find any information about several of the artworks online and the Triennale team being everything but blogger-friendly i had to give up my quest at some point (damn! sometimes i dream of being a 'normal' journalist, you see what i mean?):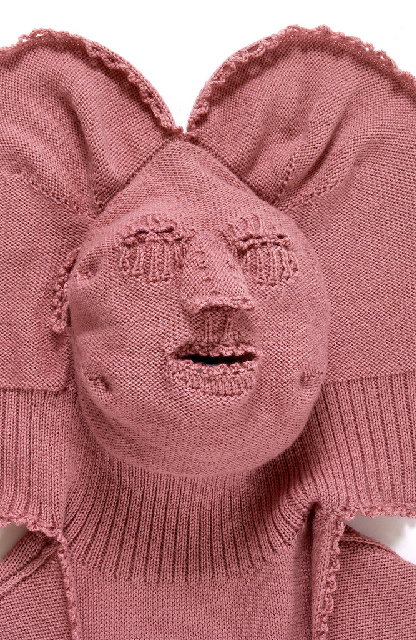 Freddie Robins, Skin – A Good Thing To Live In (detail)
Freddie Robins' Skin – A Good Thing To Live In is a man-size pink overall that fits the human body as if it represented an alternative to and a second skin. "I find the medium of knitted textiles a powerful tool for expression and communication because of the cultural preconceptions surrounding the area. It is a "friendly" medium which can be used to engage your audience with a subject which might otherwise cause them to turn away," explained the artist. In the past, she has indeed worked on topics such as the homes of female killers or the houses where they committed their crimes, and even garments for disabled or mutilated people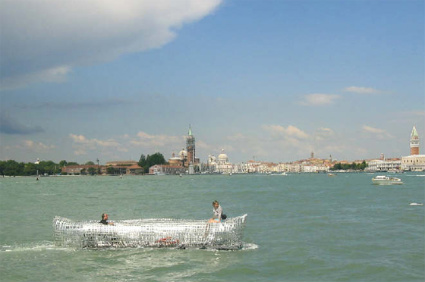 Harush shlomo, floating installation 2005. Image Harush Shlomo
A video documented Harush Shlomo's woven aluminium catamaran speeding around the lagoon of Venice for the opening of the 2005 art biennial. The boat was made in open weave aluminum and, seen from afar, looked like a miracle that wouldn't sink. During the performance, a transparent plastic coating prevented the boat from taking water in.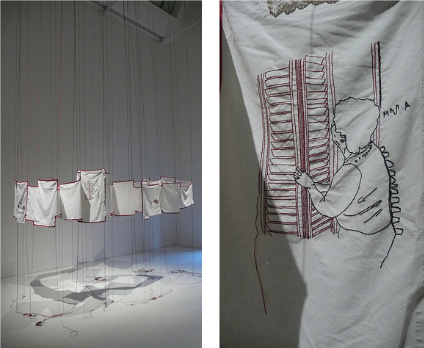 Claudia Losi, showed the result of two of the "collective embroidering" events she organizes. For one of them, she had six elderly women sit down and turn into delicate embroidery the answer to the question "What is the thing that you fear the most?"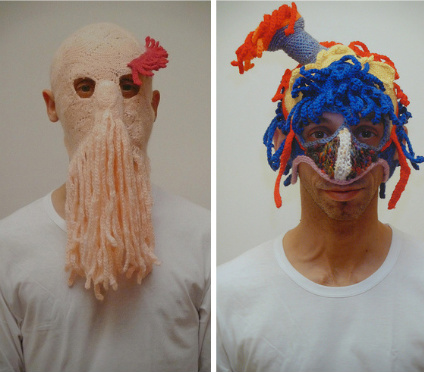 Aldo Lanzini's Gli occhi sono li dove vedono is a series of 32 photo portraits of masks inspired by crocheted 'revolutionary' baklavas.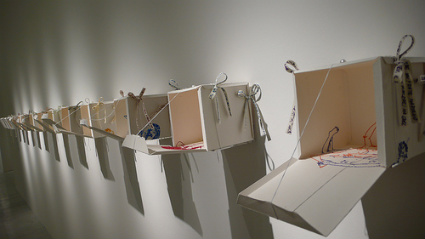 Anila Rubiku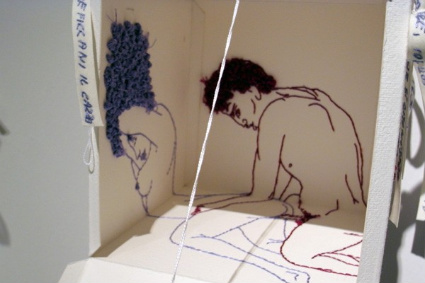 image © designboom
Anila Rubiku's The 16 Ways was inspired by Pietro Aretino and Confucius' concept of Chinese box. The series of textile boxes gradually open to reveal very intimate tableaux. The boxes were produced together with a group of nuns in Tel Aviv which must have led to rather awkward moments.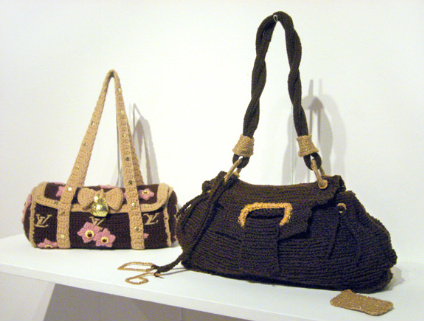 Stephanie Syjuco, Counterfeit Crochet Project
Stephanie Syjuco's Counterfeit Crochet handbags. The artist created a website inviting crocheters to join her in hand-counterfeiting designer handbags. Participants choose a design that they covet, work off of low-resolution jpgs, downloadable PDF instructions and start knitting. With The Counterfeit Crochet Project (Critique of a Political Economy), the artist draws parallels with contemporary manufacturing and distribution channels, in particular the idea of "outsourcing" labor. All along however, participants are encouraged to take liberties with the handbag, changing colors, adding materials to suit their needs and tastes.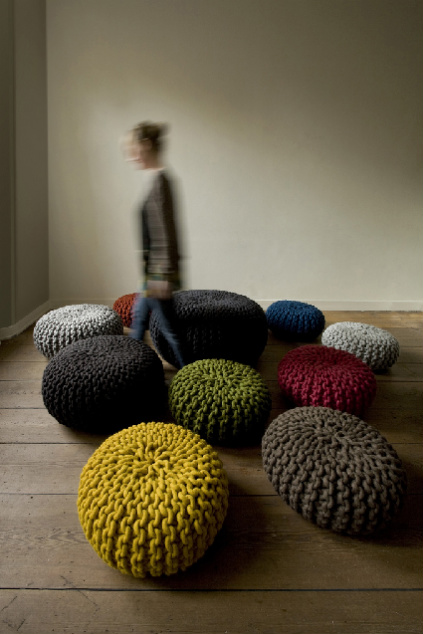 Christien Meindertsma – Flocks Pouf
I make it my duty not to be impressed by what designers do, it was very easy to ignore the room dedicated to knitting inspired design. However, i couldn't help but admire Christien Meindertsma – Flocks Pouf just as much as i've been admiring pretty much anything she's been doing since she graduated from Design Academy Eindhoven.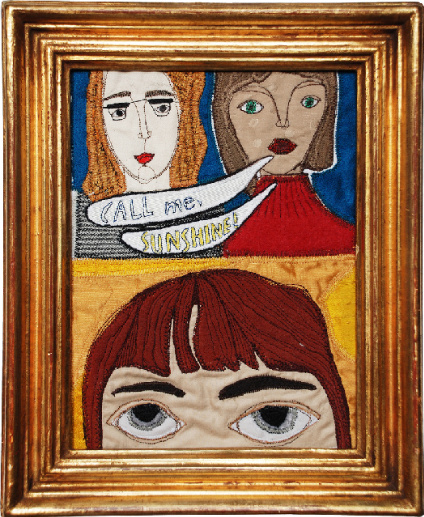 Arianna Moroder, Call me sunshine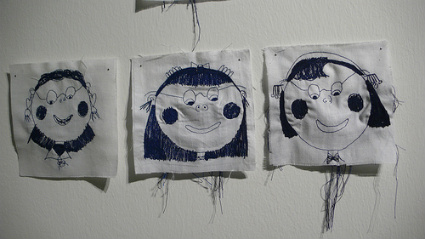 Arianna Moroder, Bambina Cattiva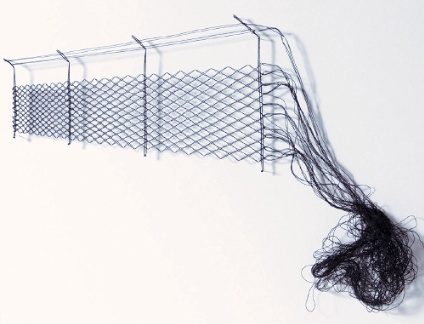 Elodie Antoine
The show stems from a two year project developed by the group do-knit-yourself and Naba together with the Triennale Design Museum. Free workshops are scheduled during throughout the show.
On view until March 29 at the Triennale in Milan.
You can find many more images about the exhibition in my tiny gallery (no more space in memory card, aaargh!) Designboom, on the other hand has published a 112 images gallery.
Related stories: PIG 05049, a conversation with Christien Meindertsma, Pricked: Extreme Embroidery, Subversive knitting, Interview with Cat Mazza (microRevolt), 24c3: The history of guerilla knitting, Book Review: KnitKnit: Profiles + Projects from Knitting's New Wave, Delirious knitting show at Craft Council, Gales and Gasps, Cruel Crochet, etc.