Jurgen Bey, Anthony Dunne & Fiona Raby and Martí Guixé have in common their critical stance towards mainstream product design. While they seem to keep their distance from the commercial design world, they use its mechanisms to ask questions about their own discipline, technology and society. The "citical" designers are the protagonists of an exhibition staged by Z33, a gallery located within the charming surrounding of the Beguinage at Hasselt (Belgium).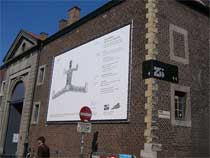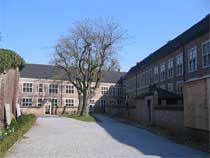 Designing Critical Design is probably the best exhibition about design i've seen in a long long time. I visited it with an ecstatic Rob van Kranenburg and Jan Boelen, the curator of the exhibition, who was kind enough to give us a tour and explain his vision behind the show.
Boelen's idea for the exhibition stemmed from a disappointment: when the work of Guixé, Bey or Raby & Dunne is featured in a design magazine, journalists usually focus on the gadget, gimmick side of the pieces. They pick out catchy works but tend to ignore the global vision of the designers. There's also an international crowd out there that merely seem to imitate that gimmicky aspect of the critical designers' work. Why highlighting only the tip of the iceberg? What could be done to help solve this problem of perception of the designers' work?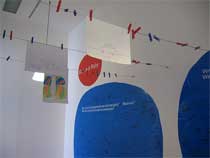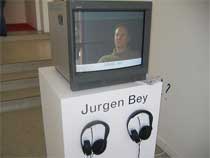 The curator thought that it was high time to show that these designers are stubbornly and patiently working on an "oeuvre". Z33 decided to dedicate a solo exhibition to each of them them because critical design is not really a movement with a clear manifesto and a series of rules. The exhibitions are not linked by any stylish, nor chronological thread, what brings them together is more conceptual and abstract. The result is simply amazing. Seeing so many pieces of a same design studio together casts a new light on their work and gives them a new coherence. Besides, the gallery commissioned each designer new pieces. I particularly like the video interviews in which each designer was asked the same set of F.A.Q.: What is critical design? What is it for? Why is it happening now? everyone's favourite: But isn't it art?, etc.
Guixé, Bey, Raby & Dunne use the very techniques and methods of commercial design to comment on what is happening in our society. Each of the designers is focusing on a particular aspect: while Marti Guixé is more interested in the social and consumer aspects of mainstream design, Raby & Dunne look at its technological and social components; Bey engages in the material side of design. They all have that naivety and humour that design magazines like to delve on but humour is not their goal, it's a mere tool used to bring out deeper issues to the broad public.
View of Jurgen Bey's installation (by Kristof Vrancken)
I wish this exhibition could tour as i've never seen anything of the kind in Europe (not that i've seen everything of course). I'm just a bit sad when i realize that not many people from the French speaking part of the country will visit a show which is presented in dutch and english. Guys from Wallonia like everything to be in french you see. I'm especially thinking about my brother who's a lovely designer* and a smart guy, he just doesn't suspect that there's a world out there that his usual French design mags might not write about. Hey, Cédric, I'm going to translate these two posts on the Designing Critical Design exhibition in french just for you!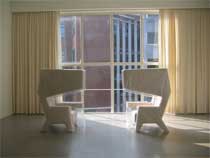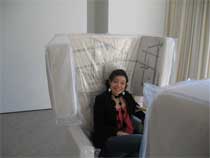 Oorstoel
A quick run through the first solo exhibition: Jurgen Bey.

Bey sees himself as a researcher who analyzes the world we live in, in order to discover the hidden qualities, stories, and emotional value of objects.
There were a couple of his Oorstoel (Ear Chair). They have ears of different length, their handrail can be used as a table and they give a feeling of sitting in a private intimate space.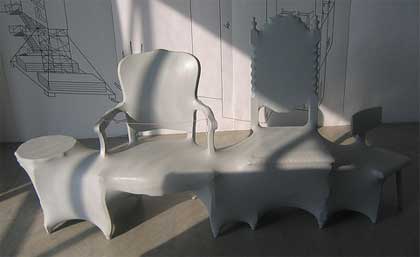 Family Cocoon
Different seats are packed in an elastic syntheric fibre to shape Family Cocoon.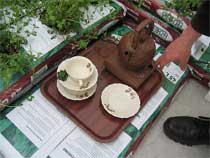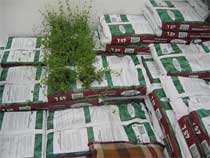 Tea Bag garden
The Tea Bag garden is a landscape made of stacked bags of garden soil. The bags, padded like a bench, are essentially soft plant containers. There were holes in it for planting herbs. Bey had planted mint at Z33 and left a boiler and tea set so that visitors can sit and make their own tea. Whenever a bag is empty, it is easily removed and replaced by another bag/plant pot. The bag garden can thus be peeled off, layer by layer.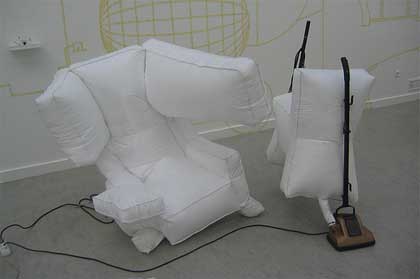 Vacuum Bag Furniture
The Vacuum Bag Furniture gives a real and surprising value to dust. The chair-shaped refuse bags can be connected to vacuum cleaners. Once filled with dust, they provide comfortable seating.
The Crate Furniture uses crate that normally protect furniture during transport. After transport, the furniture can be removed from the wooden box. Or both the content and container can stay together and take up an existence as a new object. By means of sandblasting, the spruce box is even given a stylish finish. For example, the Birdwatch Cabinet is a sleeping and exploratory space for a child. It is formed of an old table, a desk and their wooden box.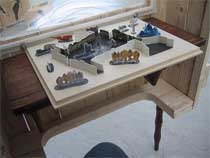 In-crate exhibitions
Jurgen Bey specially created for Z33 an exhibition based on that same use of wooden crates. Here the crates serve to create intimate zones and tiny exhibition spaces within the large room. That's exactly how he works in his Rotterdam studio (an industrial hangar). The crates can thus be regarded either as a work/art work or as a design object in its own right. Also the scale models of the designer's projects in public spaces and the sketches gives an insight into the design process of Studio Jurgen Bey.
Images of Jurgen Bey's pieces. The rest of the exhibition is on the Designing Critical Design flickr set.
Also by Jurgen Bey: Blob art pavilion.
* Part of his work is somewhere on this very foolish website.