Every now and then, i take a 2 hour train ride to Hasselt, walk straight from the station to Z33, visit their exhibition, walk straight back to the station and to another 2 hour train ride. I don't do that for any other art center. At least not with such regularity and enthusiasm.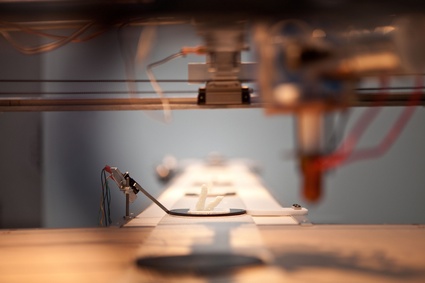 David Bowen, Growth Modeling Device. © Z33, photo by Kristof Vrancken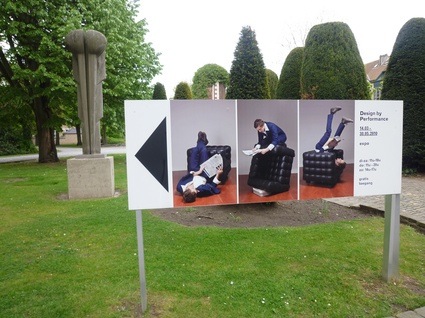 But then Z33 is not any art center. Since 2002, Z33 has been exploring the most experimental and multidisciplinary forms of creativity. The ongoing exhibition puts the spotlight on performative trends in contemporary design. In Design by Performance the production process that leads to a product matters as much as -if not more than- the final product itself.
This exhibition, curated by the talented Ils Huygens, is probably the first one to illustrate how much designers and audience alike are interested in both the finished object and the production process. You only have to spend an afternoon at the Salone del Mobile in Milan to see how the crowd gathers around designers each time they turn performers to tell the process and stories behind their work.
The exhibition is distributed over four chapters: design by performance, performing objects, performing machines and performing space.
In performing machines, the production process itself is the performative act.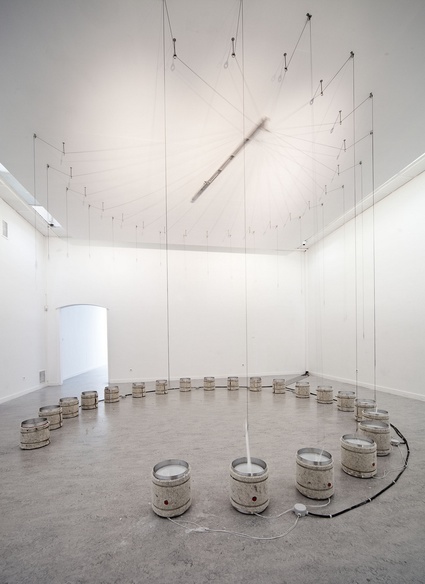 Studio Glithero, Panta Rei © Z33, photo by Kristof Vrancken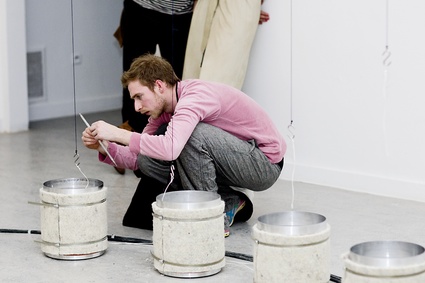 Opening Design by Performance. Studio Glithero, Panta Rei. © Z33, photo by Kristof Vrancken
Studio Glithero, headed by Sarah van Gameren and Tim Simpson, were showing their poetic and imposing Panta Rei. The huge chandelier is the mechanized version of a traditional technique with which candles are made by dipping them several consecutive times in barrels of molten wax. An arm fixed to the ceiling lowers candle wicks on by one into buckets of hot wax and raises them back up. Over time, the wicks grow, layer by layer, into a candle. The machine 'performs' the production process in a hushed choreography. The designers have only a limited control over the final product. Time, the environment of the work and chance have their say in the process.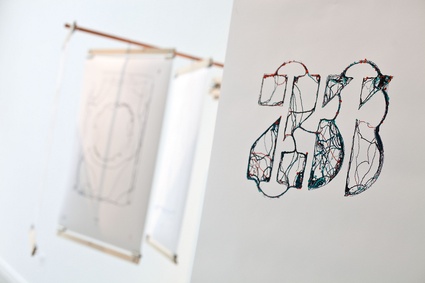 Edhv, Debug. © Z33, photo by Kristof Vrancken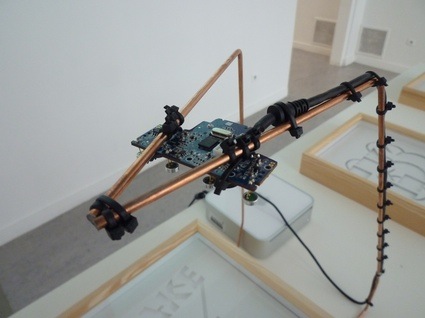 Debug by EDHV, leaves graphic design in the feet of insects. A tracking software maps out the movement patterns of insects crawling, walking and running inside little spaces shaped like numbers or letters of the alphabet. The unique motion patterns of each insect is mapped out and transmitted to a printer which prints them out on the spot.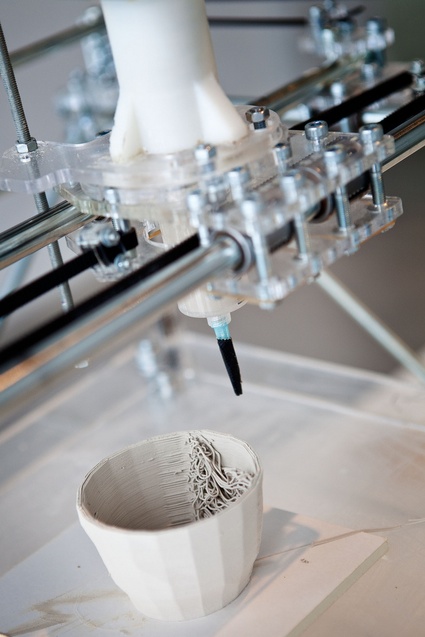 Unfold & Tim Knapen, L'Artisan Electronique. © Z33, photo by Kristof Vrancken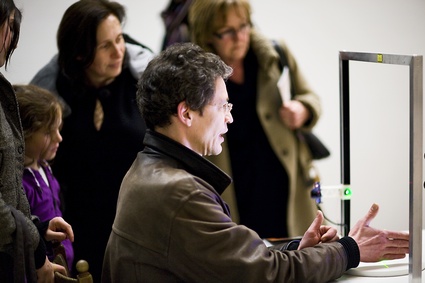 Unfold & Tim Knapen, L'Artisan Electronique. © Z33, photo by Liesje Reyskens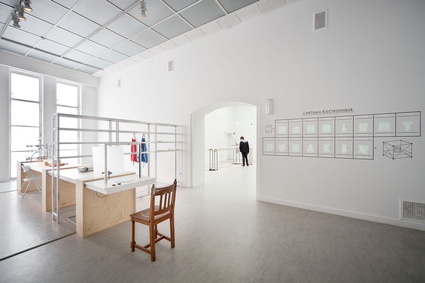 Unfold & Tim Knapen, L'Artisan Electronique. © Z33, photo by Kristof Vrancken
Rapid-prototyping machines have a undeniable performative quality. L'Artisan Electronique is an adaptation of a 3D printer created by Unfold and Tim Knapen. The machine, which prints with clay, combines traditional pottery with new digital techniques. Visitors can sit down in front of a virtual pottery wheel, move their hands inside a beam and 'turn' their own forms. At regular intervals, a selection of these designs is printed in porcelain clay and exhibited in the gallery.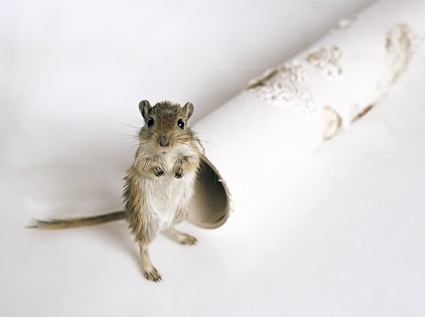 Front – Design by Animals. © Front
In performing objects, the object delivered is left to the whim of the audience, the environment or the passing of time until it has reached its final form. Front's delightful Design by Animals is the perfect example of this.
In the works belonging to the section titled design performance, designers keep the lead role. Think of Maarten Baas when he burns and eventually creates Smoke Furniture in front of an audience.

Eric Klarenbeek, Work Survey. © Eric Klarenbeek
Eric Klarenbeek">Eric Klarenbeek's video Work Survey is another example of the trend. Rather than documenting his design process and working method, Klarenbeek turns them into an exquisitely theatralised movie. The Work Survey video stars dancers and products designed by Klarenbeek such as the LED lamps nested inside hand-blown glass bubbles.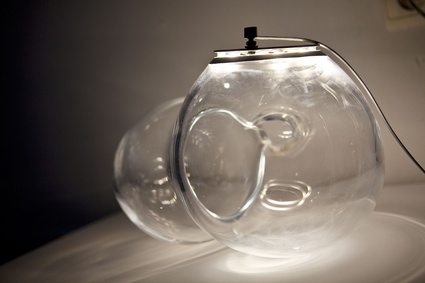 Eric Klarenbeek, Work Survey. © Z33, photo by Liesje Reyskens
Download the exhibition guide, it starts with the text in dutch and ends with the english version.
Z33 has some videos as well as a photo collection about the exhibition. I've taken the usual miserable pictures.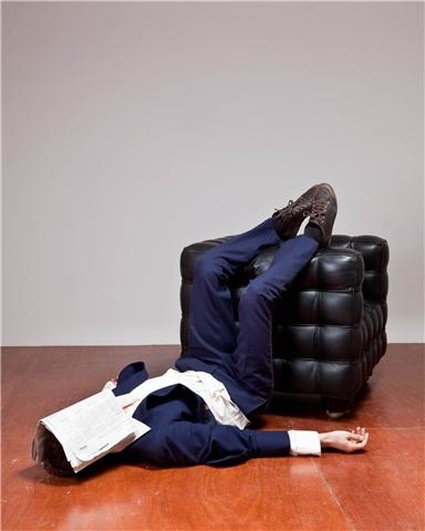 Bruno Munari, Seeking comfort in an uncomfortable chair. © Bruno Munari
The final part of the report will be tomorrow morning on your desk.
Design by Performance opens until May 30, at Z33 in Hasselt, Belgium.