Core77 has a fabulous article on Value Meal: Design and (over)Eating, the American section of the Saint-Etienne International Design Biennale (previously but briefly blogged.)
The curators asked designers to create projects that rethink the ways in which consumers eat.
I wish I could get Scott Henderson's sandals that house an integrated scale in each of their soles. One measures body weight while the other calculates body fat percentages. Displayed on the sandal straps, this data provides real-time information to remind you throughout the day to watch what you eat.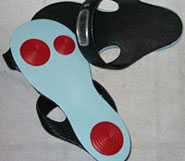 Yves Béhar (founder of fusedproject) created a Phat Table to reflect the fact that manufacturers enlarge their furniture products for increasingly overweight population. A chair, some eating implements and the Phat Table are sprayed with foam as if it was getting as flabby as its user. The table is so overloaded with the foam that one's legs no longer fit underneath it.
There's also Tobias Swarovski crystal fly in a bowl of soup, Erik Adigard's Doritos bags grommetted together to make a safety jacket, the USA Obesity Propaganda Map by Design Guys, etc.