British TV presenters Colin McAllister and Justin Ryan had to take care of a baby robot for a week as part of a Channel Five show.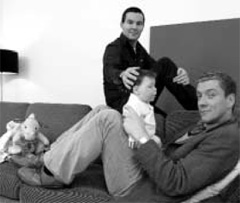 The programme – Three Celebs And A Baby on January 16 – will show the pair caring for an animatronic doll that cries, screams, wakes them in the night to be fed, vomits, and soils his nappy.
On the second day of the trial, the duo made the baby sick by giving him curdled milk.
However, the couple, who want to adopt in real life, cried when they had to give back the doll they had named Damien.
Colin said: 'The experience of fatherhood gave us a taste of something we realised we might never have again.'
Via BigBlog Robotics SundayMail.