Conflict, Time, Photography, an exhibition which opened in November at Tate Modern, looks at over 150 years of conflict around the world, since the invention of photography. It could have been one of those shows that organizes the photos according to themes, geographical area or chronology. The curator, however, orchestrated the exhibition according to the length of time that elapsed between the conflict and the moment the photographs were taken.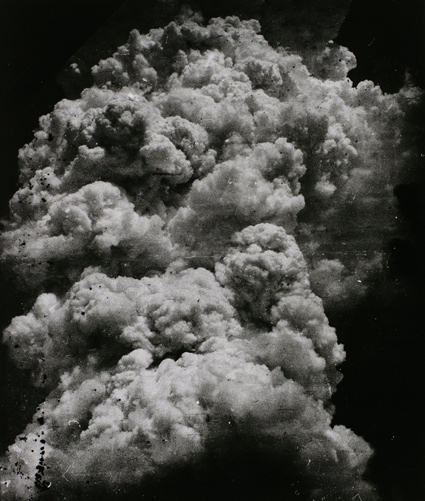 Toshio Fukada, The Mushroom Cloud – Less than twenty minutes after the explosion (1), 1945
The first room in the show, "Moments Later", contains thus images taken almost straight after a disaster occurred. The most compelling example of it is the mushroom cloud photographed 20 minutes after the atomic bomb was dropped on Hiroshima. Toshio Fukada was then a 17-year-old student. He always carried a camera with him and took the images from his window, 2.7 km from the hypocenter.
As you walk through the exhibition rooms, the duration between image and event grows into days, weeks, months, years and decades.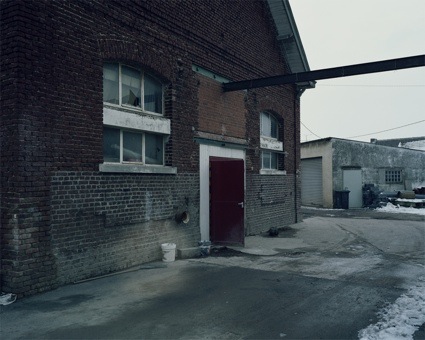 Chloe Dewe Mathews, Former abattoir, Mazingarbe, Nord-Pas-de-Calais, 2013
Private James Graham. 07:22 / 21.12.1915
Private John Docherty. 07:12 / 15.02.1916
Private John Jones. Time unknown / 24.2.1916
Private Arthur Dale. Time unknown / 3.3.1916
Private C. Lewis. Time unknown / 11.3.1916
Private Anthony O'Neill. Time unknown / 30.4.1916
Private John William Hasemore. 04:25 / 12.5.1916
Private J. Thomas. Time unknown / 20.5.1916
Private William Henry Burrell. Time unknown / 22.5.1916
Private Edward A. Card. Time unknown / 22.9.1916
Private C. Welsh. Time unknown / 6.3.1918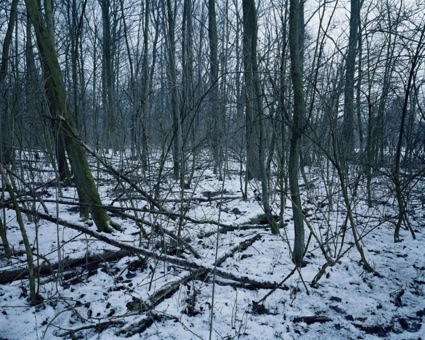 Chloe Dewe Mathews, Vebranden-Molen, West-Vlaanderen, 2013.
Private Ahmed ben Mohammed el Yadjizy, Private Ali ben Ahmed ben Frej ben Khelil, Private Hassen ben Ali ben Guerra el Amolani and Private Mohammed Ould Mohammed ben Ahmed. 17:00/15.12.1914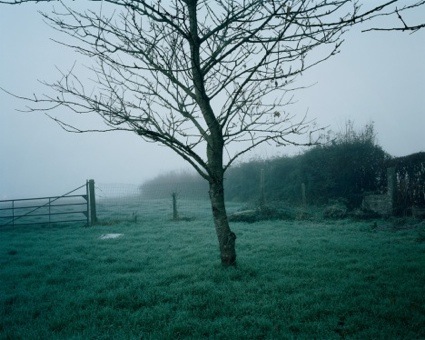 Chloe Dewe Mathews, Six Farm, Loker, West-Vlaanderen
Private Joseph Byers, Private Andrew Evans. Time unknown / 6.2.1915
Private George E. Collins, 07:30 / 15.2.1915
The last gallery shows the series i found most moving. Almost 100 years after the start of WWI, Chloe Dewe Mathews photographed some of the exact spots where British, French and Belgian soldiers were executed for cowardice and desertion between 1914 and 1918. The photos of Shot at Dawn were also taken at approximately the same time of year the men were killed.
The quiet landscapes evoke incidents which memory has been suppressed for decades. Although there is no visible trace of what happened in these locations, the photographer managed to convey the sadness and anxiety these young men must have experienced in those early mornings.
I've seen countless books and exhibitions of images taken by photojournalists reporting from the battle fields. Some of the images were truly frightful and depressing. Yet, frequent exposure to war photography have almost numbed my feelings. I go from one image to the next one and, at best, only a fleeting memory of what i've just seen remains. Conflict, Time, Photography revitalized a sense of horror and dismay that war images (should) provoke. By forcing me to reflect on the impact that conflicts have on people, culture and places over time, this show will haunt me for years to come.
Conflict, Time, Photography is an intense and powerful show. I wish i could mention every single work i saw there but i'll just stop at this brief selection: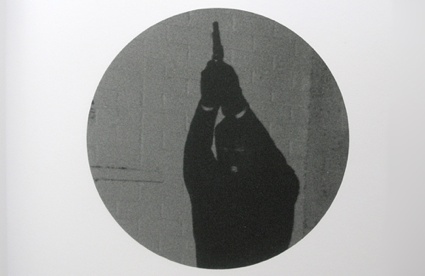 Adam Broomberg & Oliver Chanarin, People in Trouble Laughing Pushed to the Ground
Adam Broomberg and Oliver Chanarin have a couple of works in the exhibition. One of them is People In Trouble Laughing Pushed To The Ground which uses fragments of images of Belfast Exposed, a collection of images taken by professional photo-journalists and 'civilian' photographers who documented life under the Troubles in Northern Ireland. Whenever someone selected an image in the archive for use, it was market by a red, yellow or blue sticker. Broomberg and Chanarin enlarged and reprinted the area beneath the dots, revealing puzzling, romantic, amusing or brutal fragments of life under the Troubles.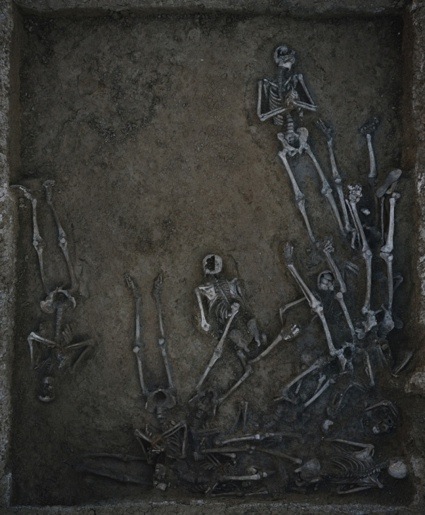 Luc Delahaye, Patio civil, cementero San Rafael, Malaga, 2009
70 years after the end of the Spanish Civil War, Luc Delahaye photographed the forensic exhumation of a mass grave containing the bodies of Republican fighters executed during the Spanish civil war.
Ursula Schulz-Dornburg, Kurchatov – Architecture of a Nucleur Test Site. Kazakhstan. Opytnoe Pole, 2012. © Ursula Schultz-Dornburg
In October 2012, Ursula Schulz-Dornburg had the opportunity to photograph the former USSR nuclear weapons test site near the city of Kurchatov in Kazakhstan. The photographs depict the pitiful remnants of a megalomaniacal arms race.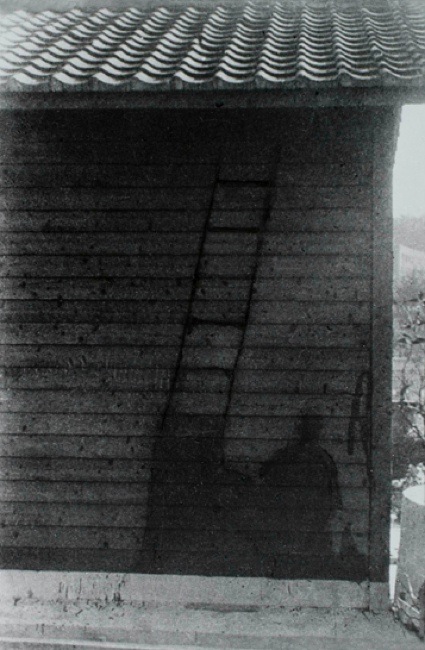 Matsumoto Eiichi, Shadow of a soldier remaining on the wooden wall of the Nagasaki military headquarters (Minami-Yamate machi, 4.5km from Ground Zero), 1945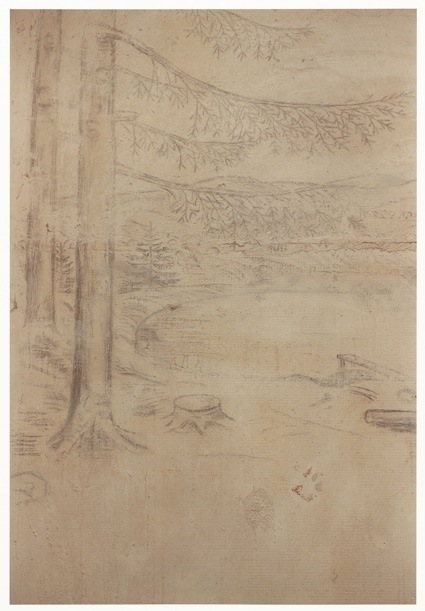 Nick Waplington, We live as we dream, alone, 1993. © Nick Waplington
Nick Waplington captured drawings and words left on the walls by the prisoners of a war camp in South Wales where the low and mid level SS where kept before being sent to Nuremburg for trail.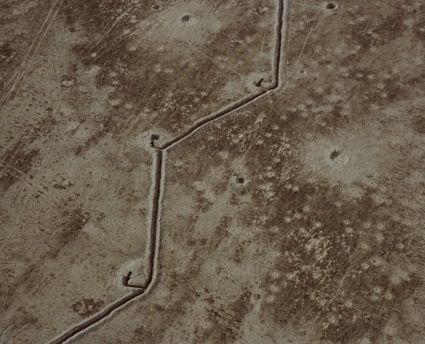 Sophie Ristelhueber, Fait # 20, 1992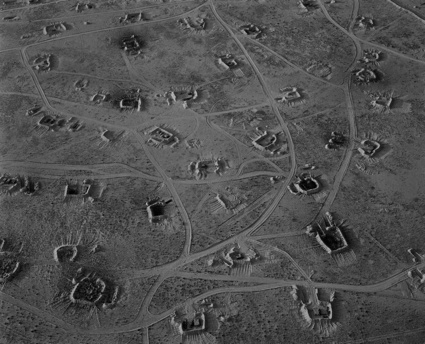 Sophie Ristelhueber, Fait # 43, 1992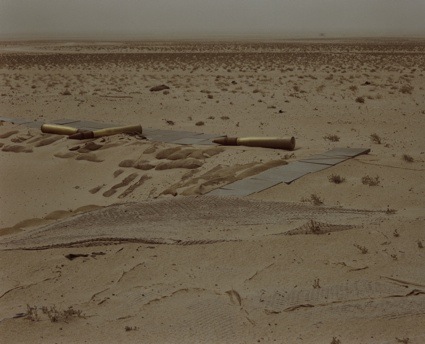 Sophie Ristelhueber, Fait # 59, 1992
Sophie Ristelhueber traveled to Kuwait months after the end of the First Gulf War to record the physical traces of the conflict. The aerial and ground-level photos depict bombed out terrains, mangled machinery, still-burning oil fields, tank tracks and other "scars" left on the landscape.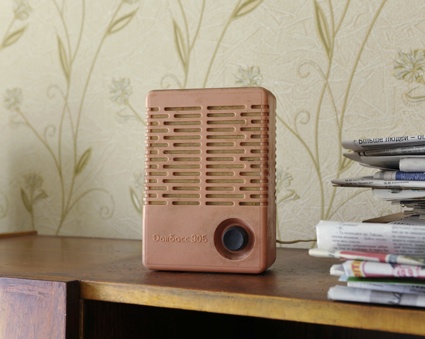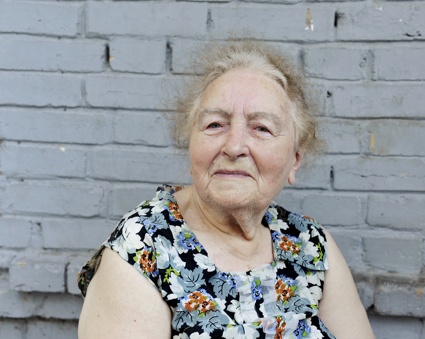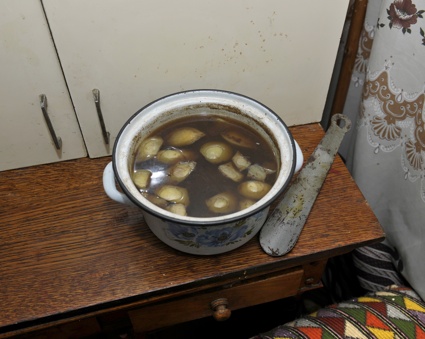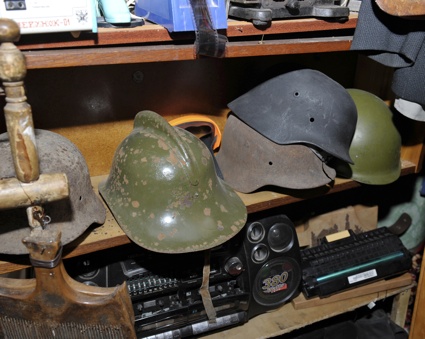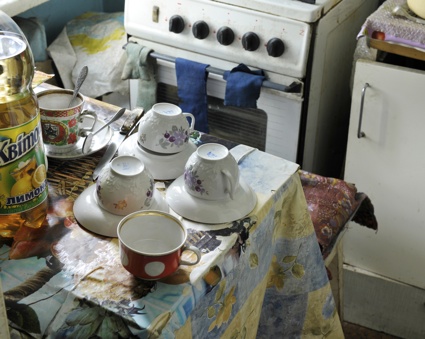 Stephen Shore, Ukraine 2013. © Stephen Shore
Stephen Shore met Ukrainian holocaust survivors in their houses. There are a few portraits but most of the images detail their belongings. From baby pink plastic radio to ordinary kitchen corners.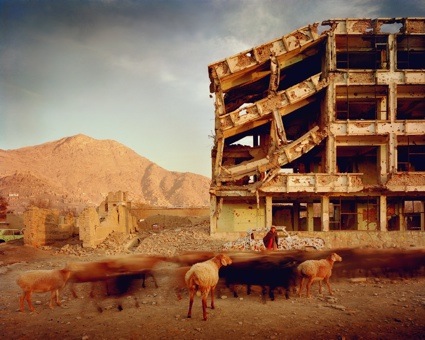 Simon Norfolk, Bullet-scarred apartment building and shops in the Karte Char district of Kabul. This area saw fighting between Hikmetyar and Rabbani and then between Rabbani and the Hazaras, 2003. From the series Afghanistan Chronotopia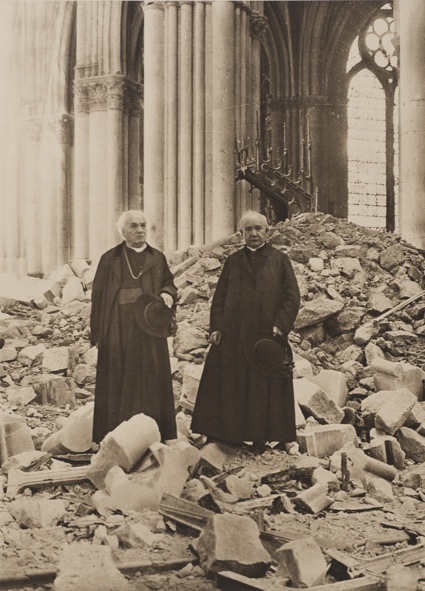 Pierre Anthony-Thouret, Reims after the War, Plate XXXVIII, 1927
In the months after the end of the first world war, architect Pierre Anthony-Thouret documented the destruction of the city of Reims.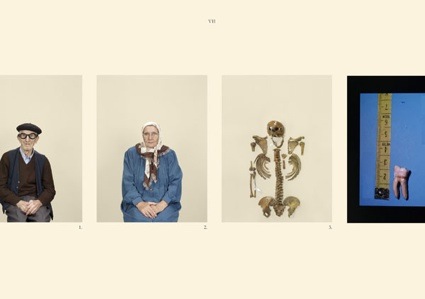 Excerpt from Chapter VII, A Living Man Declared Dead and Other Chapters I-XVIII
1. Nukic, Nezir, 1928 (exact birth date unknown). Forester and road builder. Zivinice, Bosnia and Herzegovina.
2. Mehic, Zumra, 09 Dec. 1950. Homemaker. Kladanj, Bosnia and Herzegovina.
3. Mehic, Bajazit, 16 Sept. 1972 – 11 July 1995. Mortal remains, International Commission on Missing Persons, Podrinje Identification Project. Tuzla, Bosnia and Herzegovina.
4. Mehic, Ahmedin, 16 Feb. 1974 – 12 July 1995. Tooth sample used for DNA matching, International Commission on Missing Persons. Srebrenica-Potocari Memorial and Cemetery, Srebrenica, Bosnia and Herzegovina
In one of the pieces of the series A Living Man Declared Dead and Other Chapters I – XVIII , Taryn Simon looked for the survivors of the Srebrenica massacre and built up their family trees. Most of the photos show women and children. Missing members are represented by blanks or by dental fragments found in mass graves.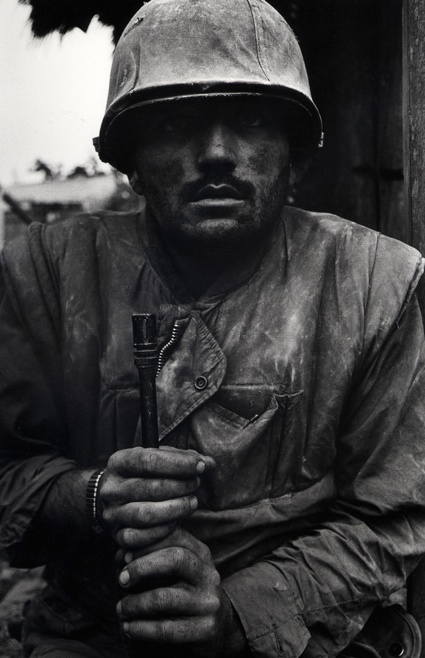 Don McCullin, Shell-shocked US marine, Hue, Vietnam, February 1968
I'll end with a photo that hangs in one of the rooms titled Moments After. Don McCullin's portrait of a shell shocked marine was taken just minutes after he had been engaged in a bloody battle in Vietnam.
"McCullin's picture is very important for us because it's the kind of picture we very rarely see in the era of embedded photographers, it is very hard to take and show this kind of image," curator Simon Baker told The Guardian. "It's taken moments after this marine has been engaged in an extremely serious engagement and you see him completely traumatised, completely frozen by what's happened to him."
Conflict, Time, Photography is at Tate Modern until 15 March 2015.