A quick post about The Art of Chess, an exhibition of 16 chess sets designed by some of the biggest names in contemporary art. Hirst has a medicine cabinet, Tracey Emin a chess set that looks slightly unhygienic, Paul McCarthy adds ketchup, Yayoi Kusama goes for dots, and the Chapman brothers do it dark and provocative. Most of the artists are playing their usual tricks, then. But somehow i didn't mind because many of the works are spectacular.
The show is inspired by Marcel Duchamp, an artist who revolutionised art in the 20th century like no one else did. Yet, Duchamp gave up his art practice and spent the end of his life playing chess. He justified his decision by observing that chess "has all the beauty of art–and much more. It cannot be commercialized. Chess is much purer than art in its social position."
My photography skill being what they are, i'm going to joyfully steal the images that my Happy Famous Art Friend took during the press view: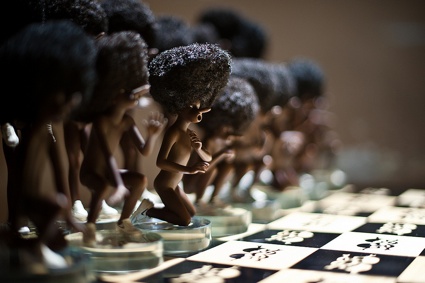 Jake & Dinos Chapman, Chess Set, 2003. The Art of Chess @ Saatchi Gallery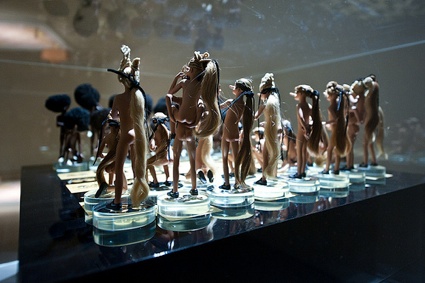 Jake & Dinos Chapman, Chess Set, 2003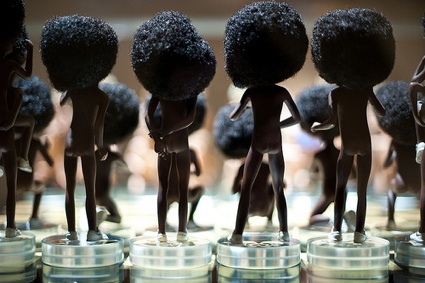 Jake & Dinos Chapman, Chess Set, 2003
I don't have anything particularly smart to say about the Chapman's chess set. It clearly was my favourite in the show. So let's go to the next one….
Maurizio Cattelan placed on the board a series of action figures that represent famous international and Italian people he either despises or admires.
The 'Good' side has Martin Luther King as its king. Close to him are Superman, La Cicciolina, Gandhi, Sitting Bull, Sofia Loren, Pinocchio, Mother Theresa, Superman, Sitting Bull, the Dalai Lama, Che Ghevara, Joan of Arc. I didn't recognize them all.
The 'Evil' team is headed by Adolf Hitler, his black queen is Cruella de Vil. They are accompanied by Dracula, Hitler, Joseph Stalin, Nero, the snake on the Tree of Knowledge, General Custer, Rasputin. I laughed when i recognized also Donatella Versace. Anyone has an idea of who the latex-clad villain is?
Stunning chess board. Yours for peanuts.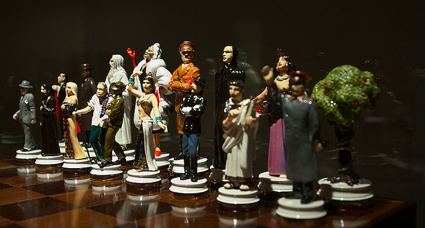 Maurizio Cattelan, Good versus Evil, 2003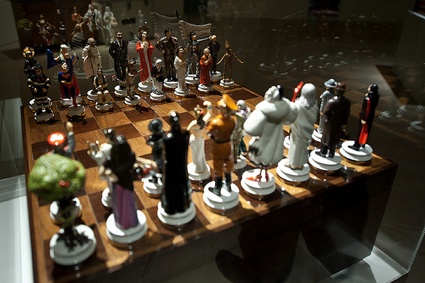 Maurizio Cattelan, Good versus Evil, 2003
Fryer's chess is an homage to Nikola Tesla. Because Tesla was a pioneer of the vacuum tubes, the 32 pieces in the set are glass vacuum tubes. I didn't dare touch the work but apparently The board of the chess set powers the vacuum tube pieces so that when unplugged the individual pieces glow for a little while, struggling to keep connection with the board, and then die. Plug them back in and they reactivate.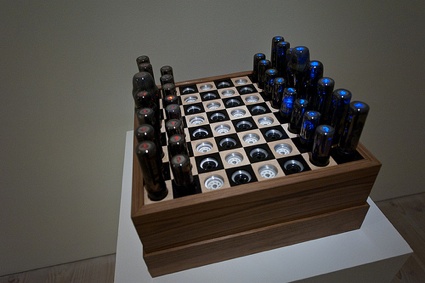 Paul Fryer, Chess Set for Tesla, 2008
Paul McCarthy created a Readymade chess set using objects he had found in his kitchen. The board itself is made of squared segments from the artists' kitchen floor.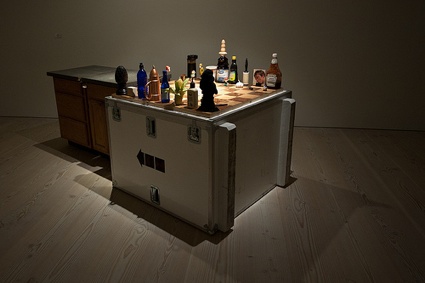 Paul McCarthy, Kitchen Set, 2003
And i promised you pharmacology: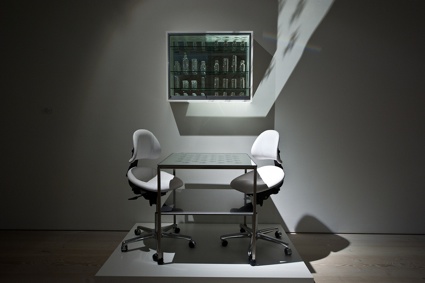 Damien Hirst, Mental Escapology, 2003
The Art of Chess is open until Oct. 3 2012 at the Saatchi Gallery, London.
All images courtesy Happy Famous Artists.