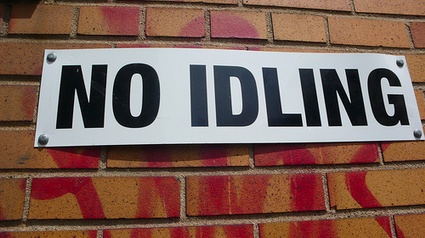 Last Thursday was my merry day walking around Chelsea art galleries. Here's a tiny selection of what i saw:
Hords of young guys snapping happy the Gary Taxali's paintings and sculptures at Jonathan LeVine Gallery.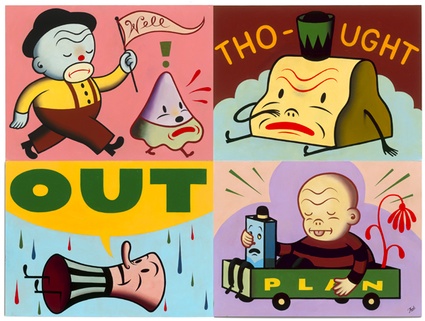 Gary Taxali, Well Thought Out Plan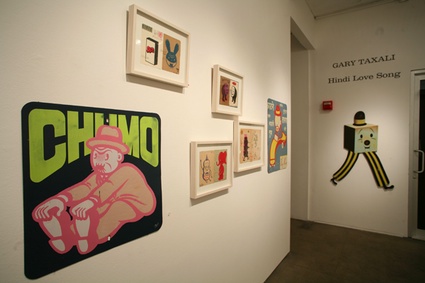 Installation view at Jonathan LeVine Gallery
Van de Weghe Fine Art attracted a radically different public with sculptures by Duane Hanson. The exhibitions begin with Hanson's work from the early '70s, when he channeled the overtly political slant of his '60s art into a focus on the more subtle, but no less powerful intrigue of plain, everyday people. Hanson portrays middle-class America in a seemingly harsh way but there seem to be a lot of compassion under the realism of each details. The people who were visiting the show while i was there were, strangely, the mirror of Hanson's sculpted men and women. Only more groomed and with probably much higher incomes.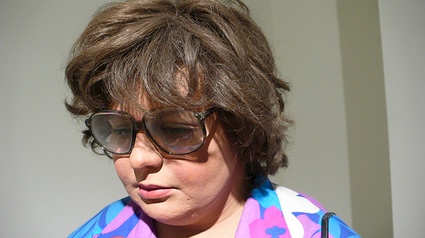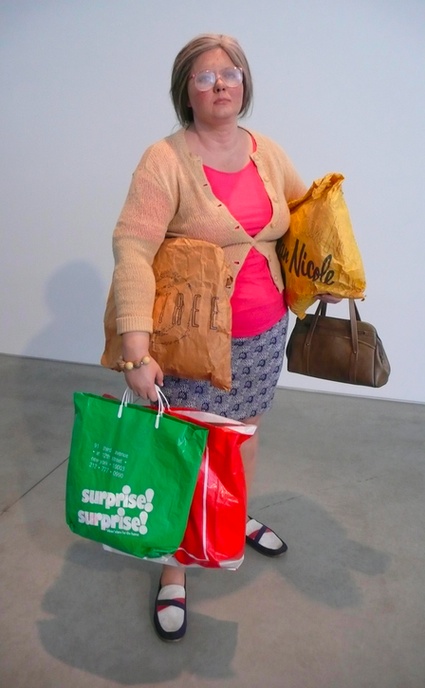 The blockbuster of the moment is Adel Abdessemed's "RIO" at David Zwirner. Among the sculptures, drawings, photographs, and videos on shows, the installation that stands out is an airplane wreckage twisted and turned to resemble entangled worms. The short films of hideous dog fights didn't seem to provoke as much fuss as the videos currently on show at the Fondazione Rebaudengo in Turin.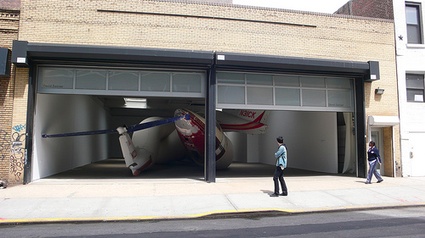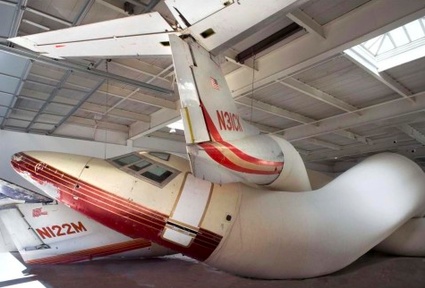 Jack Shainman Gallery is showing arresting and very moving photos by Zwelethu Mthethwa.
Mthethwa documents domestic life, labor, the environment, and landscape in South Africa and neighboring countries. His work challenges the conventions of both Western documentary work and African commercial studio photography, marking a transition away from presenting Africa and Africans as the visually exotic and diseased, employing a fresh approach distinguished by his use of scale, color, composition, and his collaboration with his subjects. Drawing from the history of portraiture and photojournalism, Mthethwa's works often comment on gender roles and raise consciousness around issues related to post-apartheid South African society and globalization.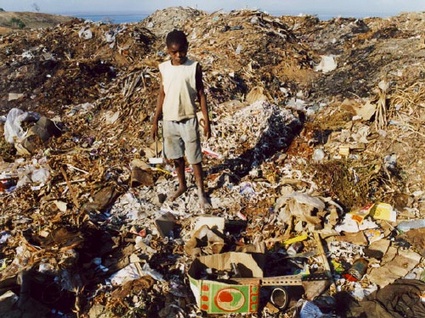 Untitled (Contemporary Gladiator series), 2008
Richard Woods' solo exhibition, The Nature Show, graphically re-designs the whole interior of Perry Rubenstein Gallery.
Covering the gallery floors with the cartoonish line drawings of flowers from his Floral repeat series on a vivid orange background, Woods' signature wood panel logo series wraps the gallery walls floor to ceiling. A new series called Song Thrush of what the artist calls "reversed repeat tiles" flank the window walls facing the street. The installation also features a selection of Woods' paintings, created with household paint on panels made from leftover floorboards inlayed into raw plywood. These paintings have been integrated into the artists practice in the last few years and are integral to his process.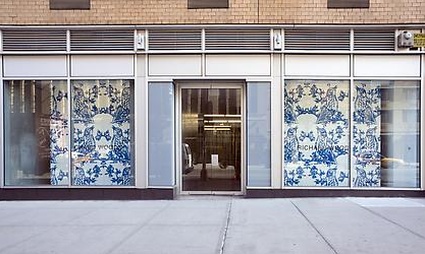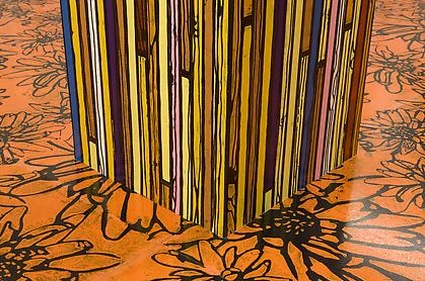 In 1962 Leonard Freed went to Berlin to photograph the construction of the wall. While there he saw an African American soldier standing in front of the wall and it struck him that at home in the United States, African Americans were struggling for civil rights and in Germany an African American soldier was proudly defending the USA–the same country denying him his rights. When Freed returned, he traveled to New York, Washington, D.C. and all throughout the South, capturing images of a segregated and racially-entrenched society. The Black in White America exhibition is on view at Bruce Silverstein.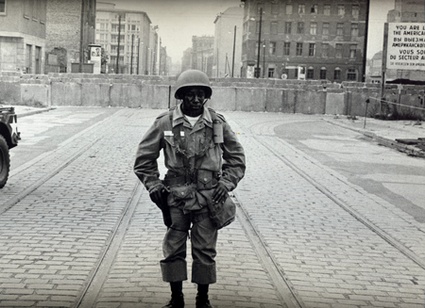 Black in White America, American Soldier in front of the Berlin Wall, 1961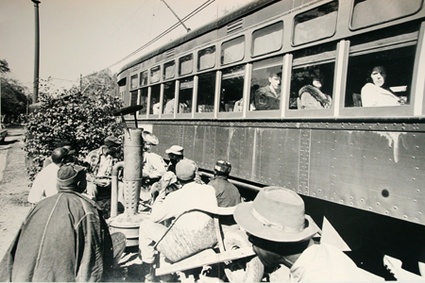 Black in White America, c. 1963
Fuzzy Logic, at Cueto Project, features Nicolas Darrot's quirky mechanical marionettes. I'm still wondering whether i liked them or not.
As you approach its cage, a parrot with its skull connected to a disproportionate brain explains the logic behind its imprisonment. Nearby, a skeleton plays the guitar and dances on a horse while a shaman with more hair than face spits out excitedly all sorts of strange noises.