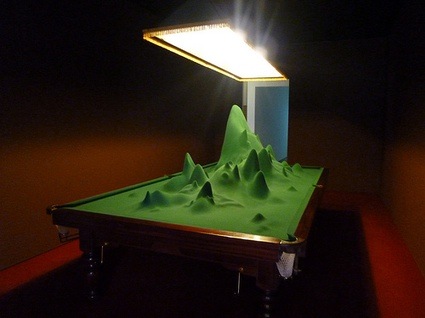 Stéphane Thidet, Untitled (Je veux dire qu'il pourraît tres bien, théoriquement, exister au milieu de cette table), 2008. Photo: Marc Dommage
The title of the exhibition, Ceci n'est pas un Casino (This is not a Casino), refers to a sentence that the people working at Casino Luxembourg – Forum d'art contemporain have repeated over and over again. The Casino is an art center, not a gambling establishment. You're not there to play!
No matter loud and clear the warning was, it is rather confusing to enter the (non-)casino building and find yourself in front of video consoles, a trampoline, a pin-ball machine, games of dart, a billiard table, a playground, loads of balls, etc. Yet, the works are playing with you rather than the opposite. You instantly loose every single game of Mortal Kombat, the ceiling of the room where a huge trampoline has been installed is far too low for you to even stand on your feet, the hula hoop is monopolized by a big cactus, the mohair bascketball net is 130 m long, fences deny any access to the playground, etc.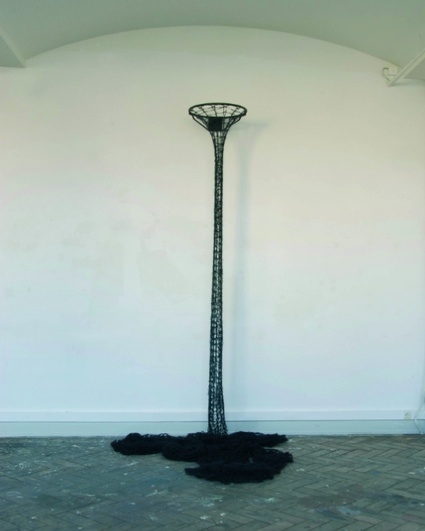 Letizia Romanini, Untitled, 2009
The artworks selected for Ceci n'est pas un Casino amplify the vexation experienced by visitors when enter the space thinking that they will enjoy games of chance. The exhibition is tantalizing, baffling, frustrating but it's also light, fun and sometimes thought-provoking. Just what games should be!
But what is underscored here is the double twist and frustration associated with gaming. Art and game-playing–which have often been compared in recent art criticism–are in fact similar practices: both call for (indeed, embody) a free spirit on one hand, and a precise set of rules on the other hand. Both tend to set up binary oppositions that give rise to meanings, symbols and related emotions–like a goal that has either been scored or not scored, once and for all, a status that inherently generates intense, wide-ranging reactions from everyone involved (players, referees, spectators, commentators, TV viewers). This relationship between binary status and analogue reaction is specific to games yet is mirrored in the artistic techniques employed in these works.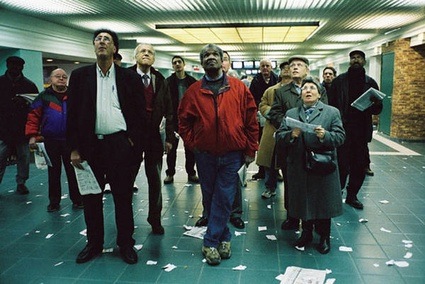 Hermine Bourgadier, Les Turfistes, 2003
Quick walk through:
Antoinette J. Citizen filled a whole room with a Landscape from Super Mario Brothers. Every element is at the scale of the visitor. On the walls are question mark boxes that you can press to recreate the sounds from the game.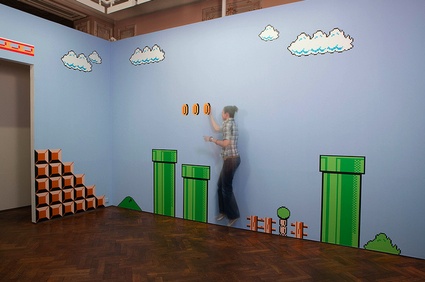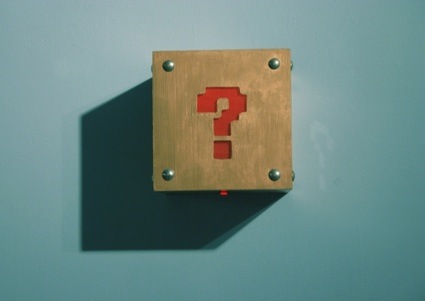 Antoinette J. Citizen, Landscape, 2008
Quite fittingly, Walter Langelaar's nOtbOt is nagging you by playing on its own in the adjacent room.
A white, luminous and wooden-floored room is inhabited by a lonely cactus relentlessly moving his 'neck' to keep a hula hoop spinning. Video of Robert Barta's Move It! in action:
Patrick Bérubé moved the floor of another exhibition room upwards to install the most frustrating trampoline i've ever seen. The ceiling is so low you have to bend in half if you want to get near the trampoline. Forget about jumping on it: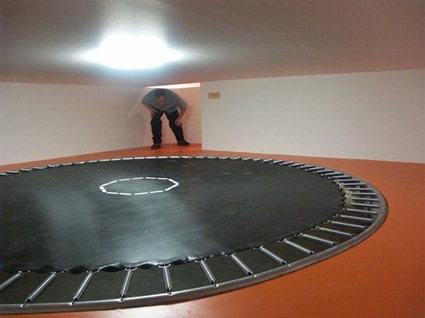 Patrick Bérubé, Demi-Mesure, 2005
Jacob Dahlgren's I, The World, Things, Life fills a whole wall with dartboards. Visitors are invited to help themselves with the red darts on offer in nearby cardboard boxes and play a game of darts. Except that the exercise is absurd. How do you check if you've scored? Which red dart is your dart? Seen from afar, the wall dissolves into a big abstract painting that keeps changing as more people come inside the gallery and throw darts.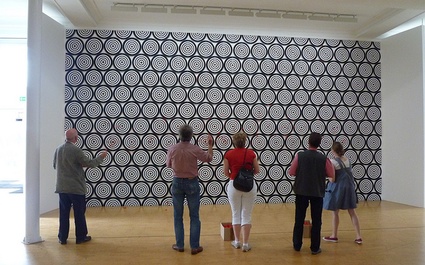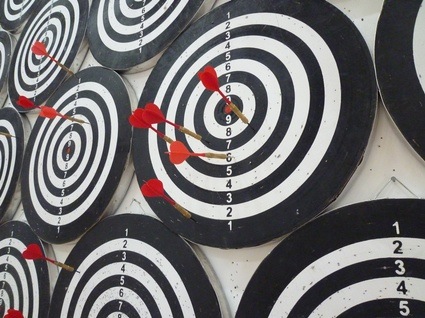 Jacob Dahlgren, I, the world, things, life, 2007
I never thought i'd ever feel sad for a bumper car but here i was, almost shedding a tear for Pierre Ardouvin's Love Me Tender. Not only is there only one bumper car, but its track is far too small and the music played is the desolate Love Me Tender.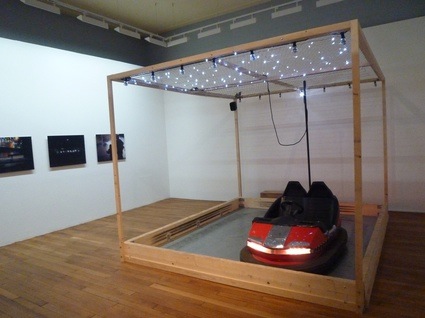 Pierre Ardouvin, Love Me Tender, 2001
In a recent interview, Pierre Ardouvin explained that Love me tender was made for a solo show at FIAC (Paris' Contemporary Art Fair). By bringing side by side art fair and fairground, the work can be seen as a critique of the art world and its narrowness but it's also a work about solitude.
Stéphane Thidet's Park photo series picture entertainments parks at their least entertaining. Glum, dark, foggy and almost abandoned.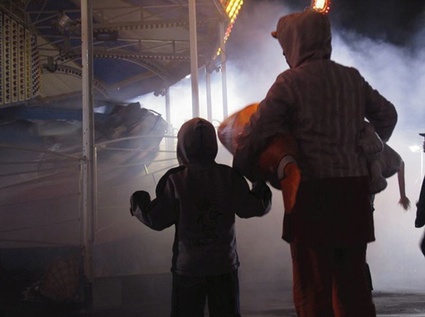 Stéphane Thidet, Park 1, 2005
All my pictures from the exhibition.
On view at the Casino is also a wonderful sound installation by Hong-Kai Wang. Music While You Work is the result of a six week exploration of factories around the Grand-Duchy of Luxembourg by the Taiwanese artist.
Previously at the Casino de Luxembourg: sk-interfaces. The Luxembourg episode, Wim Delvoye: Cloaca 2000-2007.
Ceci n'est pas un Casino was curated by Jo Kox and Kevin Muhlen. It is open at Casino Luxembourg – Forum d'art contemporain until 5 September 2010.