Nothing new, but I can't resist deap sea creatures.
A canstruction is a sculpturelike installations with unopened cans of food built by teams from architectural and engineering firms for an annual charity competition. Over 40 CANpetitions are organized each year in the US.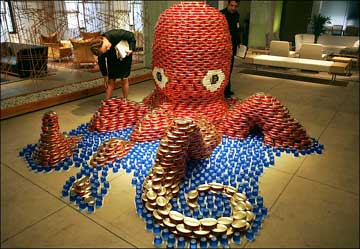 "The tuna can is the ideal can to build with," said Mr. Johnson, one of the builders, because tuna cans can lock into each other almost like Lego pieces.
The canned food will be given to the Food Bank for New York City when the installations are dismantled on the day before Thanksgiving.
Till November 24 at the New York Design Center on Lexington Avenue at 32nd Street.
Via The New York Times and Live Journal.