Designer Isaac Monté has been pushing ideas of beauty and deception to their most 'visceral' limits using decellularization, a process which consists of removing all of the cells from an organ leaving only the extracellular matrix (the framework between the cells) intact.
In collaboration with scientist Toby Kiers from the VU University Amsterdam, the designer used a pig heart as if it were a material that can be tattooed, embroidered, covered in fur and otherwise transformed. The work aims to explore how far a ghost organ can be manipulated for its creative potential, but it also questions whether biological interventions and aesthetic manipulation can be used as tools for the transformation of inner beauty. The ghost organs in this case work as a metaphor for regenerated artificial life. The discarded dead hearts will not function as canonical organs, but rather as a representation of how far science can manipulate the human body.

The Art of Deception. Photo by Monica Monté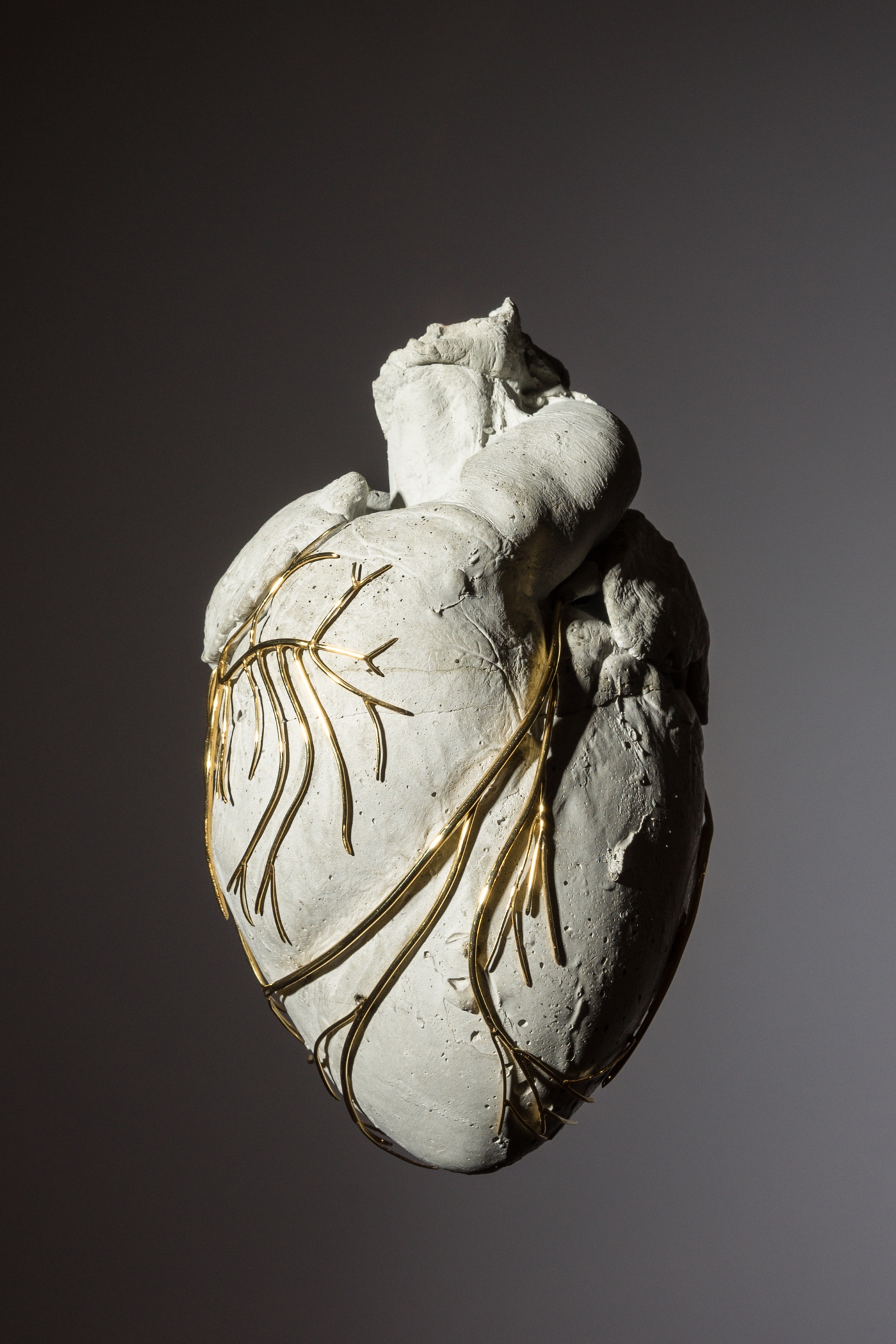 The Art of Deception. Photo by Monica Monté
The work is called The Art of Deception and it is part of Body of Matter which will open next week at MU in Eindhoven. The exhibition will give visitors an opportunity to discover 10 artists and designers whose work challenges our ideas about the body. The show will also premiere the three winning projects of this year's edition of the Bio Art & Design Award. The international competition invites young artists and designers to collaborate with renowned Dutch science centers in order to develop thought-provoking –and sometimes downright provocative– art and design projects that engage directly with life sciences. Monté's The Art of Deception is one of the winning entries of the competition. I saw a preview of his work at the Van Abbemuseum a few weeks ago and i'm gutted that i won't be in Eindhoven to see how the project has evolved in the meantime. Fortunately, Isaac has found some time to chat with me and answer my many questions about his work: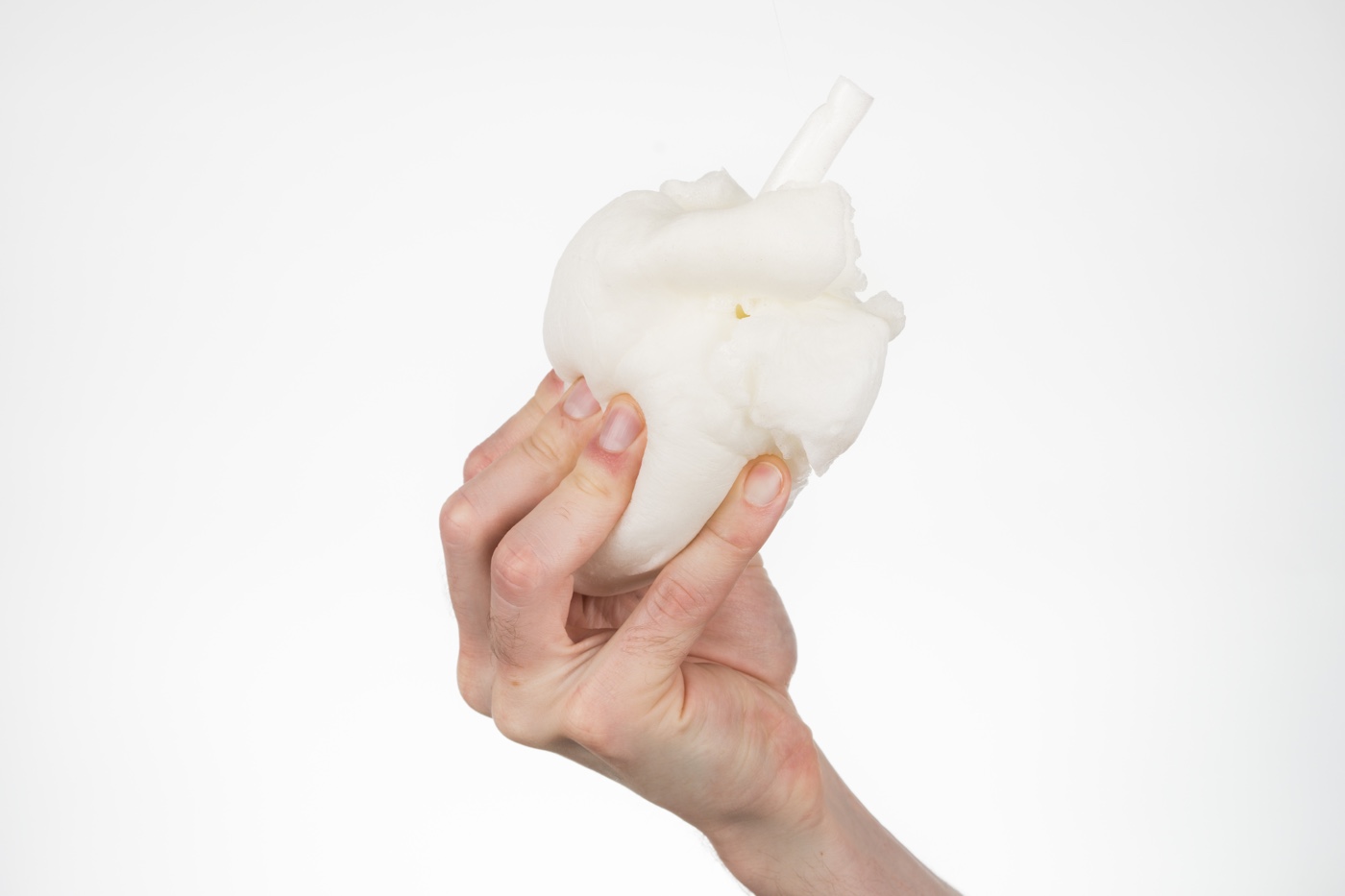 The Art of Deception. Photo by Monica Monté
Hi Isaac! As a designer, what made you want to look into decellularization?
The project started actually because I was triggered by the huge amount of food and more specifically meat, that is being thrown away in supermarkets, before it is even being sold. I am not a vegetarian and it is not my aim to turn people into vegetarians, but I find it a shame that food is being thrown away because it expires before it is being sold. Like this the animal was raised and slaughtered for no reason.
So I looked into a method to transform expired meat into a new raw material.
I figured out there was a technique called decellularization, which was being used for organ transplantation, to clean the organ from cells, DNA and all content.
What is left is extra cellular matrix, mainly collagen. This expired meat turned transparent white and I made a collection of vessels and lighting objects out of it.
Later on I decided to continue with this technique and apply it to the heart, the human's most vital organ.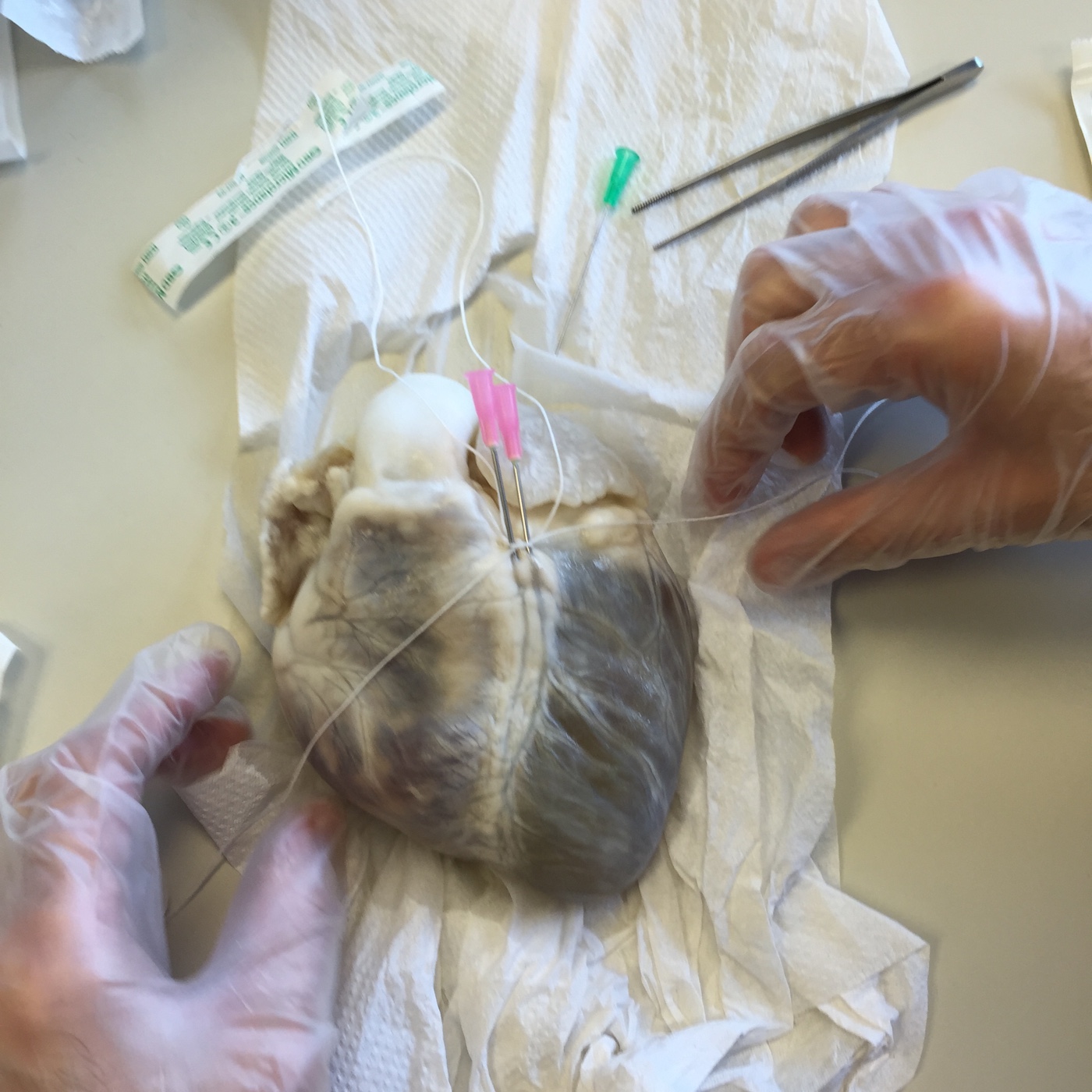 The Art of Deception. Work in progress photo by Isaac Monté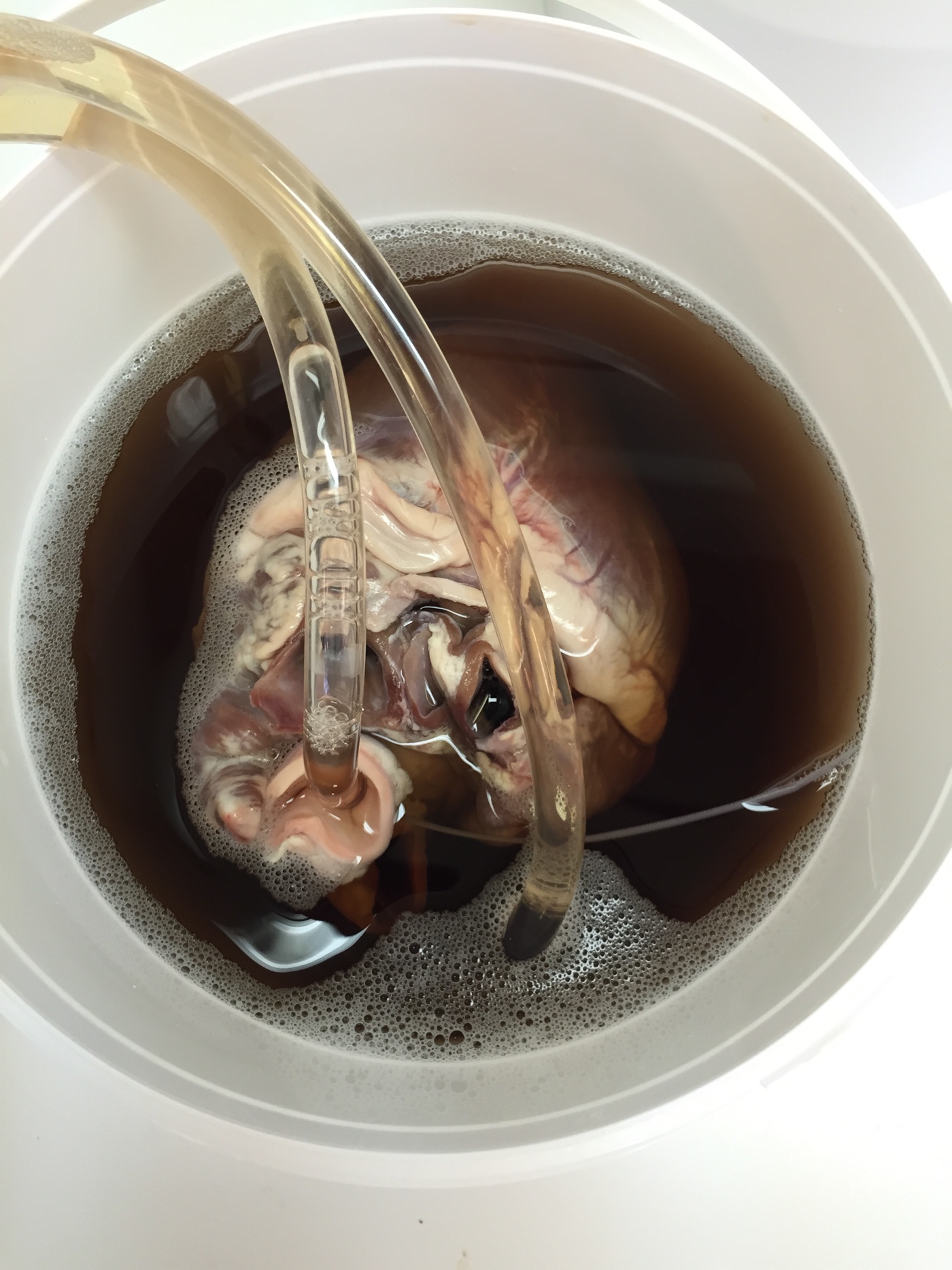 The Art of Deception. Work in progress photo by Isaac Monté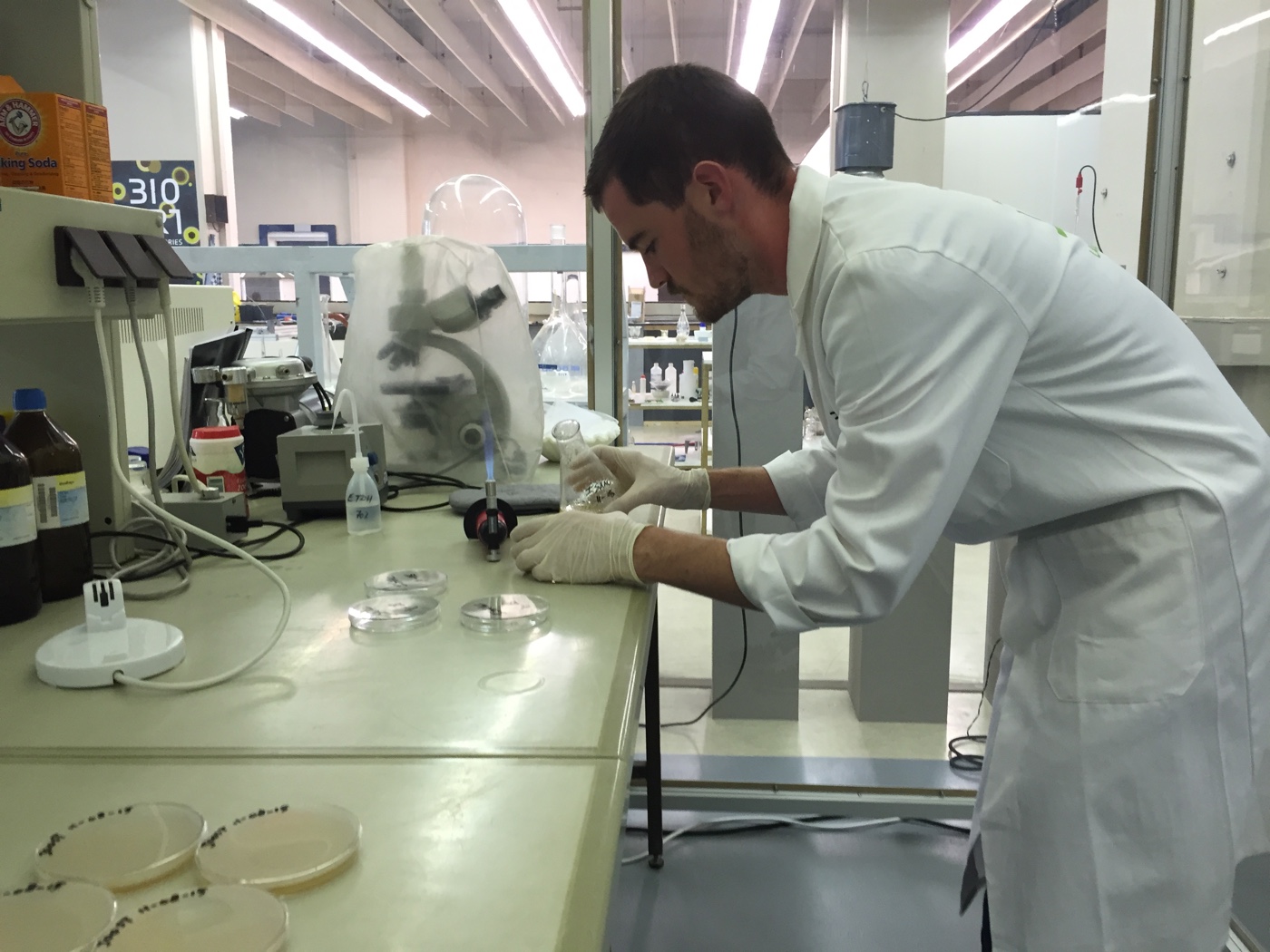 The Art of Deception. Work in progress photo by Isaac Monté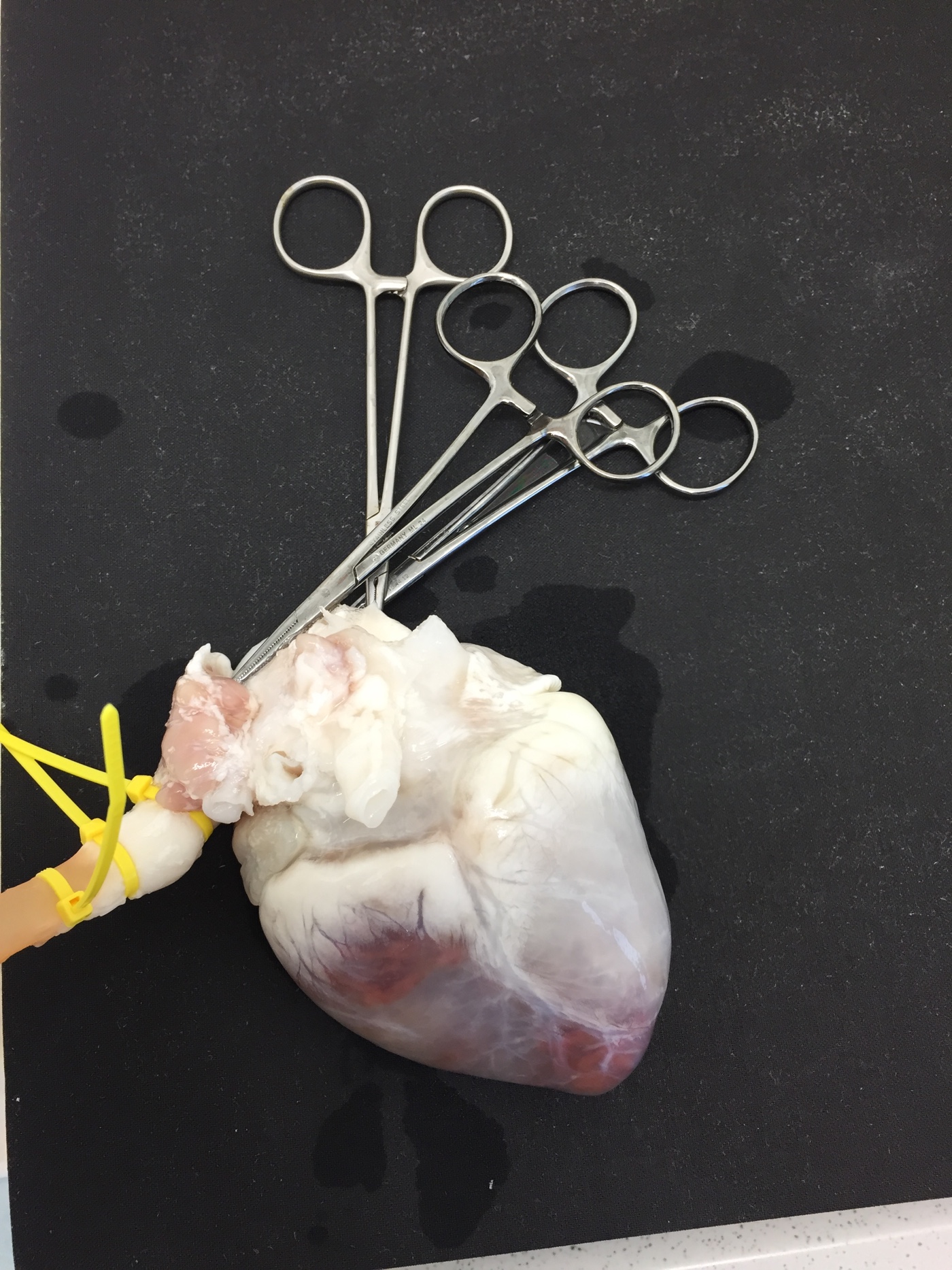 The Art of Deception. Work in progress photo by Isaac Monté
I do write regularly about art &biotech project but i was actually quite shocked when i read that you tattooed on a decellularized pig's heart. So how much do you expect people to be scandalized by the project? Is the reaction of the viewer important?
Some people call me a design activist. I am not sure whether I like that or not and if I should be a designer or an artist. But they refer to what I am doing in my work. I am always triggered by a social or an ecological problem. A problem that we are not aware of (anymore) Something that became part of our daily life.
For example pets/animals that are being killed in traffic or cigarette waste in the streets.
Therefore I use design as a medium to create awareness for these kind of issues or even behavior change. It is never my intention to shock and the work itself is not condemnatory, but it makes the spectator think and form its personal opinion.
I the past I made birdhouses out of used cigarette filters, as a reaction against the huge amount of filters that are lying around in the streets. They pollute water and birds eat them and therefore die. On the other hand, birds use these cigarette ends in their nests because the nicotine keeps leeches and other parasites away.
Further on I also made a collection of masks out of fur from roadkill. As a reaction against the fact that a pet or animal which we consider to be so worthy and so beautiful, turns into a piece of waste the moment it is killed in traffic. And of course the whole fuzz that is going on in the fur industry. There is just free fur lying around in the streets.
With this project, The Art of Deception, I am researching how far we can go as designers. What is ethically allowed and what is not.
The idea is to challenge science by re-inventing a biomedical technique. Does the ghost organ represent a blank canvas to designers? Can organs be objects of design? Will humans be able to manipulate organs for aesthestic purposes?
The heart is the crystal cage where inner beauty is supposedly kept, the safe-deposit box of emotions and generally accepted as deep and meaningful.
Ultimately our aim is to explore ghost organs as a metaphor for regenerated, artificial life. The discarded dead hearts will not function as canonical organs, but rather as a representation of how far science can manipulate the human body.
Our project asks: how can science transform the raw, grotesque and hidden inside into a new manipulated unseen beauty? Is this inner beauty the last remaining frontier free of deception? Can inner beauty be designed?
A more beautiful heart does not improve its functionality or the survival or success rate of its owner. But it will introduce beauty in the organ we most closely associate with life itself – like introducing beauty, even if unseen, in our "source" of life. Further on it creates the possibility of customizing one's own heart. The aesthetic transformation from grotesque to beautiful will only be visible in the in-between moments, when the heart is not yet implanted – and therefore not functional. It seems as if beauty and function cannot be enjoyed simultaneously.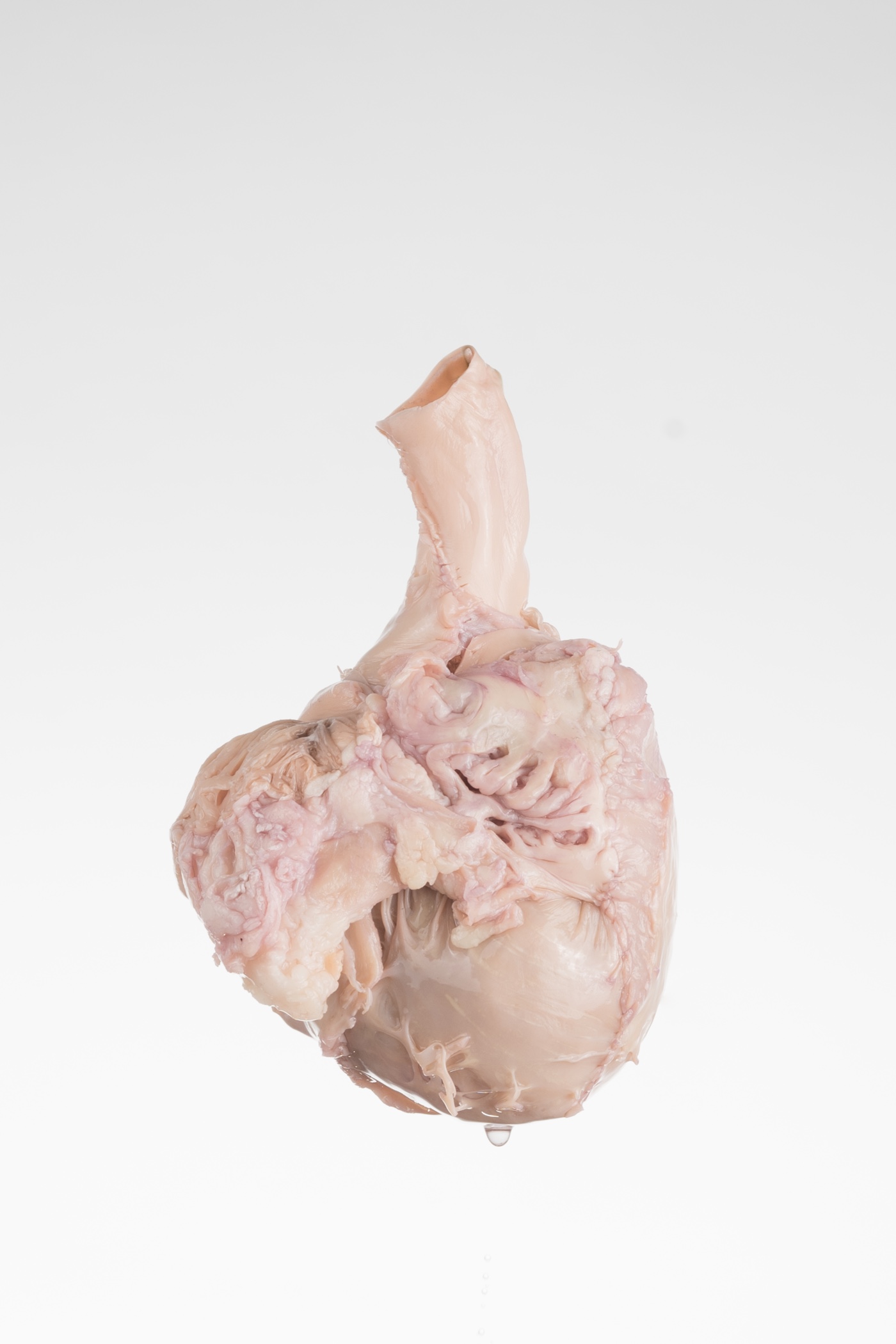 The Art of Deception. Photo by Monica Monté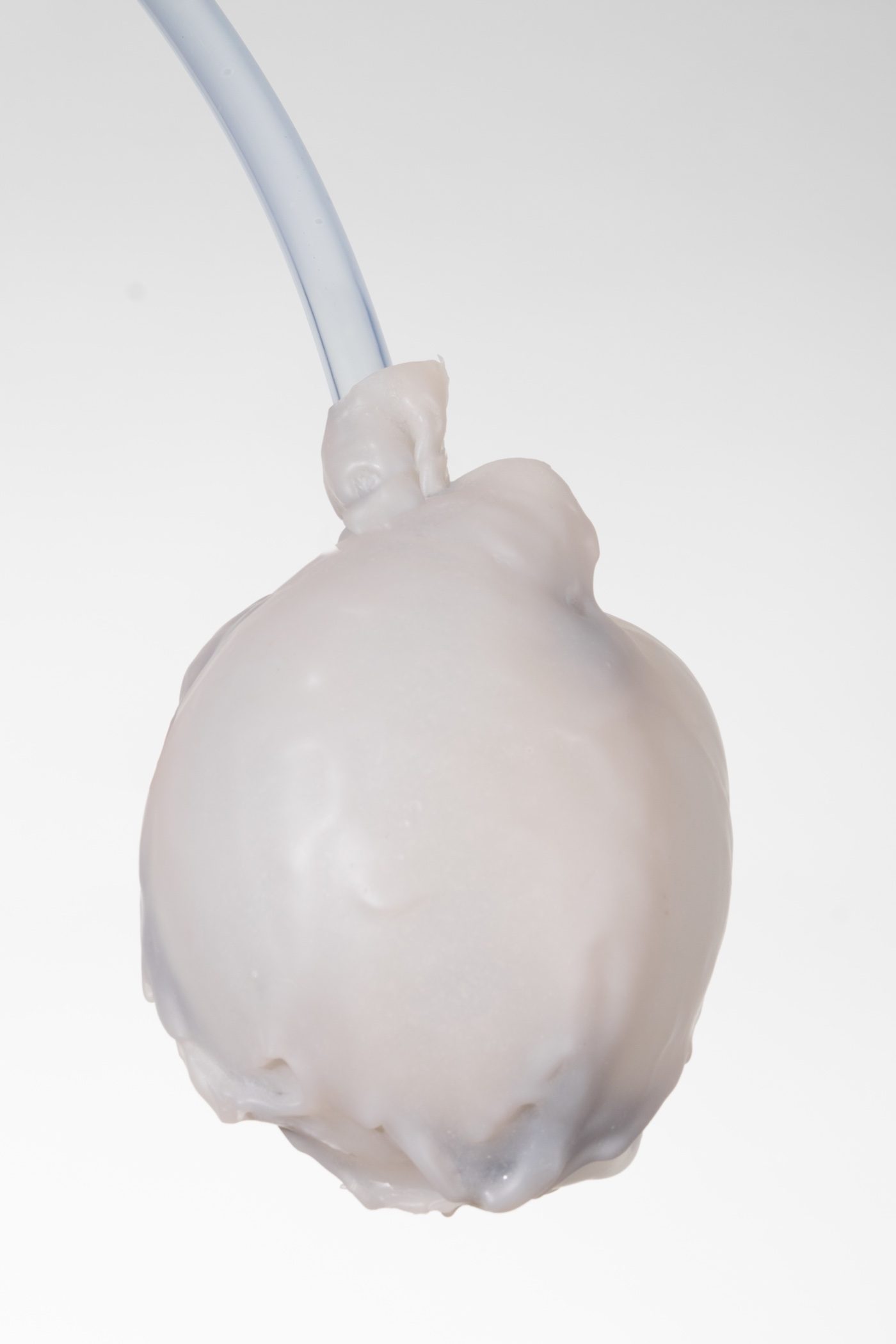 The Art of Deception. Photo by Monica Monté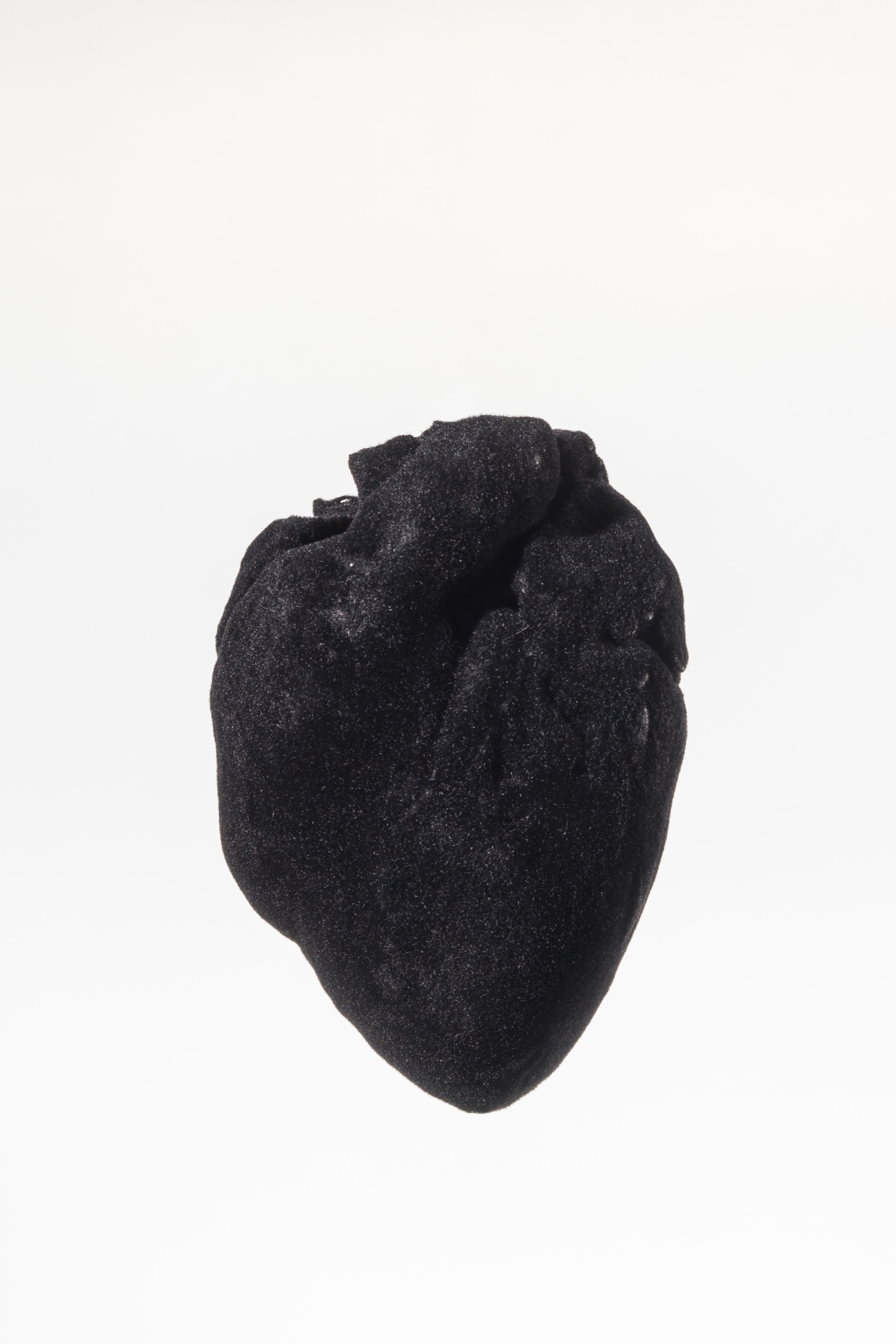 The Art of Deception. Photo by Monica Monté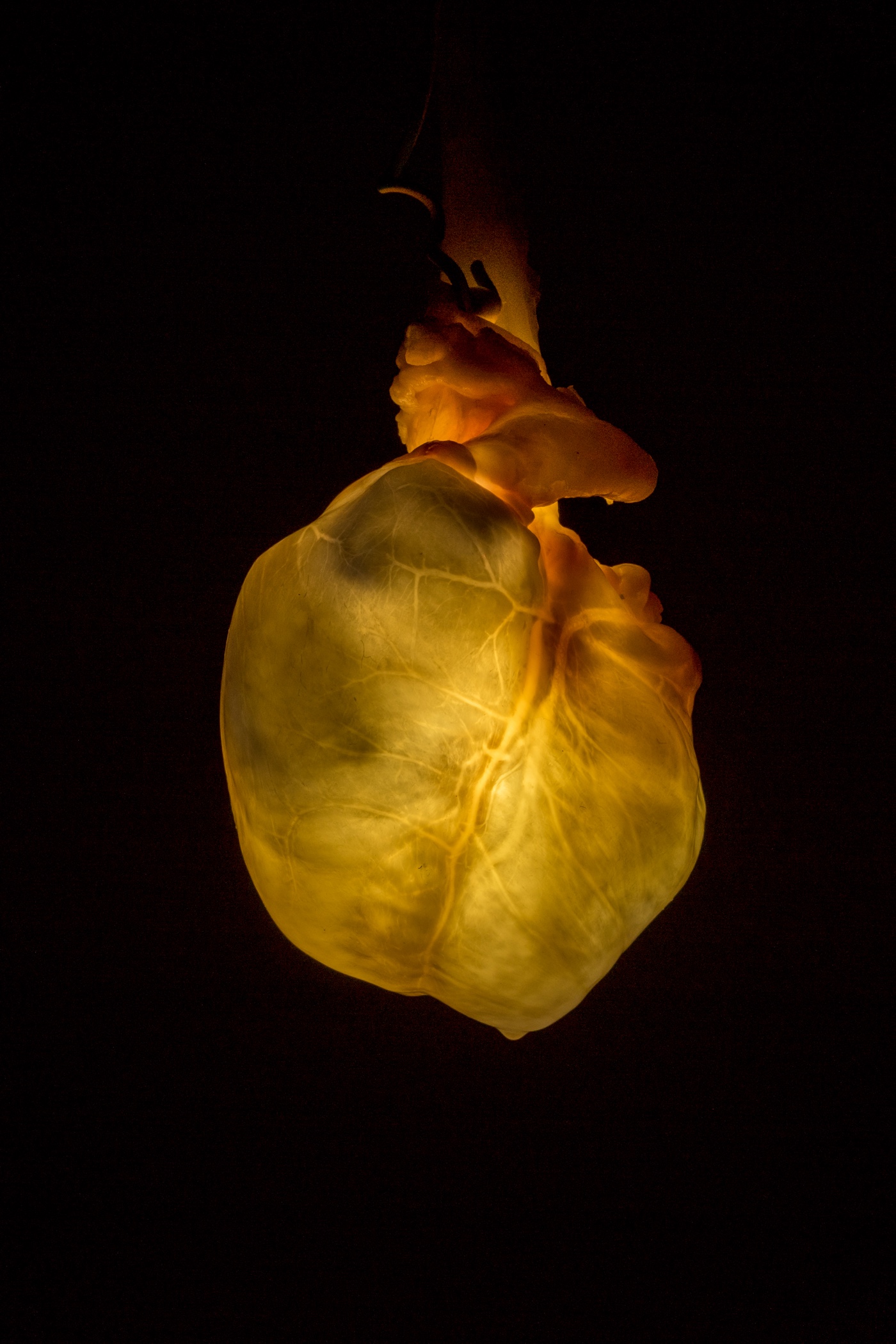 The Art of Deception. Photo by Monica Monté
Apart from tattooing, what else will you do to these organs?
We present a collection of 21 decellularized hearts, molded and manipulated in several iterations to explore the organ's aestheticization. Such alterations suggest deception, a behavior found across countless species to trick others to obtain survival or reproductive advantage.
We embroidered a heart with UV-sensitive yarn, we tattooed a heart, we injected the vessels with resin and dissolved the heart itself (so only the vessels remain), we managed to let the heart glow and the closer the spectator comes the brighter it glows, we managed to shrink a heart to 1 cm, we have a heart with hair growing out of it, we contracted a heart out of the yarn which is being used for surgery, we 3D printed a new aorta (square shaped) with biological tissue, we make a heart breath like a lung, we gave it 'fur' like a beast, we laser engraved it with the logo's of haute couture brands (fashion victim), we made a heart of stone with golden vessels (like a piece of jewelry), we plastinated a heart, we repopulated a heart with iron filings which are constantly moving around and protecting the heart (armored heart), ….
One of the questions that your project asks is how far can science be allowed to manipulate the human body? Did you manage to elaborate an answer to that?
It is speculative, provocative design in which we don't present answers. It is actually the project itself asking the question to the audience or the spectator how science and design are allowed to manipulate the body. The project does not give any answers but it aims to create awareness around this issue
How about designers? Do / should they have a say in the way science manipulates the human body?
I think it could be very interesting for scientists to cooperate with designers.
As we are more and more designing our own bodies and manipulating our body, we are becoming humanoids I believe there a great opportunities for collaborations.
Science is 'designing' the human body, so why not working together with designers
How hands-on were you with the scientific processes? Did you delegate all the scientific manipulations to the scientists or did you manage to engage directly with the development of the work?
For the Bio Art and Design Awards I was linked to Professor Toby Kiers of the VU (Free University) Amsterdam, she was my partner in crime for this project. Apart from that we managed to set up active cooperations with Dr. Renée van Amerongen of Swammerdam Institute of Life Sciences, Dr. Monique Verstegen of Erasmus Medical Center Rotterdam, Dr. Yvonne Steinvoort of Erasmus Medical Center Rotterdam, Dr. Jos Malda of the University Medical Center Utrecht, Professor Paul van der Valk of Free University Amsterdam.
I was always very eager to work together. I did not want them to do the work for me. We always did things together or I did it myself. Of course I do not have the scientific knowledge, that is why we set up those cooperations, but they were not just executing my ideas, we worked as a team.
Which challenges have you encountered while developing the project?
Technical challenges such as the decellularization process.
The project was a lot about running experiments.
The most challenging to me was to develop the concept for each of the 21 hearts and to set up collaborations to make it possible to execute these concepts.

View of the work at the Van Abbemuseum. Photo courtesy of Isaac Monté
I saw your work at the Van Abbemuseum, it was part of the show Thing Nothing. How different will the piece be when you show it at MU?
I will show a collection of 21 pieces. All of them will be presented in glass vessels (as in the Van Abbe.) They will be categorized in 3 different themes and therefore presented on 3 long tables. The first category deals with interaction, the second are medical interventions and the 3rd one we consider to be 'personalized.
Thanks Isaac!
Check out Isaac's work at Body of Matter. Body based bio art & design which opens at MU in Eindhoven on 27 November. The show will be running until 7 February 2016.